Review: Looney Tunes #252
[Editor's Note: This review may contain spoilers]
Writer: Fisch,   Scott Gross
Artist: David Alvarez
Colors:  Heroic Age, David Tanguay, 

Letters:  Gabriela Downie, John J. Hill, Dezi Sienty, DeCarlo
Reviewed by: Carl Bryan
Summary
Two Looney Tunes tales accompany this issue along with two one page cartoon entries.
Personal Fowl:  The Basketball Legend of LeFoghorn Leghorn recounts the history of how Fouls came to be a part of the game of basketball due to a pesky Fowl by the name of Foghorn Leghorn.
In The Day Derby Almost Died, Lola and Bugs Bunny reminiscence about the yesteryear sport of Roller Derby.  Lola finds they have to compete for rink time from a bunch of bullies  It's the Eight-Wheel Heels against the Air Raid Sirens.
EgBert's Page of Learning takes on Skydiving and Weight Lifting with FogHorn LegHorn being the folly of both activities
All the big names are dropping in on this issue of Looney Tunes.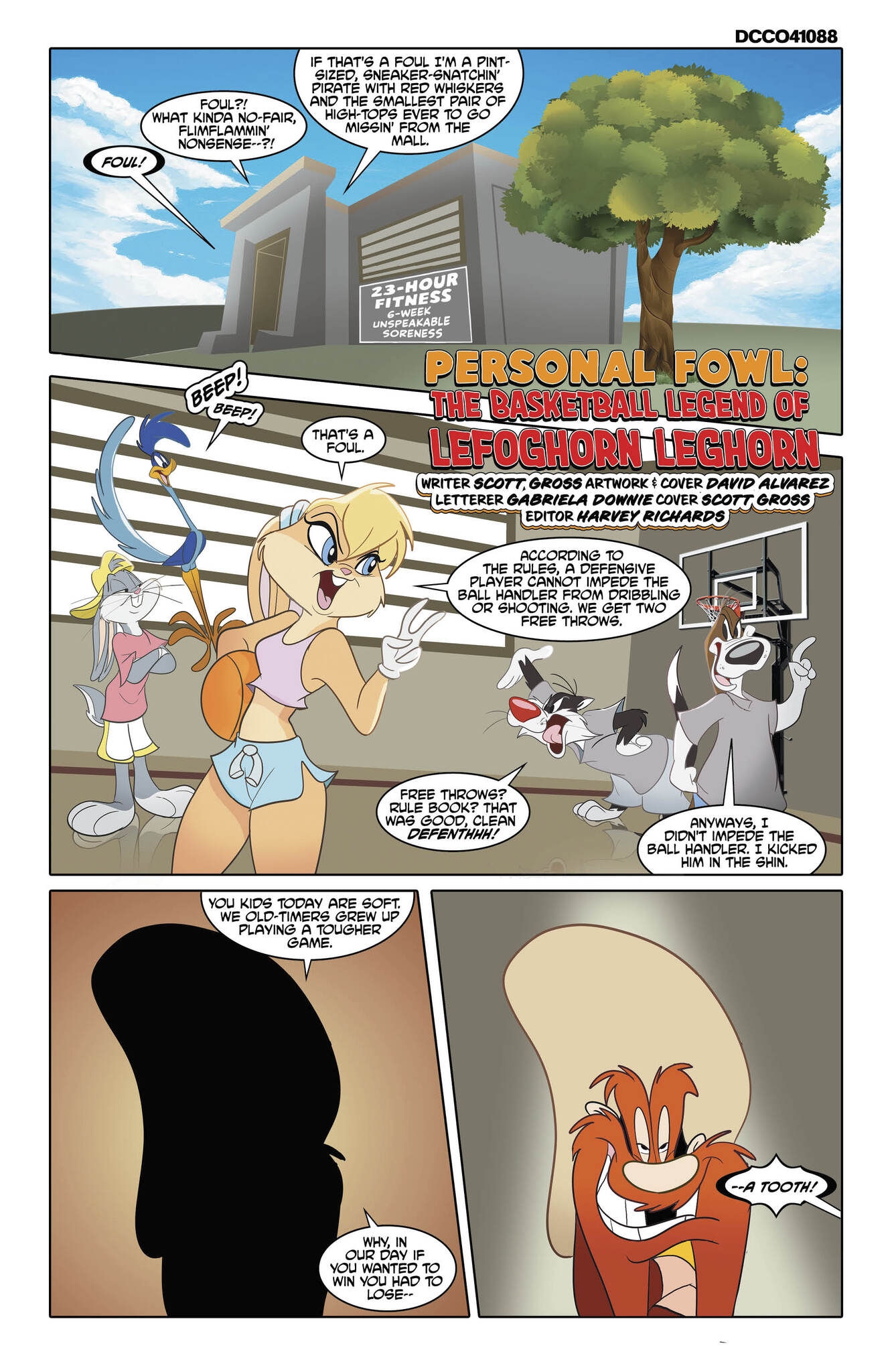 Positives
Personal Fowl:  The Basketball Legend of LeFoghorn Leghorn is a great teaching story about sportsmanship.  The story inserts a lot of heavy hitters, such as Bugs Bunny and Porky Pig into a comic interpretation of how fouls are a part of basketball.  It also displays why rules are in place in games to control bad behavior and to place the game into perspective.  With a sequel to Space Jam on the horizon, we get to see Bugs and his friends on the hard court and that has always been successful This can be  a great discussion point for any parent reading this comic with their son or daughter.
Next, Derby Days is a "Be Like Mike" story where "It's gotta be the shoes!"  Holy Space Jam on skates.  It's a great highlight story for combating bullies.
Finally, EgBert's Page of Learning takes on Skydiving and Weight Lifting with six panel stories worthy of a laugh or two reminiscent of newspaper cartoons.
Negatives

One new story, and one repeat story from Issue #250.  The Day Derby Almost Died is a repeat story from Issue #250 and was entitled Derby Days.  Deadlines are deadlines and I realize that DC has to get an issue out, but repeat stories hurt.
Personal Fowl is a clever entry into re imagining rules and their origins, and with such a strong start, I was disappointed in the let down from a repeat story and then two really short entries into the issue.  Three solid stories seem to be the formula that works, and provides the bang for the buck you spend on a comic like this.
Verdict

I am very liberal in my four stars here as the Personal Fowl story is the main emphasis of this issue.  If you have not picked up an issue of Looney Tunes in a while, you will not notice the repeat story.  But for those that consider the comic an investment in their childhood, it was a let down to not have a different sport story or at least another basketball story in this issue.