Review: WATCHMEN 1×08 – "A God Walks Into A Bar"

[Editor's Note: This review may contain spoilers]
Director: Nicole Kassell
Writer: Jeff Jensen
Starring: Regina King, Jeremy Irons, Don Johnson, Jean Smart, Tim Blake Nelson, Louis Gossett Jr., Yahya Abdul-Mateen II, Hong Chau, Andrew Howard, Tom Mison, Frances Fisher, Jacob Ming-Trent, Sara Vickers, Dylan Schombing, and James Wolk
Reviewed by: Brad Filicky
Summary
Now that we know who Dr. Manhattan is we get to see his love story with Angela. Told through a chopped up timeline (Dr. Manhattan experiences all time at once), we learn how they fell in love and the complications that loving someone as powerful as the Big Blue One. In order to balance the scales a bit the Dr. visits Adrian Veidt for help. He offers a way to nullify the Godlike powers in exchange for being sent to a mini-paradise that Dr. Manhatan had created on the moon of Europa. Turns out Veidt wasn't in the English countryside after all, but on Europa with clones of Dr. Manhattan's parents. We get caught up in time for the Seventh Calvary to attempt to carry out their plans. She fights them off until the Dr. helps. But he may have been to late to save himself.
Positives
It sure is nice to have Dr. Manhattan back. And he's as complex as ever. The story may have been disjointed but never felt confusing or unfocused. This episode felt like the one we've been waiting fro since episode 1. The writing was wrenching and powerful and the love story surprisingly poignant. Regina King deserves and Emmy. With a season this strong it would be a shame if we didn't get a second one. It was nice to see how Veidt connects with the story of Tulsa.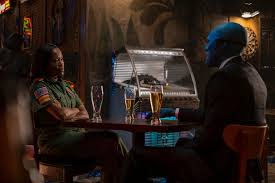 Negatives
I'm not sure if falling in love fits in to where the character of Dr. Manhattan was at the end of the book. This wouldn't really matter that much at all if the show didn't go out of it's way to say it was based in the same world as the source material. This is a small problem because who Dr. Manhattan is in this show is just as interesting and motivated.
Verdict
This is hot we've been eating for. For the most part everything is revealed now and all that remains is a big fight and the tying up of loose ends. Strong writing on an episode that could have been confusing, yet was clear. It respects the intelligence of the viewer. Great performances. All of the world should be watching this show.