Review: Looney Tunes #253
[Editor's Note: This review may contain spoilers]
Writer: Ivan Cohen, Sholly Fisch, Sam Agro
Artist:  Walter Carzon
Colors:  Silvana Brys, David Tanguay

Letters:  Gabriela Downie, Mike Sellers, Randy Gentile
Reviewed by: Carl Bryan
Summary
Three Looney Tunes tales accompany this issue that celebrate vacations…the reason we all work so hard!
Rest and Consternation has Daffy under doctor's orders to take a vacation for some rest and relaxation.  But at every turn, Bugs Bunny is a thorn in his side at his vacation site.
In Last Resort, Sam and Ralph take a break from their endeavors of herding sheep and attempting to eat sheep respectively as they embark on their spa vacation.  But when a herd of sheep show up to take a rest as well, it's a bit much on the duo.
Zoo Snafu has Bugs Bunny trying to help an ice skating penguin that has been misplaced in a local zoo.  Too bad that Elmer Fudd takes his job a bit too seriously.  Who is in need of the real vacation?
Bugs is the mainstay in this issue of Looney Tunes.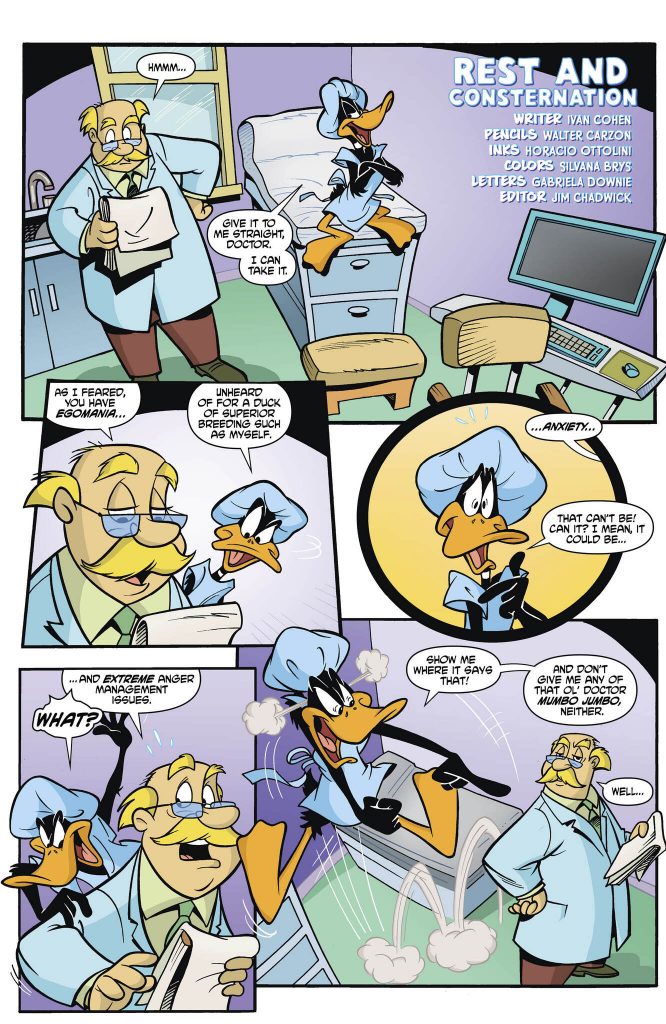 Positives
All three stories are poignant in both the story telling, the humor, and the art!  Comics, such as Looney Tunes, are a staple for my age group in that we grew up on these as Saturday morning programs.  And it is great that DC  is making sure that this mainstay is up front among young readers.
Parents will like the jokes and the easy to read stories.  Kids will enjoy that the stories are at their level as well as introduce them to a bit of slapstick comedy.  Not to mention the art is easily traceable, and that inspires cartoonists for a future generation.
Negatives
Three solid stories seem to be the formula that works, and provides the bang for the buck you spend on a comic like this.  No negatives as the writing is solid on all three and there are some really great moments in each of these stories!
Verdict

Looney Tunes is back on track as there are three separate stories that celebrate vacation and there are no repeats as was the last issue.  There is a sincere effort by the comic in celebrating taking some time away from the "rat race".  And to make it even better, Bugs Bunny is the focus in two of the three tales.  That's Looney Tunes at its finest!