The next entry under the Hill House comics label, Plunge, arrives February 19. Longtime comics artist Stuart Immonen will be joining writer Joe Hill for the Arctic-set thriller. Here's the official blurb:
In the aftermath of a devastating tsunami, an exploration vessel known as the Derleth begins sending an automated distress signal from a remote atoll in the Bering Strait. The only problem is that the Derleth has been missing for 40 years. Marine biologist Moriah Lamb joins the Carpenter Salvage team to recover the Derleth's dead…only to find that in this remote part of the Arctic Circle the dead have plenty to say to the living…Joe Hill and Stuart Immonen's Plunge into terror begins here!
Hill and Immonen spoke with Newsarama about the series.
On how Immonen got involved with Plunge:
"I found out when editor Mark Doyle called to ask if I was interested. Mark knew I was looking for a boutique project, and also knew better than to believe – to misquote Mark Twain – greatly exaggerated internet rumors about my retirement. The pitch immediately ticked a lot of boxes for me; interesting characters, a weird environment, monsters, all good stuff."
On Hill's influences:
"In some ways, I feel like I'm always kind of making movies from the '80s that I wish had come out. You know? Like, all my stories in my books and comics are always kind of like, here's me doing Steven Spielberg from the '80s! In some ways, this is definitely a story that kind of tips a hat to The Thing – to [John Carpenter's] remake of The Thing, which was so great.  It's arctic horror, and there's a certain amount of body gore here as well."
On Immonen's visual style for the story:
"The characters find themselves in a series of harsh environments, sometimes at sea, sometimes on land. Hopefully, Dave and I bring a sense of that unforgiving quality to the art with lighting, POV angles and grungy textures. Like all good horror, the action in Plunge primarily takes place in confined spaces; in the hull of a ship, underwater, in a tangle of boreal underbrush."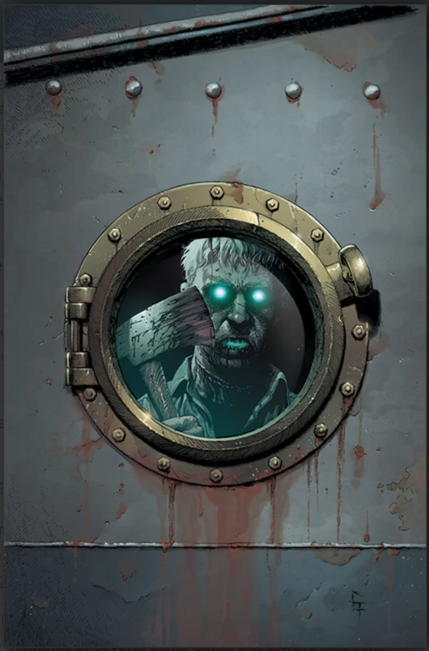 Head over to Newsarama to read the whole chat. Plunge arrives in stores February 19.