The wait is over! The critically acclaimed and profoundly relevant HBO Limited Series WATCHMEN is coming home on Blu-ray and DVD on June 2 with all 9-episodes and loads of bonus content!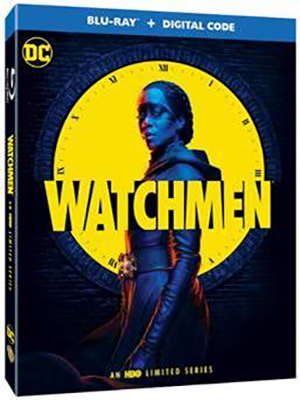 Not one to sit out a fad HBO the premiere cable network through its hat into the ring and partnered with Warner Bros. Entertainment and DC to adapt one of its prestige properties into a live-action original series. WATCHMEN produced by Damon Lindelof (HBO's The Leftovers) set the internet on fire when it was announced. Starring Regina King and Jeremey Irons, the nine-episode limited series set in an alternate history where "superheroes" are treated as outlaws, stunned fans of the classic graphic novel series taking unexpected turns and twist
Largely inspired by the Hugo Award graphic novel by Alan Moore and Dave Gibbons, Lindelof's "sequel" will soon be coming home! Watchmen: An HBO Limited Series will be released on Blu-ray and DVD on June 2, 2020, and will feature all 9 one-hour chapters and over 90 minutes of Bonus Content including many never-before-seen features! The series revitalized interest in the world of "Watchmen" which had been adapted for the big-screen by Zack Snyder. Although it includes the return of some familiar faces, the Limited Series is its own entity.
The Blu-ray and DVD will be presented in 16×9 widescreen format for an impressive cinematic experience right in the comfort of your living room and will include the following bonus features:
Special Features
Watchmen: Unmasked
2019 New York City Comic-Con Panel
Watchmen: Masked and Dangerous
Watchmen: The Trailer
Character Trailers: Sister Night, Blond Man and Looking Glass
Becoming Sister Night
Notes from the "Watchmen" graphic novel artist Dave Gibbons
Rorschach Featurette
Watchmen: Alternate History
It's Raining Squids
Squid Shelter with Tim Black Nelson
Andrij Parekh on Directing
Sadiqua Bynum runs, jumps and falls for Sister Night
Anatomy of a Fight Scene
Glimpses — The Visual Effects of "Watchmen"
Exclusive Blu-ray/DVD Special Features
Hooded Justice
The Colossal King – Adrian Veidt
Here is your special look at the Glimpses — The Visual Effects of "Watchmen":
Watchmen The HBO Limited Series  comes home on Blu-ray, DVD on June 2, 2020, and will price range between $39.99 (for the DVD) and $44.98 for the Blu-ray. Both formats will be packed with bonus content.