To say that Frank Miller is a man of many talents is an understatement of criminal proportions. Born January 27, 1957, Miller was blessed with ambition and vision from the beginning. With his modern reinventions on classic characters, one could argue that this artist, writer, screenwriter, director was the catalyst that set the modern day super hero movie industry into motion.
"I decided that I wanted to make comic books when I was five years old."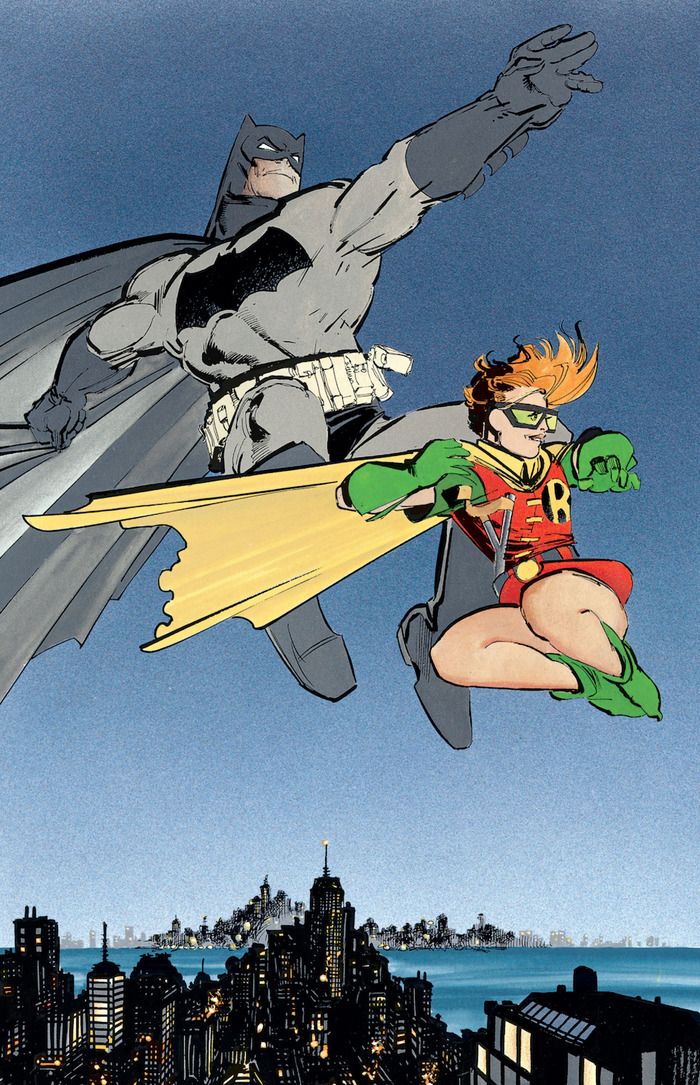 Batman And Robin
This is pure Frank Miller in one complete statement: Compact forms in motion. And yet right off the bat (pun intended) we see that FM's sense of perspective is askew. The relationship between the dynamic duo is slightly awkward. Robin's cape seems to be more in the foreground than her body. The "straightness" of the fabric throws it off. Frank Miller's style is not hyper realistic, and not anatomically perfect, (note the lack of articulation in Batman's right arm toward the arm pit,) but despite these flaws the overall feel is liberating and victorious. What matters most is the message. The two subjects are the kings of the mountain. Full of self assured bravery the pair are confident, and perhaps even eager, to stride into danger.
I Walk The Line
In this variant cover for Batman #62  we see that Frank's penciling can be, well, a bit sketchy. He likes his lines. With random looking dark strokes surrounding Batman's profile this piece has an unfinished quality to it. And the penned lines lay like a quick cocktail napkin doodle. But ask yourself, does this "sloppy" shadowing compliment, or take away from the facial expression? There is no correct answer, Art is subjective. What is undeniable is how Batman's face becomes a snapshot into the character's history. I immediately see years of conflict, undying commitment and struggle. He almost looks homeless. When Miller puts The Dark Knight on a page you immediately feel beat up. You can taste the Gotham City streets and need to take a breath to continue because the fatigue is so visceral.
Year After Year
Now we get into Frank Miller's storytelling. BATMAN: YEAR ONE,  written by Miller and illustrated by David Mazzucchelli, began as a groundbreaking 4-issue-story and proved it's durability when reincarnated in the 2011 animated film. (above) The original series tells the story of Bruce Wayne's very first days as a vigilante. FM drastically accentuates the differences between Wayne (youthful, rich, naïve, determined) and Commissioner Gordon (older, experienced, jaded,) so much so that an inescapable magnetism is formed between the two. For the first time we see an inexperienced Batman stumble and fall along his nightly haunts.
Teach An Old Dog New Tricks
In another of Miller's epic works THE DARK KNIGHT RETURNS may very well be the polar opposite of Batman: Year One. In this masterpiece, set in a dystopian future-Gotham, Miller shows us an older, more realistic Batman. One who wields automatic weapons, breaks necks, and bleeds out. Yes, Batman breaks the Joker's neck! (Though only paralyzing him. But intent is nine tenths of the law, right?) Perhaps too violent for some readers, none can deny how much this story nudged the superhero genre into a more believable category.
From Paper To Wood
Frank Miller served as a bridge from the insular land of comic books to the wide reaching Hollywood screen. Little known fact, Miller wrote the first Script for Robocop. As Executive Producer and consultant to Zach Snyder's film 300, (Legendary Pictures,) casual movie goers were exposed to Miller's story and quickly learned of the more gory side of graphic novels. 300 was a visionary work. FM's influence is evident in the film's comic-book-panel style of cinematography.
The Hollywood superhero phenomenon is unavoidable. And whether you agree with director Martin Scorsese's harsh criticisms of the genre or not, costumed heroes on the big screen are here to stay. Frank Miller played a critical part in lifting Batman and Superman from the pages of DC Comics and casting them into stardom. The initial premise of pitting the two against one another in Batman V Superman was initially yet another of Miller's genius ideas.
2020 Vision
As the years pass and I consume more or Frank Miller's work I have come to think of him as a visionary. His varied talents serve a greater whole: evolution. His artwork serves as the cinematic storyboards for his breakthrough ideas. Every few decades our beloved heroes need a slight nudge toward reinvention. In terms of Batman, Frank Miller has administered a subtle makeover to the Caped Crusader. Now, perhaps more than ever, Batman is simultaneously young and old, modern and classic, mythical and realistic. Just like Miller himself.
This has been another of my on-going Artists Profile series. Less biographical, these critiques focus more on style and personality. If there is an artist you would like for me to review please mention them in the comment section below.
Also, here's a link to an exclusive Frank Miller interview on our sister site, Dark Knight News.