Review: Batman: The Adventures Continue #1.2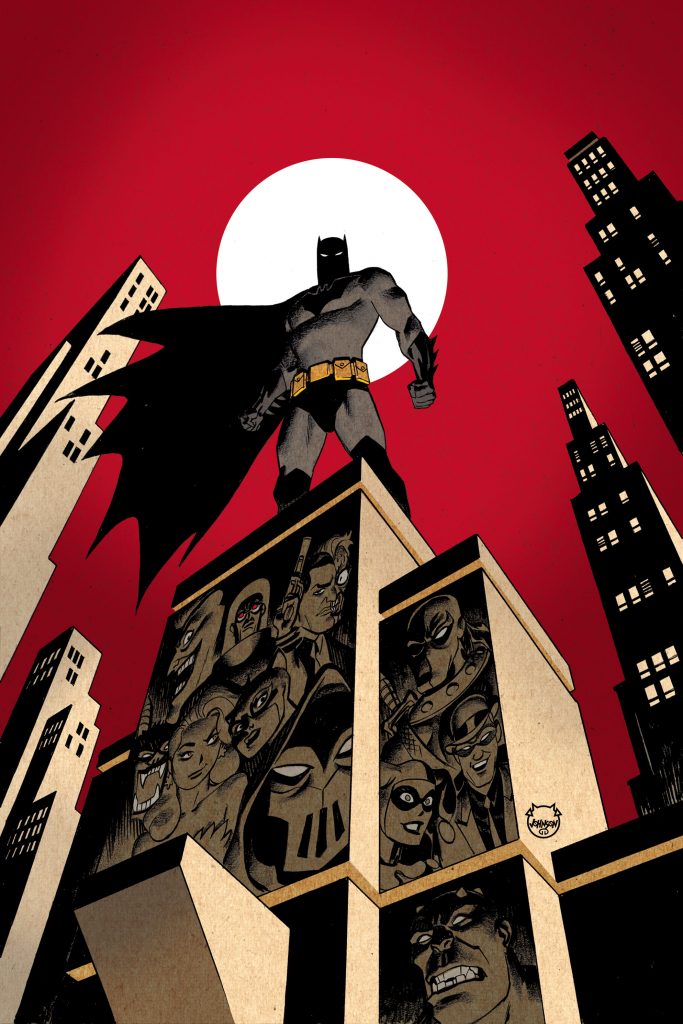 [Editor's Note: This review may contain spoilers]
Writers: Alan Burnett and Paul Dini
Artist: Ty Templeton
Letters: Joshua Reed
Colors: Monica Kubina  
Reviewed by: Carl Bryan  
Summary
"This is where it all began.  Everything.  Even me in a strange way." – A stranger in what appears to be Crime Alley in Gotham City.
From the visionary producers of Batman: The Animated Series comes all-new stories in this seminal animated world. In this second chapter, Batman's in the clutches of Lex Luthor and his powerful robot as the mad genius races to open the vault he stole from Wayne Industries and claim his prize!
The Dark Knight will need to utilize experimental tech if he's going to topple the billionaire before he leaves Gotham, but where is Superman and why can't Batman get in touch with him?!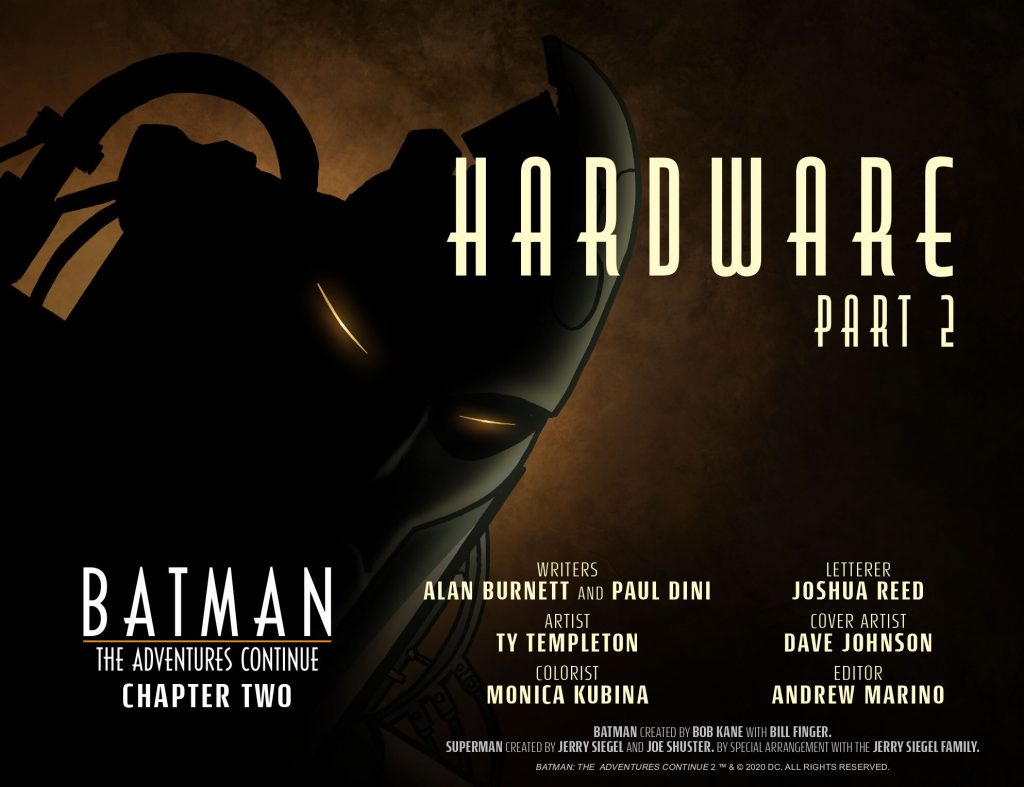 Positives
Get out the after school snacks as you get off the bus and await the new episode of Batman:  The Animated Series.  Well…it feels like an episode.
But in this COVID-19 world, we get the second installment of (spoken in Batman's/ Kevin Conroy's voice "round two and round three") of this digital issue of Batman:  The Adventures Continue.  And it plunges us right back in the action where we left off!
I can't help but read the issue in Kevin Conroy's voice, but to also hear Efrem Zimbalist Jr. as Alfred (dry wit is on high in his scenes), and Tim Daly as Superman. We will get to the Big Blue Boy Scout later.
Writers Paul Dini and Alan Burnett provide the old style comic style of blatant foreshadowing or rather well placed dialogue to explain what you are already seeing.  This is a tool from the 1950s – 1970s in comics, reminiscent of days long ago.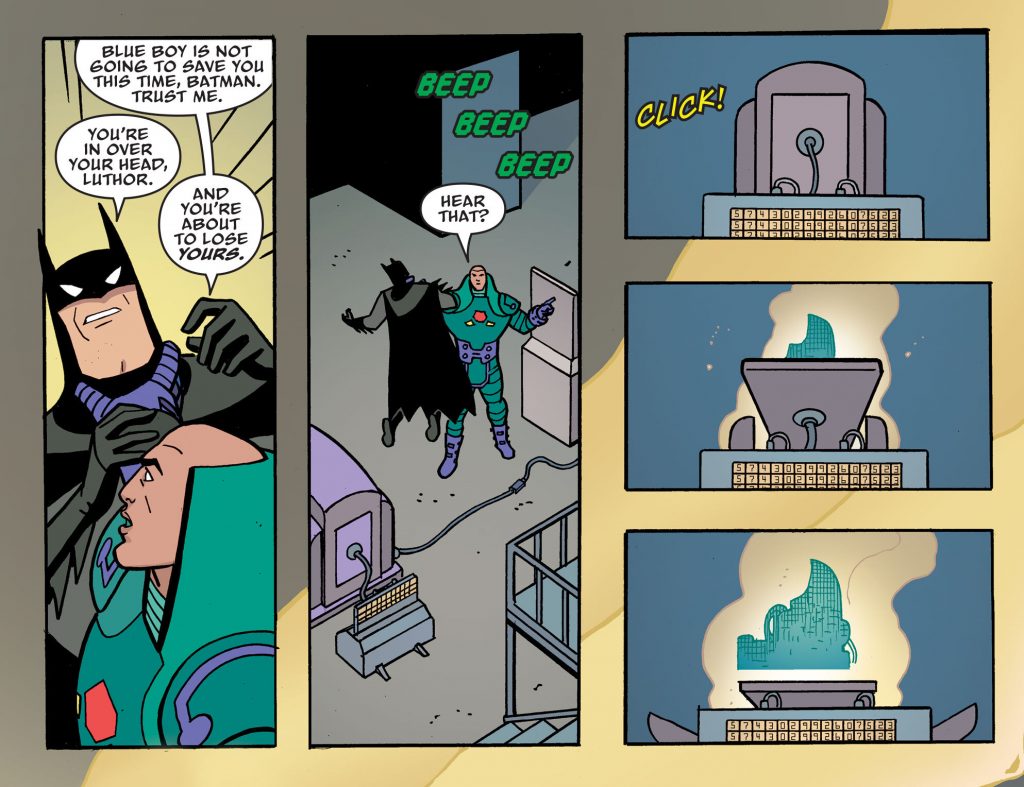 Again, this works in this style of comic and is a great homage piece to the television series.
Echoing my sentiments about the first issue, Burnett and Dini were the original writers from the television series and combining them with Ty Templeton who handled the art in the original Batman Adventures comic from 1992 is perfect.
And what a great idea to have a peppering of the World's Greatest Detective's skill set to see that Superman was right in front of our eyes all along since Issue #1.  I'll not spoil that for you, but you'll get it!
Batman and Luthor in a physical battle along with a battle of the brains.  I'm just afraid that Batman may have activated a bit more with Brainiac that he realized.
Luthor slapping Batman?  Whew – That was a bit much, but with that suit on, Luthor's confidence is a bit overboard.  Albeit, Batman gives Luthor (and possibly Iron Man) a run for his money in his flying Bat Suit!
The World's Finest sewing up this first obstacle is perfect, but Writers Paul Dini and Alan Burnett leave us hanging in what appears to be Crime Alley… and we are left thinking last week as to whether this was Tim Drake.  But this figure has red hair.  
And we are promised in the last frame an appearance of another vigilante in the next issue.  But is this him in the alley?
Positives (Artwork)
Again, Ty Templeton's style for this Batman comic is perfect.  The characters are drawn in only his style. And it screams of the Animated Series so you can't help to fall on the couch with your digital reader, your phone or whatever device you are using to read, and grab an after school milk and cookies snack!
Negatives
How could one argue with a bit of nostalgia and what may be the only comic released this week?  More dialogue in this issue…Superman appears and another layer to the mysterious figure in the alley.  What's not to like?
Verdict
That green beam of light!  Whew I was right from my last review, and the authors provide another clue…that's what I love about this new series…ahem…comic is that the first issue provides a mystery upon another mystery in each issue.  Where's my milk and cookies?  I need the next chapter now.