Review: Vampironica:  New Blood # 4
[Editor's Note: This review may contain spoilers]
Writer: Frank Tieri and Michael Moreci
Artists: Audrey Mok and Joe Eisma
Colors: Matt Herms and Ryan Jampole

Letters: Jack Morelli
Reviewed by: Carl Bryan
Summary
"I personally can't think of a better reason to go on a suicide mission to try and kill a centuries old vampire guy!" – Fangs
The clock is ticking on Veronica Lodge as she learns the terrible secrets hidden deep in her family's history-and comes to understand that her horrifying past isn't as distant as she'd like. Now, if she wants to keeps her family and friends safe, Veronica will face her most chilling challenge yet.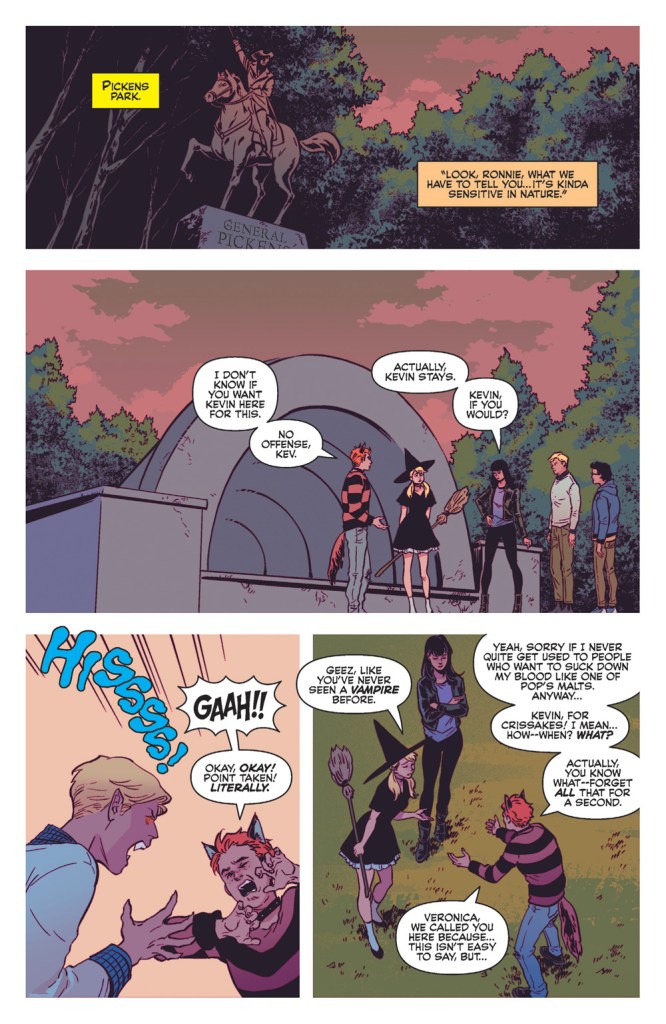 Positives
Frank Tieri  has been treating Archie characters with an amazing amount of respect and homage for the squeaky clean images of long ago.  However, his amalgamation of Veronica Lodge with Vampirella  (Famous Monster fans will know her!) has been nothing short of genius.  Tieri's dark Riverdale works in a big way.
Vampironica: New Blood pretty much picks up where she's left off after Jughead: The Hunger vs. Vampironica.  New Blood reveals that Verionica has  been lied to her whole life and she's actually descended from Sir Francis Lodge, the notorious pirate and the most evil vampire who's ever lived.
Issue #4 is the conclusion of the New Blood chapter for Veronica/Vamperonica.  Archie and Betty's scenes are very minimal in that they reveal to Veronica that her father, Hiram Lodge, has instructed Fangs and his "Lost Boys Lite" to destroy Sir Francis Lodge.
Veronica learns from her father that Sir Francis Lodge, an "apex" vampire, is in Riverdale to hunt her, but she also learns from her father that she is an apex vampire capable of consuming and controlling other vampires.
Turns out Veronica is an anomaly in the vampire world, and while Fangs and his crew doesn't like it, they need Veronica to lead them to get rid of the greater evil.
This information exchange with her father doesn't sit well as she doesn't want anyone or any vampire in the cross fire of what Sir Francis Lodge can do.
Needless to say, a confrontation occurs at a school dance.  If you have been reading any of these Tieri books, you know that is the worst place you can send your teenagers in Riverdale.
No spoilers here, but cue the "On the Road Again" theme music as Veronica is on the hunt.  Another series in her saga seems to be on the horizon.
Audrey Mok and Joe Eisma give us what we would expect from a darker portrayal of the Riverdale characters.  But with a name akin to Vampirilla, you expect a Trina Robbins treatment to this new incarnation of Veronica!
Negatives

Tieri has a darker version of Veronica, which eclipses Archie and Betty.  In fact, Archie and the other regulars have melted away in Veronica's shadow.  And why not?  This is not Scooby-Doo and the Gang.  And Tieri has really hitched his wagon to the darker Riverdale.
But it's a shame to let Archie and others in on the monster re-boot of powers.  Or maybe that is to come.
Finally, the dialogue is drawn out……a……lot…..!  I'm not a fan of explaining what the artist has rendered.  Comic audiences are smart.  And Tieri has written Wolverine before, so give us some credit!
Verdict

As I have read Famous Monsters and Vampirella and I have also read Archie in the past, I never thought those worlds would collide.  However, here we are with Vampironica really gaining some traction.  At first, I thought it would be ketchup and ice cream – two great things that have no business being together.  But actually, this works really well!
And I hope Tieri keeps pumping these out as its time for Archie to hit more of a mainstream in both mystery and horror!  And it really is time for Archie to garner some attention to in this world…wonder if he will be a mummy as Jughead has already been a werewolf?