Review: SONATA #10
[Editor's Note: This review may contain spoilers]
Writer:  Brian Haberlin and David Hine
Artists: Geirrod van Dyke and Brian Haberlin
Colors: Geirrod van Dyke
Letters: Frances Takenaga
Reviewed by: Carl Bryan
Summary
"Calm Down!  The gods are wiser than you think. " – Kah-Lee, the angel of death.
"THE CITADEL: FIELD OF NIGHTMARES" Part Four  – Sonata arrives at The Citadel, where the last Old God is waiting with his own perfect creation…Kah-Lee, the Angel of Death.
Positives
Brian Haberlin and David Hine have put us in a bit of a time warp.  Our main protagonists, Pau and Sonata, can still communicate via telepathy.  Kudos to Frances Takenaga for taking on this task in the lettering!  But Sonata is at a cross roads as she thinks Treen (think Chewbacca in this universe) is dead.
But the gods of this land have brought him back to life… because it was Sonata's will.  All of this information is a bit overloading to our duo as it comes from Kah-Lee, the angel of death and a creation of the gods of this land.
Habelin and Hine have done more with this series  than give us a science fiction Romeo and Juliet.  Complete with DC type "boom tubes" for transportation and orientation pods (think Jonathan Kent's initiation in the Legion of Super Heroes), Sonata and Pau have embarked on a new adventure.
Suffering from information overload at first, Sonata awakes from this revelation from Kah-Lee with more questions than answers.  Even with meeting what she thinks is her reincarnated friend Treen, she knows something is not right.  Treen does as well as he knows he is not the same Treen that died.
More Positives
The artistic renderings of Kah-Lee are most impressive.  But the facial expressions when Sonata slaps Pau for not having empathy over Treen's death… Kah-Lee craves conflict.
As we find out in this issue, the angel of death really earns her reputation across the board.  Kah-Lee looks like a version of Angela from the Spawn series…the most beautiful creature ever, however she wields a sword of destruction.
Pau and Sonata realize that their time in the information pods really has been longer than they realize, and havoc has been wreaked across their respective tribes.
Negatives
The only thing negative about this is a gap in the  time from my last review to now issue #10.  COVID-19 put a damper on acquiring comics.  When you find one as intriguing as Sonata with its "Easter Eggs" from other genres and the art that is so appealing, you want to keep up.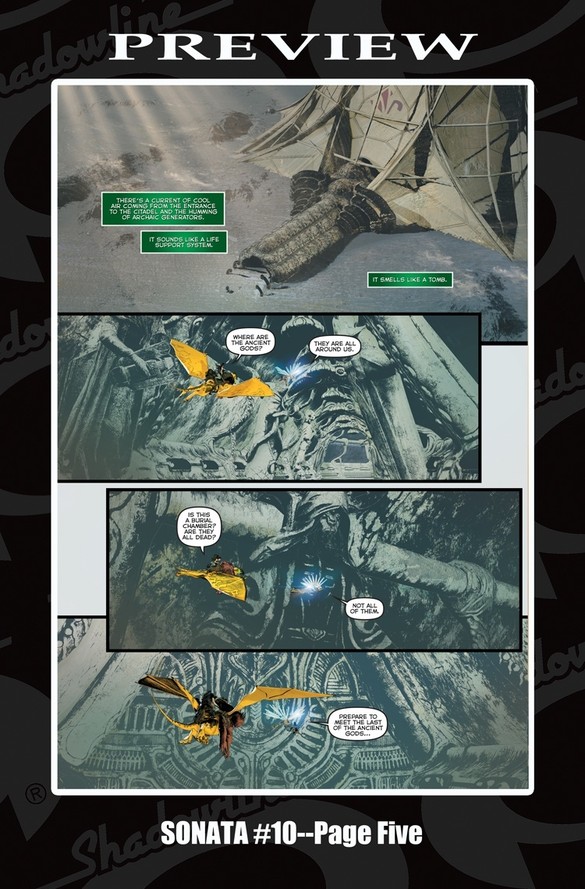 Verdict

This should be on your shelf!  And with a trade paperback on the market now that details issues 1-6 (Sonata, Volume 1:  Valley of the Gods), you have a chance to catch up on the story!
Don't be as lax as I was…now I need issues 8 and 9 to fill in the gaps.  However, you are on the ground floor of this issue with the angel of death.  That should keep you interested!