Review: Books of Magic #20
[Editor's Note: This Review may contain spoilers]
Writer: David Barnett
Artist: Tom Fowler, Craig A. Taillefer
Colors: Marissa Louise
Letters: Todd Klein
Reviewer: Tony Farina
Summary
If Tim and his newfound crush wish to escape the pan-dimensional pandemonium of Festival, they're going to have to reckon with the man who's trying to turn it to his own purposes-and heal a psychic wound that was inflicted before Tim was even born!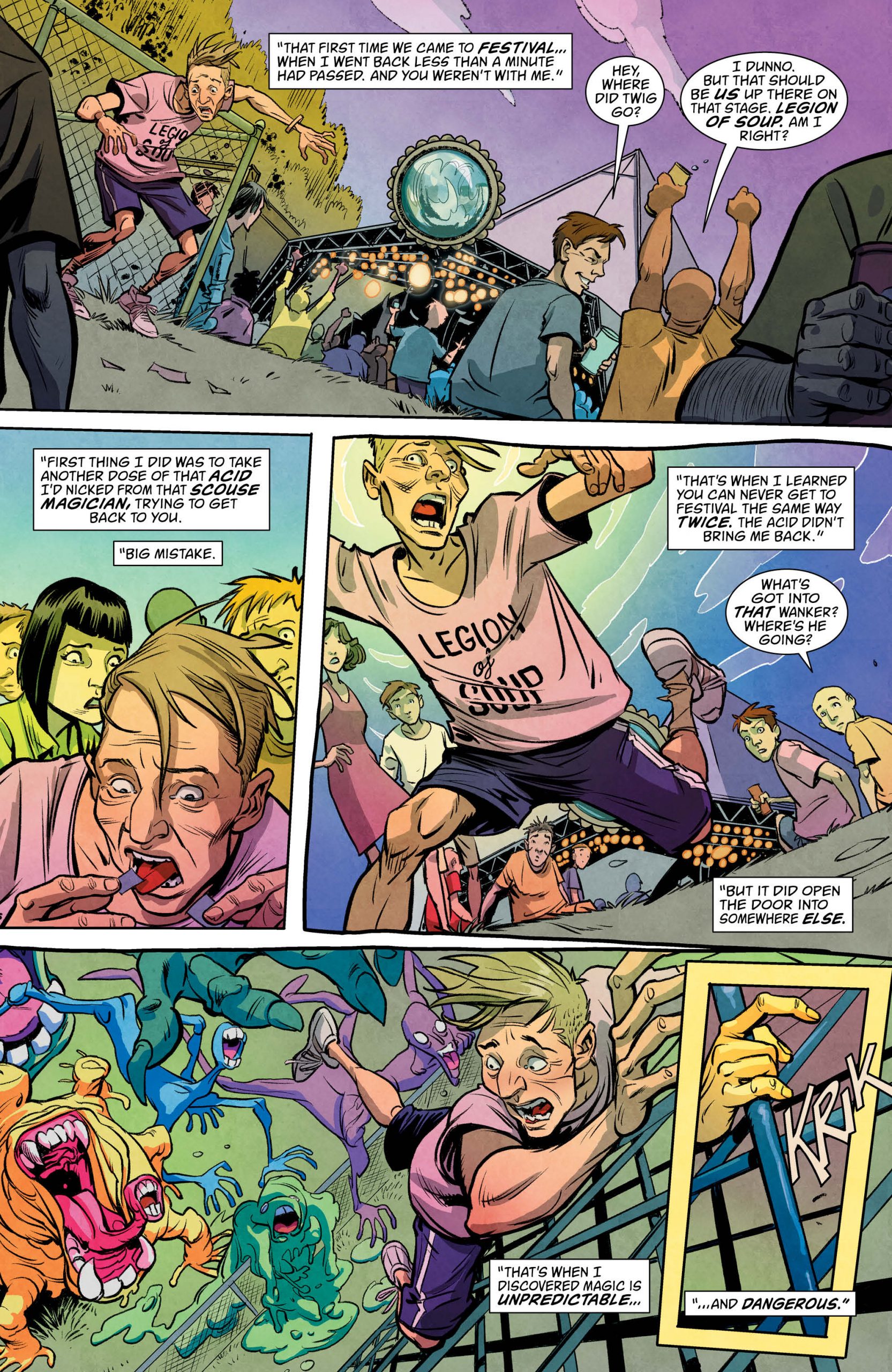 Positives
David Barnett has planted his flag in the Sandman Universe and we can only hope he plans on setting up camp as well. He has taken over from the brilliant and talented Kat Howard with effortless skill. I LOVE that he is giving Tim a love interest. If anyone in the Sandman Universe deserves some love, it is Tim Hunter. This guy has really had it rough for a few years here. Sure, he brings a lot of this on himself, but still, things are bad.
As always Tom Fowler, Craig Taillefer and Marissa Louise are swinging for the fences. Let's shine the spotlight on Marissa Louise this month. Books of Magic #20 features some crazy creatures at the most trippy music festival ever. Louise had decided to let the colors sing as loudly as the music. Each panel just pops off the page. I find myself just wanting to enjoy every little detail. She never wastes a splash of color. My favorite thing she does involves the bi-colored monster men. The differences in colors from the blue side and the other side are prefect. Honestly, it is just beautiful. Bravo to her and to all three of them for giving us such a cornucopia of magical creatures on which we may feast our eyes.
Negatives
The only downside to this arc is that it is only two issues.
Verdict
Books of Magic #20 is, well, magic. I know that David Barnett wanted to give Tim a break from the madness and give him something fun. I appreciate it. It isn't super stressful, but the danger was real and once again, Tim proves he is the best of all bespectacled boy magicians. There is even a joke about that in this issue. I laughed out loud. His time in the Dreaming was welcome and we shall all welcome him back again whenever he wants to visit I am sure, but next month, we get back to things as they were left. Baddies are coming for Tim and now he has a girlfriend, so as we know, when the hero has a partner, things get complicated.