Review: Aquaman #62

[Editor's Note: This review may contain spoilers]

Writer: Jordan Clark
Art: Marco Santucci

Colors: Romulo Fajardo, Jr.

Letters: Clayton Cowles
Reviewed by: Matthew B. Lloyd
Summary
While Aquaman attended the wedding last issue, what was Jackson Hyde up to?  After a confrontation with his father Black Manta, Jackson breaks in to Xebel and makes a friend!
Positives
Fill-in writer, Jordan Clark appears to be auditioning for a Jackson Hyde-Aqualad series with Aquaman #62.  This issue not only expands the scope of what's going on under the sea, but takes a closer look at Jackson Hyde as a person.  Aquaman #62 is a (pun intended) deep dive into Jackson's character with some interesting exploration of his relationships with both his dad (Black Manta) and his "grandfather."  Like Kyle Higgins and Aaron Lopresti's Aquaman #56, this issue brings welcome insight to peripheral events of the current story arc.  
We all know that Jackson doesn't have the best dad (Black Manta/ David Hyde).  In previous issues we've seen how David Hyde's dad raised him.  It certainly painted Jesse Hyde as a bit extreme.  Jesse's "personality" that's imprinted on the A.I. in the Manta Ship so far has appeared to be much softer and loving.  As Jesse and Jackson get to know one another better, a light is shed on the complexities of David's childhood in Baltimore.  While it isn't an exhaustive exploration, there's enough here to make the reader understand the real drama of it and how it reflects the real world.
Positives Cont'd
Once Jackson makes it into Xebel he meets a young soldier and somehow they strike up an instant friendship.  Jackson doesn't reveal all the details about himself, but this young guard and he seem to have a lot in common and there is definitely the indication there is an attraction beyond friendship.  Through this interaction, we learn about some of Jackson's likes and dislikes and what he values.  It's an extremely strong character scene.  His Xebellian counterpart is made just as familiar, and while it's not clear if this will become a forbidden love story between two antagonistic cultures, the scene is a great reminder of how similarities can bring different people together.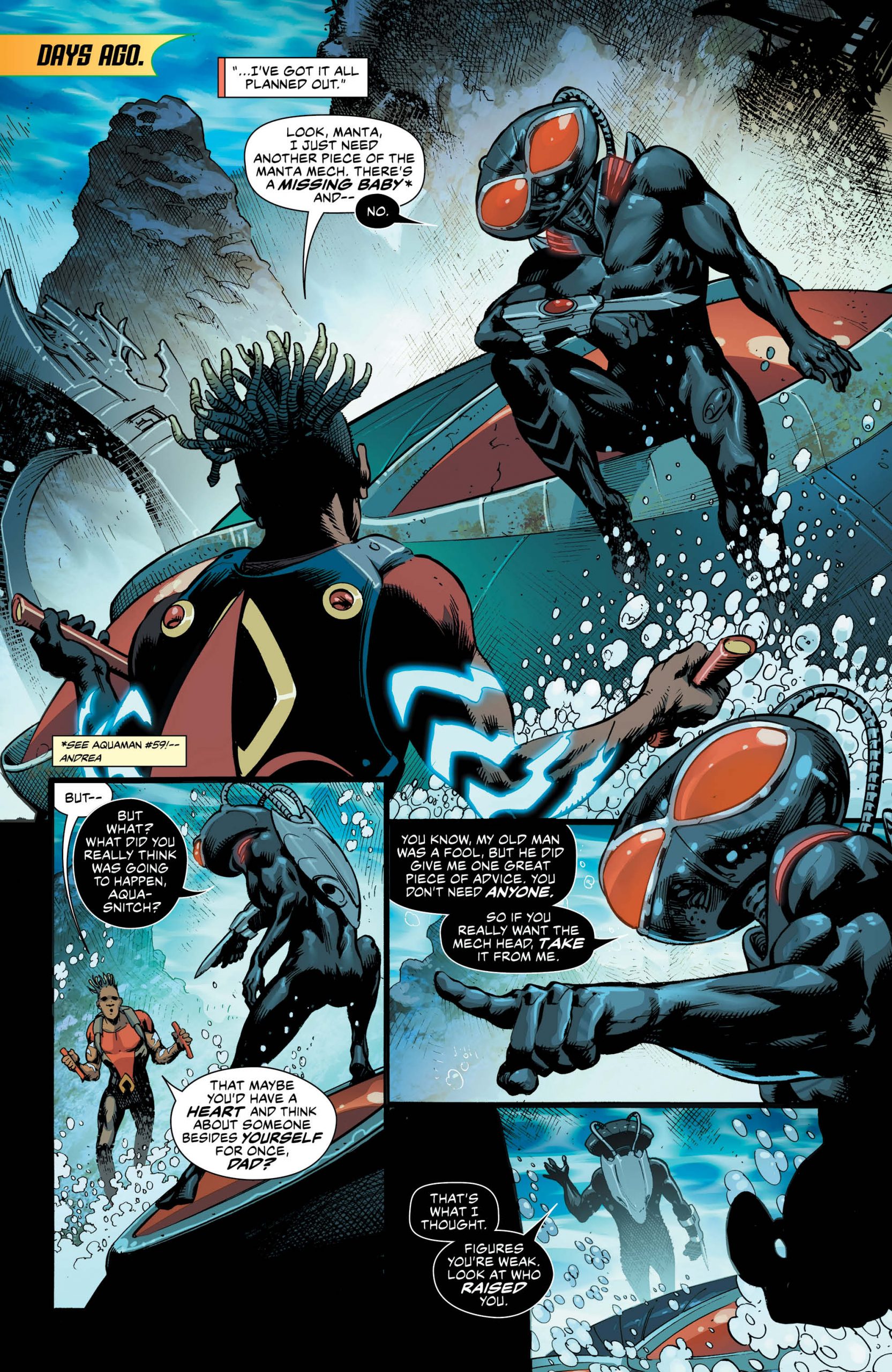 In order for Jackson to get into Xebel, he has to go to Manta to get a missing piece of mech from the Manta Ship.  This ends in a deal between the two the results of which aren't completely clear.  So the question remains, has Jackson made a huge mistake?  How will what he's done for Manta in exchange for the mech piece come  back to haunt him?
Negatives
Hard to find a negative with Aquaman #62.  While it does delay the cliffhanger ending from Aquaman #61, it's such a strong character issue that it really doesn't matter.  Well, still no Caille, as well….
Verdict
If you're a fan of Jackson Hyde, you've got to buy Aquaman #62!  Jackson gets the spotlight and along with a lot of excellent character work, there's a looming plot thread established for a future issue.  Most importantly, Jackson comes across as a real person with genuine concerns and doubts and needs.  Even Black Manta gets a little bit of sympathetic treatment.   You can't help but feeling bad for him as his past unfolds slowly.  In some ways, the Manta family may be overtaking the appeal of the Aqua-family!  Don't call it a fill-in, it's so much more than that!