Review: Aquaman #61

[Editor's Note: This review may contain spoilers]

Writer: Kelly Sue DeConnick

Art: Miguel Mendonca

Colors: Romulo Fajardo, Jr.

Letters: Clayton Cowles

Reviewed by: Matthew B. Lloyd


Summary
Under the sea, luminaries from the various aquatic kingdoms converge on Atlantis for Mera and Vulko's wedding.  However, Orm has something else in mind…and Arthur's incognito… .
Positives
I'm a sucker for redemption and reconciliation stories.  Probably, because of my good Catholic upbringing.  As long as I believe there's hope for Orm, I'm going to be hooked.  It's why he makes such a compelling antagonist for Arthur, there's always the hope that he COULD find a way to be good.  Look at his life in Mera: Queen of Atlantis. (quite unceremoniously truncated in reprint form in the lamented Aquaman Giant….).  It really is a shame, because reprinting that series pairs so well with the current Aquaman title.  The past few issues have demonstrated this aspect of Orm's character, and it's one of the best villain hooks around.
There's a majesty to Atlantis that is unique in the DC Universe, and as luminaries from under the sea gather for Mera and Vulko's wedding, DeConnick takes advantage of spotlighting all the different species and tribes that exist below the waves.  This is a quick reminder of the real "final frontier" that remains unexplored.  It comes off as a bit of sideways world building.  It is, however, EXTREMELY effective and enjoyable.  Everything feels bigger and suddenly significant.  And, that leads right into Mera's announcement at the commencement of the presumed nuptials… .
Positives Cont'd
Mera makes a bold statement when she introduces the idea of the undersea monarchies being disbanded.  All of a sudden, the tone and tenor of the book harkens back to the Dan Abnett days when Aquaman was a more politically minded treatise.  It should be obvious that Aquaman is a natural title for political statement.  It's not clear if the "illness" in the title was planned before the actual Covid-19 Pandemic, or just coincidental.  No matter, it is the perfect opportunity for DeConnick to explore the idea.  These ideas, though introduced independently, evoke a response rooted in the real world.  
Negatives
Normally, I'd be able to complain about the length of Aquaman's hair and his ridiculous beard.  In Aquaman #61, however, his hair is ACTUALLY shorter as depicted by Miguel Mendonca!  But, where's Caille?  She should be here somewhere…next issue?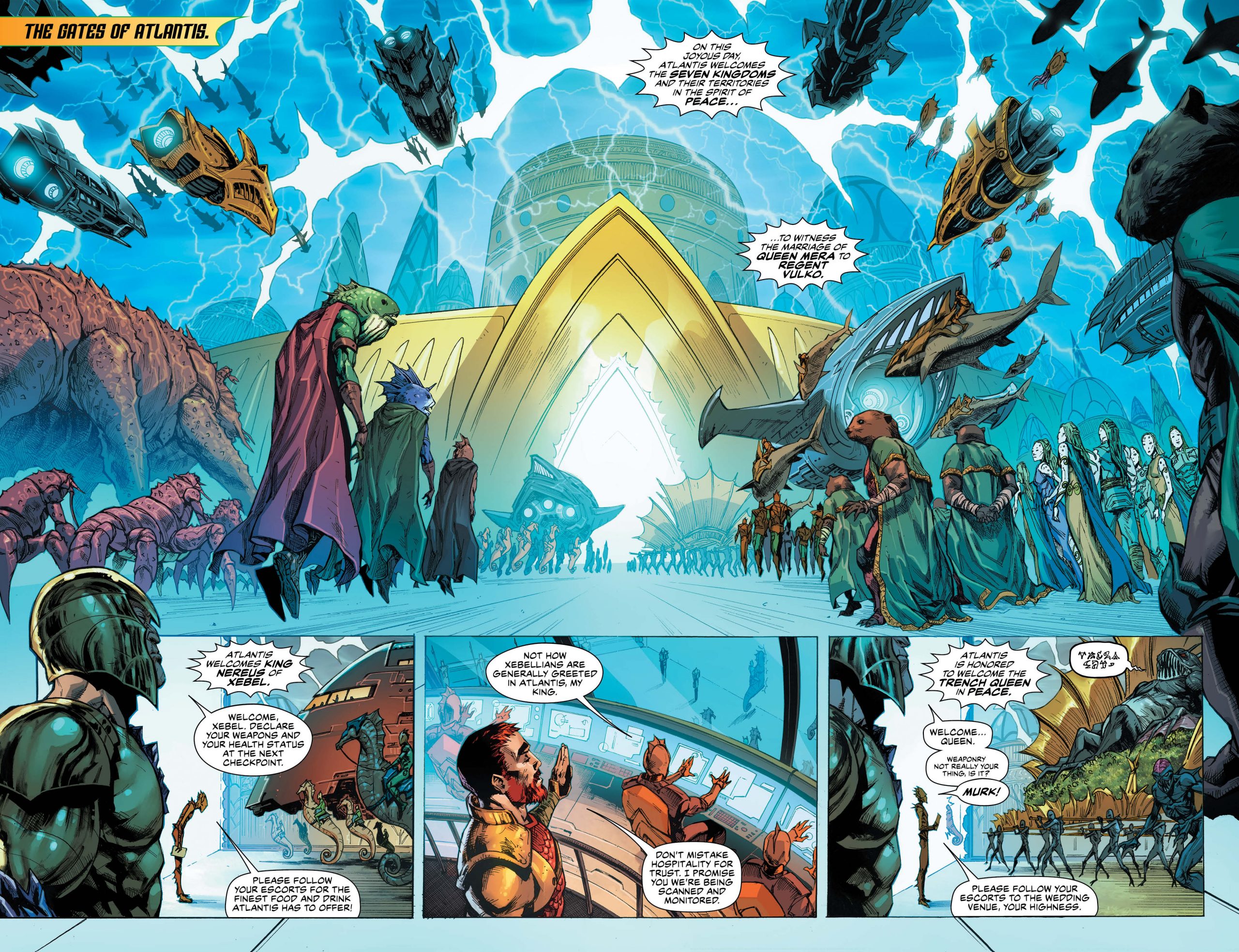 Verdict
DeConnick brings it (almost) all together (where's Caille?) with Aquaman #61.  If you were in doubt about this title, this is definitely time to get back to the King of the Seven Seas!  It's of course fitting for Mera to be just as significant as Arthur, since their original wedding back in Aquaman #18, Volume 1- 1964, the couple have functioned best together.  It's a testament to Mera's strength as a character (GO MERA!).  The feel here is just perfect as political intrigue once again takes center stage.  Despite the absence of Caille, my new favorite Aqua-character, I'm all in on Aquaman #61!  Aquaman may not even be necessary… .