Review: SPAWN #309  
[Editor's Note: This review may contain spoilers]
Writers:  Todd McFarlane
Artists: Ken Lashley
Letters: Tom Orzechowski
Colors:   Peter Steigerwald  
Reviewed by: Carl Bryan
Summary
"I'm ready to be left alone…for now!" –  Gunslinger Spawn
Introducing new series artist KEN LASHLEY (X-Men, Friendly Neighborhood Spider-Man). "CONSEQUENCE OF SIN," Part Two TODD McFARLANE and KEN LASHLEY continue to expand the SPAWN Universe. With the future in doubt and Medieval Spawn's legacy in question, Spawn, She-Spawn, and Reaper go on the offensive. But a long-time ally has shown his true colors, and Cogliostro rallies an army and a deadly new recruit…GUNSLINGER SPAWN.
Positives
Ken Lashley continues the pen and ink on this furthering developing world of Spawn where Al Simmons, alongside She-Spawn and the Reaper,  are all tracking down other Spawns from other dimensions.
Todd McFarlane has been on fire since Issue #300 reinventing the Spawn universe as Medieval Spawn has bitten the dust at the hands of Al Simmons. She-Spawn is around helping Al as she has a lead.  She is definitely one not to be subtle as she explores her side of the investigation.
Positives 2.0
Spawn #309 settles in on three parts.  The saga of the Gunslinger Spawn (who looks like he would be perfect on a 1980's Heavy Metal band's album cover) as his talent appears to be inhabiting bodies for their particular energy.  
As you would expect a Gunslinger really doesn't want trouble, but is armed and ready if there is any.  If matters could not get any worse, here comes Cogliostro who is trying to tilt every new Spawn into his direction. 
No spoilers here, but if Cogliostro is one of the original Spawn, then we have another rule broken. (See review for Issue #308).
The combination of Reaper and She-Spawn makes for an interesting team.   Spawn and Marc are not happy with each other as Marc tries to convince Al that this entire web of new Spawns could teeter totter into any direction…Heaven, Hell, or on their own.  Al's not a fan of Marc knowing more than he at the moment, so that sets up an interesting conflict.
Positives 3.0
Artistic endeavors by Ken Lashley are worthy of the Todd Father himself.  There have been many pencils on the Spawn comic, but Lashley really has the intricacies worthy of the book's originator.  Here's hoping he makes his run for quite some time!
As an aside in this review, it is hard to write about Spawn, a true African-American super-hero, without mentioning the passing of Chadwick Boseman.  Boseman made Stan Lee's and Jack Kirby's Black Panther reach galactic heights through inspiration for  generations.  His passing leaves a huge void for we that want and need an African-American presence in comics.
I appreciate that McFarlane is providing in recent issues since #300 that we truly get to see Al's face as a strong African-American hero within the Image Comics world.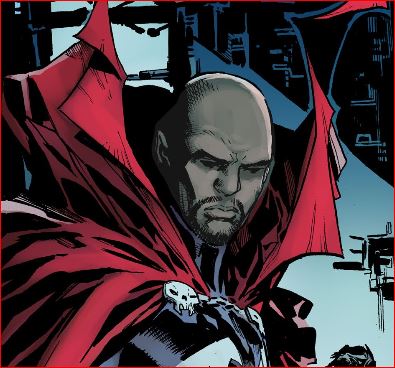 Accolades for World Record Setting
Each issue of Spawn sets a new World Record for independent comics.  That's history every time you buy an issue!
Negatives
None here as Gunslinger Spawn's story is fleshed out.  We do have some interesting heroes, villains, and players waiting in the wings.  But for now, this Spawn has my full attention!
Verdict
Spawn #309: The story telling is strong and we are introduced to yet another reason to see where this triangle of doom is going to collide.  Al and his team are simply searching for others like him.  Heaven really hasn't entered the fray yet.  And Hell is on its way to leverage the Spawns against each other.  McFarlane told us he was doing some major work since issue #300 and he hasn't disappointed.