UNDONE Watches are a truly unique brand creating not just a host of products but experiences. When you wear their watches you're become part of a unique design, purpose and for this release you too can be a hero! UNDONE's collaboration with DC has seen the birth of some beautiful watches, we reviewed their "Flash – into the void" watch last month but now something truly special is coming. The Batman Quantum Series.
Direct from UNDONE Watches, the Batman Quantum Series will be a phenomenal collectors piece for any Dark Knight fan.
Propelled by the success of our Batman 80th anniversary collection, UNDONE looks to once again captivate fans and collectors with another passionate tribute to the Gotham's No.1 crimefighter, only this time with an even bigger and meaner weaponry.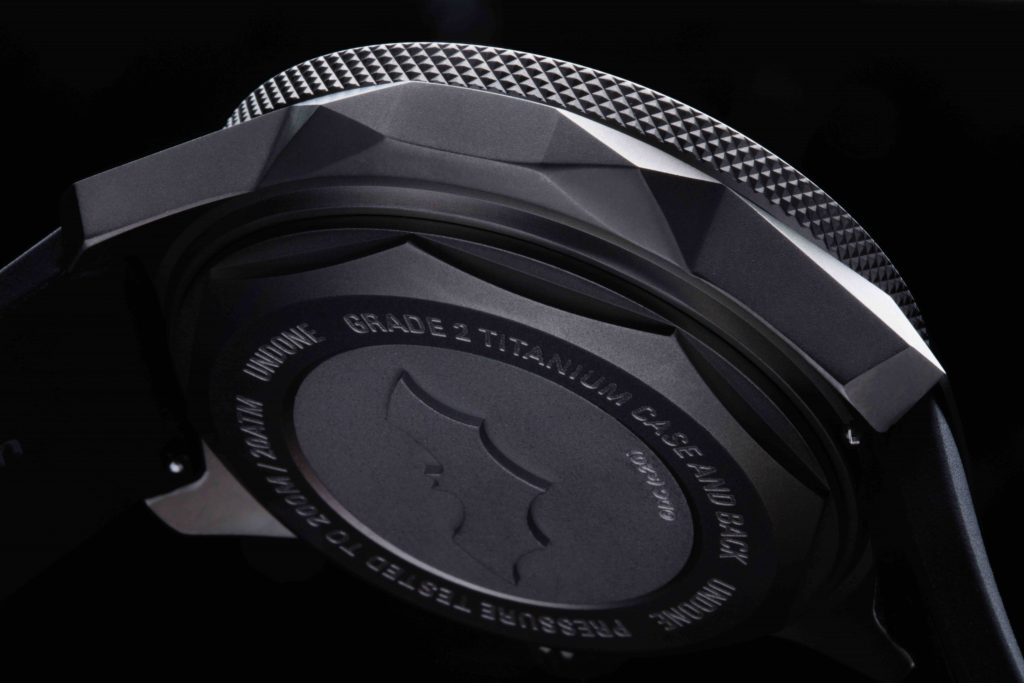 Drawing from the overwhelming feedback on our first Batman Collection, UNDONE proudly presents the amalgamation of an ambitious reimagination of our hero's formidable gadgetry. A wrist-worn "Quantum RADAR", boasting a powerhouse NH35A automatic movement, scratch-proof sapphire crystal dome and the same indestructible Grade II Titanium alloy case. The UNDONE x Batman Quantum collection will prove as critical additions to the collections of both Batman fans and any discerning watch enthusiasts; the Batman Quantum Black (Limited Edition) and the Batman Quantum Silver (Standard Edition). Anyone can be a superhero even in the absence of a superpower…after all, who needs superpowers when you can afford yourself a super gadget?

There will be light

Bats. SONAR. And Quantum RADAR.

Fans witnessed in awe as Batman last pushed the capabilities of SONAR technology (Sound Navigation And Ranging) to new heights. When he essentially converted every active cellphone in Gotham into a high-frequency generator, mapping in echolated detail (shape, size, speed and distance) of every hopeless criminal in the city, the technology had proven quintessential in his final showdown against the Joker. UNDONE ventures with an unveiling of the cutting edge technology – the cryptic and powerful "Quantum RADAR", which is a supercharged version of the same SONAR concept, all in the form of the UNDONE Batman Quantum.

NEW TECHNOLOGY

Delivered in the same unmistakably dark poetry of the Bat

In conceiving the watch pieces, great attention to detail was put into presenting a tribute loyal to the classic design language in Batman's formidable arsenal of iconic suits, vehicles and gadgets. Inspired by the "Batmobile" and Mech-Batsuit, the case sports a muted and sinister colorway, along with a sleek, sandblasted finishing touch for an ultimate reminiscent of its distinctive angles. The Batman Quantum Black has something special in store for you: With our new DLC (diamond-like-carbon) PVD coating technology, your piece becomes even meaner and indestructible. Complementing the case is a dial that emulates a jet-engine powered aggression. The dial is uniquely designed to be semi-transparent, revealing the automatic movement beneath. This cleverly reflects Batman's renowned message, "no matter how dark the night… there will be no hiding place for evil". Also, set on the dial are the military-looking indices that bear a striking resemblance to the pipe of the Batmobile's jet-engine rear exhaust.

NEVER MISS JUDGEMENT DAY

Eagle-eyed fans would notice a subtle highlight of the yellow date indicator wheel, reimagined to add a finishing touch to the muscular, blackout character. It is also a reminder of Batman's distinctive yellow oval insignia (1989-1993) on his suit, brought back by Michael Keaton, who starred as the titular hero. When darkness falls, the lume illuminates to showcase a quantum radar – an icy blue, luminous detect-a-scope radar. The illumination symbolizes Batman's rebellion and fearsomeness and the refusal to fade in the dark. CNC machine-cut crown, fitting for Gotham's king of vigilante justice. The bold bat-shaped logo on the crown signifies darkness, mystery and triumph over fear – deadly in all the best ways. Also, as a nod to the silent guardian, the watchful protector and the dark knight, a Batman's emblem is printed on the medallion insert that is then integrated onto the watch's caseback. The Batsuit, made of hardened plates on titanium-dipped tri-weave fibers, was broken into multiple pieces of armor over a more flexible bodysuit for greater mobility. The watch strap is fashioned after the quality of his armor. Adding the finishing touch to the strap is the buckle, which stealthily resembles Batman's form-fitting batsuit material.

"Does it come in BLACK?"

The limited edition of the UNDONE Batman Quantum Black (500 pieces worldwide) is finished with an additional DLC (diamond-like-carbon) PVD coating for that signature bat-black swagger.

TECHNICAL DETAILS

The Batman Quantum boasts a Japanese TMI NH35A Automatic Winding Mechanism (supplied by SEIKO Manufacturing (H.K.) Limited) housed in a Grade II Titanium case with a sandblasted finishing touch, complete with a sapphire crystal lens. The case measures at 47mm (50mm including the crown) in diameter and a thickness of 16.25mm including the crystal lens. The bezel of the watch comes to 43mm in diameter. Differentiating itself from the Standard Edition, the Batman Quantum (Limited Edition) comes with a DLC (diamond-like-carbon) PVD coating.

Batman Quantum (Standard Edition) RRP Price: USD 650

Batman Quantum Black (Limited Edition) RRP Price: USD 799