Review: Detective Comics #1027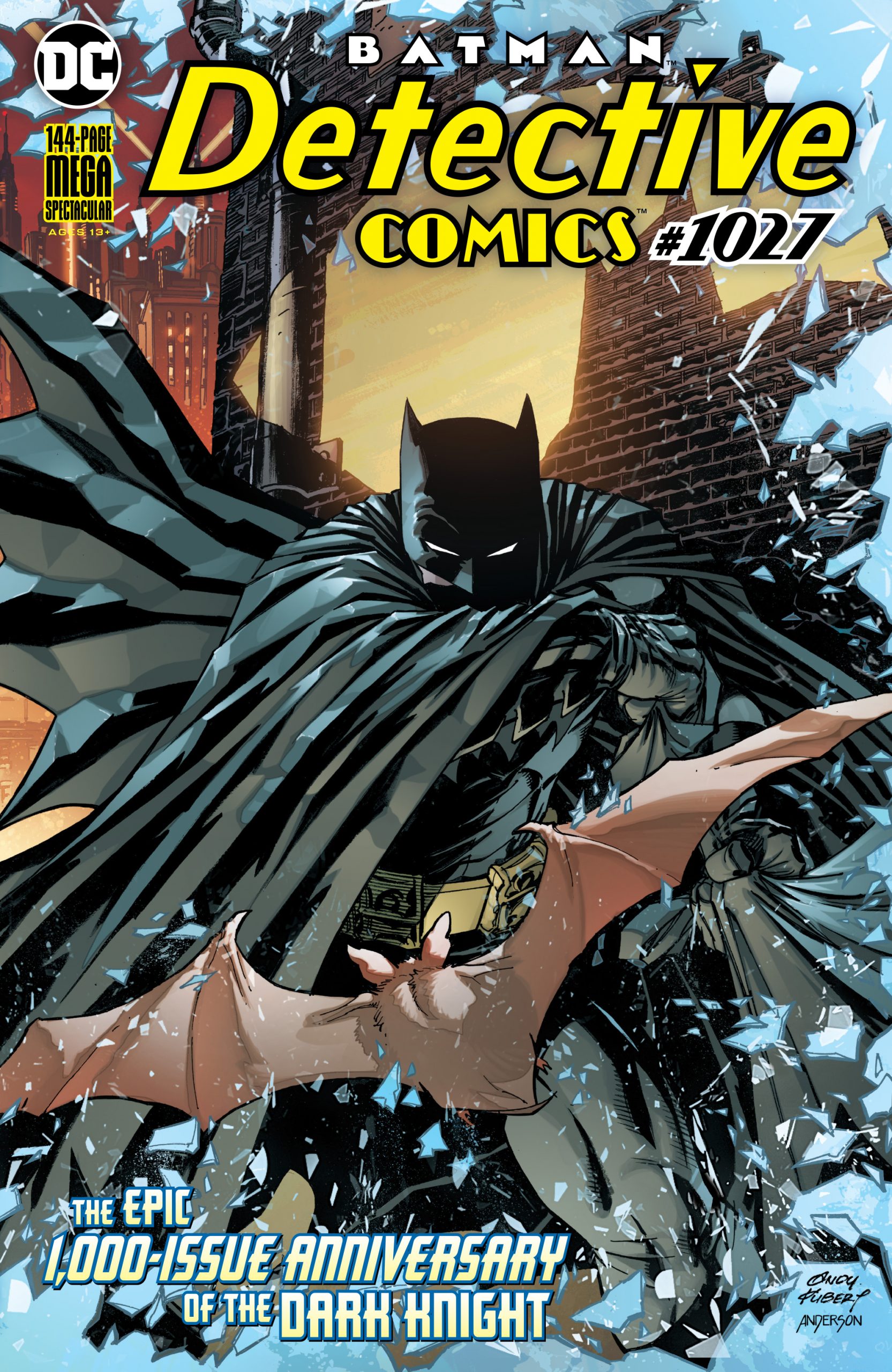 [Editor's Note: This review may contain spoilers]

Credits: See Image Below

Reviewed by: Matthew B. Lloyd
Summary
It's DC's celebration of the Dark Knight's 1000th appearance in Detective Comics. (But, it's not…not really…I guess they forgot about those issues featuring Batwoman a few years back….).  A legendary line-up of creators is on hand to celebrate the occasion from current DC scribes like Peter Tomasi and Brian Michael Bendis to former Bat-writer Grant Morrison and the illustrious Marv Wolfman.  
Positives
Like many of the recent Anniversary issues for DC's characters, Detective Comics #1027 features a number of stories by multiple creative teams and some pin-up pages of the Dark Knight.  The stories in this celebration issue don't attempt to capture any particular Bat-eras, instead, they mainly focus on iconic aspects of Batman's character portrayal or timeless stories that demonstrate the reasons behind Batman's popularity.  
The issue kicks off with the 'regular' Detective Comics team of Peter J. Tomasi and Brad Walker.  "Blowback" allows Tomasi and Walker to recount the ways in which Batman's villains have challenged him in his career while at the same time providing Batman a way out of his current situation.  Surprisingly, the second tale, "Master Class" by Brian Michael Bendis and David Marquez is quite excellent.  Bendis brings the extended Bat-family together to solve the mystery of a dead body on a roof in Gotham.  Bendis highlights the different ways in which each member of the Bat-family approaches a situation.  It's especially nice that he crates a feeling of family in the group of proteges.  The short form really suits Bendis's strengths (we aren't waiting 15 issues to discover the identity of the killer) as he allows his dialog to tell the story as well as provide the important character moments.
There are a few stories that recognize other characters in the Bat-universe and Detective Comics which are a treat.  Greg Rucka's "Rookie" revisits Gotham City Central in a story featuring a new recruit's introduction to the force and the importance of doing the right thing.  It sends a strong message of doing what's right even when your peers are not.  
Positives Cont'd
"Odyssey" by Marv Wolfman and "Detective #26" by Grant Morrison reference other characters featured in Detective Comics over the years such as Roy Raymond, TV Detective, Slam Bradley, the Crimson Avenger and Speed Saunders.  Morrison also tells a clever story with the idea of Detective #26…very clever.
It's nice to see Walter Simonson return to Dr. Phosphorous.  He drew his first appearance back in Detective Comics #469 with a script by Steve Englehart.  This story is a nice bookend to that first appearance.  Simonson preceded Marshall Rogers on art on the acclaimed Englehart/Rogers run.
The story originally intended as part of 5G, "Generations: Fractured," is not only fun, but it has a bit of Multiversal nostalgia as well.  Written by Dan Jurgens and drawn by Kevin Nowlan, it has a genuine throwback vibe as it suggests the original multiple Earth concept.  The fact that Batman seems to have been drawn into the original 1939 incarnation is not only intriguing but fun!  The choice to color contemporary era Batman with blue instead of black harkens back to the bronze age in a satisfying way.  Also, Nowlan does a fantastic job of evoking the original look of the Batman while still maintaining a modern look to the story.
The final tale offers a teaser for what's to come in Detective Comics, written by Mariko Tamaki and illustrated by Dan Mora, it seems the fall out of "The Joker War" will have some unintended consequences for Batman.
Negatives
Detective Comics #1027 has no real negatives.  Some stories are stronger than others, but everything is enjoyable.  Even though I'm Jokered out, "Many Happy Returns" by Matt Fraction and Chip Zdarsky is still a clever tale.  Probably more enjoyable in a span of time without being surrounded with so much Joker material.  This would've been a great addition the Joker 80th Anniversary issue, however.
Verdict
$10 is a lot of money for one comic.  However, there's a ton of material here and it is all good to great.  Overall, it has a fantastic focus on character and it's just plain fun front to back.  If you like Batman and DC Comics it's worth checking out even if you aren't reading Detective Comics on a monthly basis (and why aren't you…).  I have to recommend this as a must buy.  There are some of these stories you will want to read again…even a few warm fuzzies here and there, plus a little bit of inspiration…!