Review: Horizon Zero Dawn vol. 1: The Sunhawk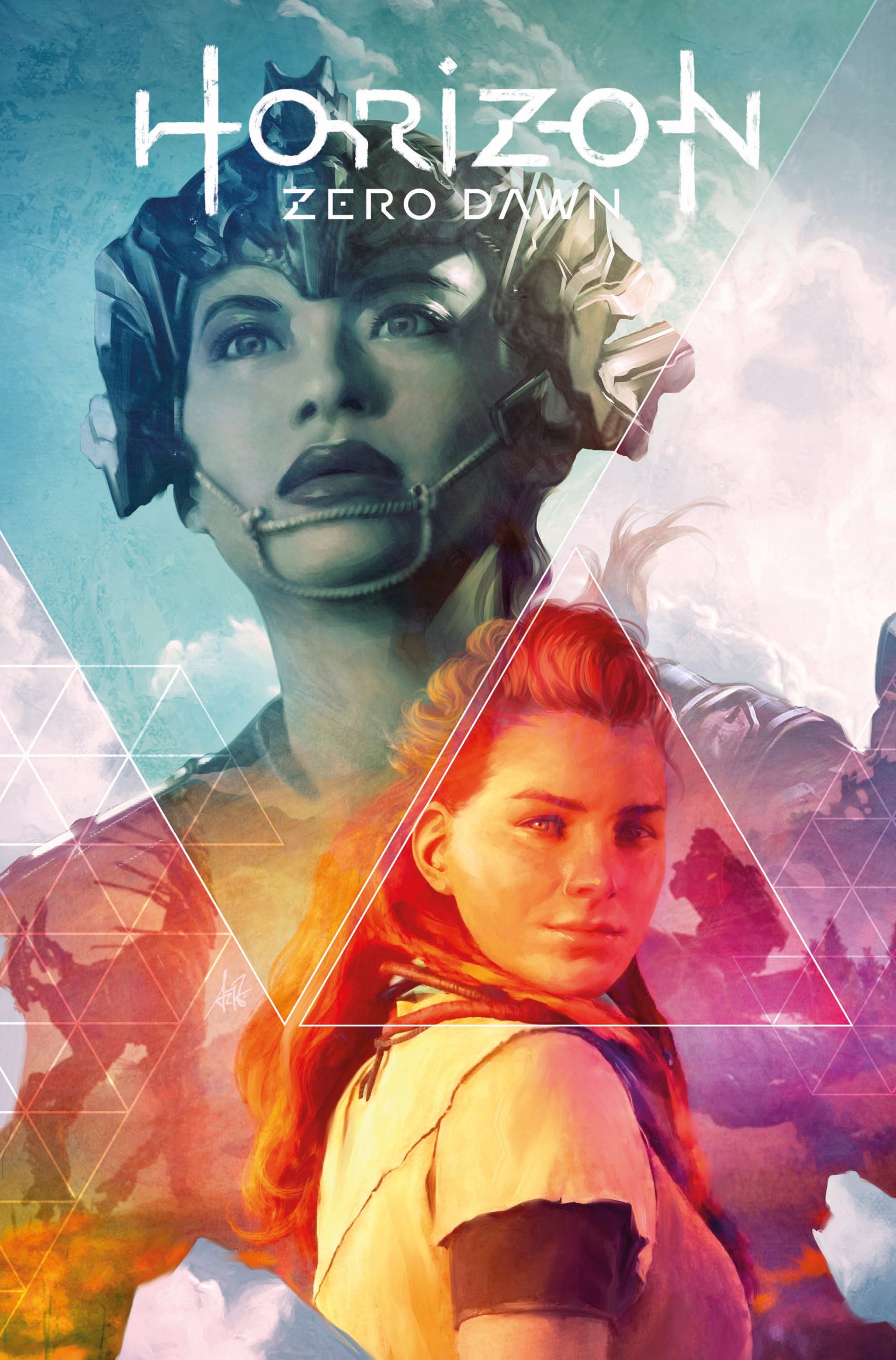 Writer: Anne Toole
Artist: Ann Maulina
Colors: Bryan Valenza
Letters: Jim Campbell
Cover Art: Stanley "Artgerm" Lau
Reviewed by: Joshua Raynor
Summary
A far-future Earth full of epic natural beauty and forgotten ruins, where awe-inspiring, animal-like machines are the dominant species and humans struggle to survive in pre-industrial tribes. In the aftermath of a titanic battle that almost laid waste to the capital city of Meridian, Talanah, one of the greatest machine-hunters in the land, struggles to find her place in the rebuilding effort. Making matters worse, Aloy, her trusted friend and confidant, has disappeared. When a new threat emerges in the hinterlands, she must decide how best to serve her tribe, her friends, and herself.
Positives
To quote our main character, Talanah, "It wasn't what I expected. It was more." That line perfectly sums up how I felt after reading this amazing book.
Before diving into Horizon Zero Dawn, I had no idea what it was about. I knew it was based on a video game (which I've never played), and I thought the artwork within the issues was stunning and seemed to indicate that the subject matter would be right up my alley. And I was definitely right.
Let's start with the many, many covers found in this collection. First off, we have the main cover from Artgerm (seen above), which was used for issue #1 of this series. The realism and color palette is so striking, highlighting both of these amazingly powerful women.  We also got a gorgeous cover from the book's main artist Ann Maulina for issue #0 from Free Comic Book Day. In one single image, you get an encompassing feel for what this book is about to offer. Maulina's crisp lines, perfect shading, and attention to detail are all showcased right there on that cover.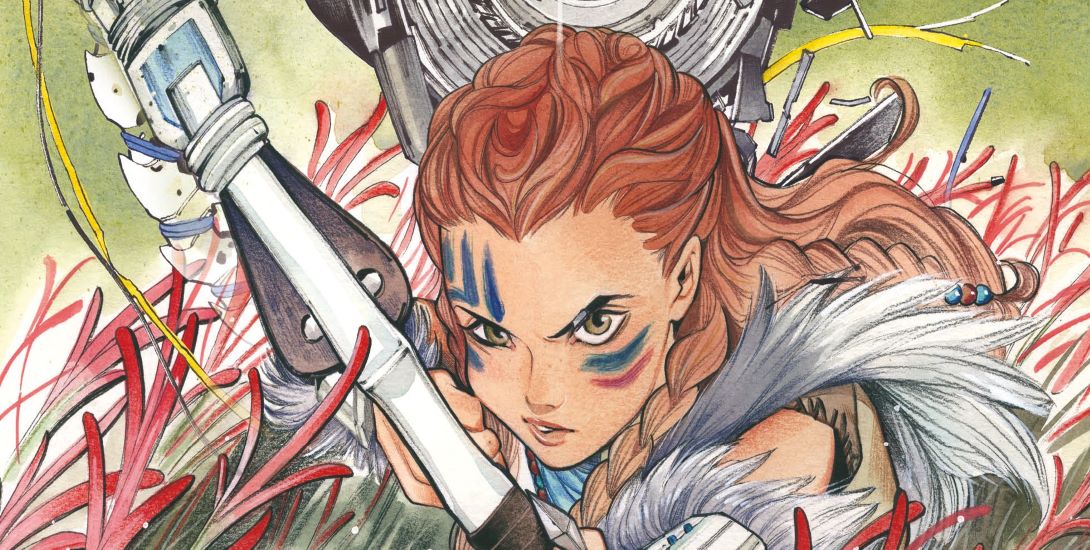 Next, I want to mention the incredible cover gallery in the back of the book, which puts on full display some outstanding artwork from some extremely talented artists, such as Peach Momoko and Loish. As someone who is a die hard fan of comic book art, this gallery was definitely a highlight.
And since we are on the subject of art, I'm going to move on the the interior art of the book. I already spoke a bit about Ann Maulina's mindbogglingly good art, but it bares repeating as she has created something that I desperately want to hang on my wall. The way she's able to create a dynamic sense of action on one page, and a still moment of contemplation on another is out of this world. It's simply incredible! And it is only made that much better with the beautifully vibrant colors of Bryan Valenza.
One of the best parts of Horizon Zero Dawn is just how easy it is to read. However, when I say it's easy to read, I'm not saying it's simplistic. On the contrary, Anne Toole has scripted out a lush landscape of characters and situations that draw your attention in and never let it go. Her dialogue flows naturally, which makes it a breeze to read. I was engaged the entire way through and couldn't put it down. So much so that I just sat down and read the entire book in one sitting, cover to cover.
The way she's able to showcase character interactions and the emotions within is astounding. And she never once wrote over my head. As someone brand new to the world of Horizon, I found the fact that I never felt lost or confused to be one of the key components of why I loved this book so much.
Oh, and real quick, before I finish up the positives, I wanted to give a shout out to the letterer on this book, Jim Campbell. Letterers are some of the unsung heroes of comics, who rarely get the love they deserve. Campbell did such an incredible job organizing all of the dialogue, narration, sound effects, and more. I specifically want to highlight his use of dashed line speech bubbles, lowercase letters, and lighter colored font for whisper speech. I understood exactly what he was going for and it absolutely helped to be in the moment of the scenes in which this technique was used. Bravo!
Negatives
There are really no negatives here. If I had to choose something, it would probably be that I wished there had been more with Aloy, but this story is far from over, so I have full confidence that we will learn more about her as time goes on.
Verdict
Overall, Horizon Zero Dawn vol. 1: The Sunhawk was a delightful and and engaging read, and is a series I will continue to follow for as long as it sticks around. I may even have to pick up the video game.