Review: SHAZAM #15 (Final Issue)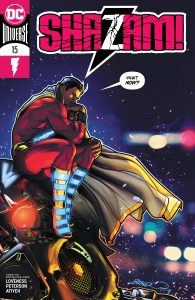 [Editor's Note: This review may contain spoilers]
Writer: Jeff Loveness
Artist: Brandon Peterson
Colours: Mike Atiyeh
Letters: Rob Leigh
Reviewed By: Derek McNeil
Summary
Shazam #15: After a night battling robots across the globe, Billy Batson finds out not everyone loves superheroes when one of his teachers unleashes a lecture on the ethics of unchecked power and privilege. It'll take more than just the wisdom of Solomon for the teen hero to figure this one out.
Positives
It seems strange for a series to end with a fill-in issue. However, Shazam #15 is written by Jeff Loveness, who previously wrote a filler issue for Shazam #12. Johns' final issue last month could easily have served as the series finale. Johns tied up all his story threads. So why add another issue?
My guess is that Loveness had been given the job to do this issue before the decision had been made to cancel the title – either as a fill-in before Johns started his next storyline or perhaps Loveness was going to take over as full-time writer.
But, whatever the reason, we have Loveness' story to serve as the series' swan song. And once again he has given us a refreshingly delightful story. Like his previous story, Loveness narrows the focus to just Billy, giving us a better look into his character, both as Billy and in his heroic Shazam identity.
The major fault with Geoff Johns' storyline was that it was overly ambitious. Johns was juggling way too much with six main heroes, multiple concurrent villains, with multiple story threads. Loveness on the other hand gives us a simple story that focuses on Billy and his teacher Ms. Ayes. Billy fights a couple giant robots, but very little of the issue is spent on those fights. Freddy appears in his civilian identity and Aquaman makes a brief appearance, but neither steer the focus of the story away from Billy.
Positives Cont.
This is what I feel a Shazam title should be. Billy should be the central character, not just one of an ensemble cast. It's fine to bring Mary and Freddy in occasionally, and the others in the Shazam family once in a rare while for major battles. And he should only have to handle one or two crises at a time, not a half dozen at once.
And it seems fitting that for Billy's final issue that he should face a situation where he has to seriously consider whether his being a hero is making the world better. And I love that in this story, he not only does help doing the typical heroic act of saving people from a burning building, but he also helps by reaching out to console and advise his teacher.
I also love the dichotomy between the impetuousness of Billy and Shazam's Wisdom of Solomon. Billy shows a unique mix of youthful foolhardiness and unerring insight that belies his lack of experience. Shazam is a character that embodies some interesting contradictions: he is both child and adult as well as both foolish and wise. And Loveness' story clearly shows this.
I also have to praise Brandon Peterson's artwork for this issue. Although I still prefer the classic Captain Marvel costume, Billy's New 52 costume has never looked better.
Negatives
The only negative I can find with Shazam #15 is that it serves as the series finale, while showing just how good the series could be if it continued with Loveness at the helm. If DC relaunches the title in the near future, they should seriously consider offering it to Loveness to write.
Verdict
Shazam #15 serves as not only a touching final issue, but shows us a glimpse of the Shazam series we might have had. Not to knock on Geoff Johns, but he bit off a lot more than he could chew with his overly complex storyline. Loveness has shown that keeping it simple can be much more effective than throwing everything at the reader at once.