Review: Seven Secrets #6 
[Editor's Note: This review may contain spoilers]
Writer: Tom Taylor
Artists:  Daniele Di Nicuolo
Colors:  Walter Baiamonte with color assistance by Katia Ranalli
Letters:  Ed Dukeshire
Reviewed by: Carl Bryan
Summary
"You belong here Caspar!  Look at him bouncing along on his little legs.  He doesn't know he can fly." –  Alien Twins
For fans of Once & Future and Undiscovered Country comes an all-new original series from #1 New York Times best-selling author Tom Taylor (DCeased) and artist Daniele di Nicuolo (Mighty Morphin Power Rangers) about seven powerful secrets-words, wonders, weapons, and worse-with the power to change the world..
For centuries, the Order has trusted in Keepers and Holders to guard the Secrets in seven briefcases against all harm, but when their stronghold is attacked and the secrets put in peril, the entire Order must face their greatest fear-an enemy who knows too much and is willing to kill to get what he wants.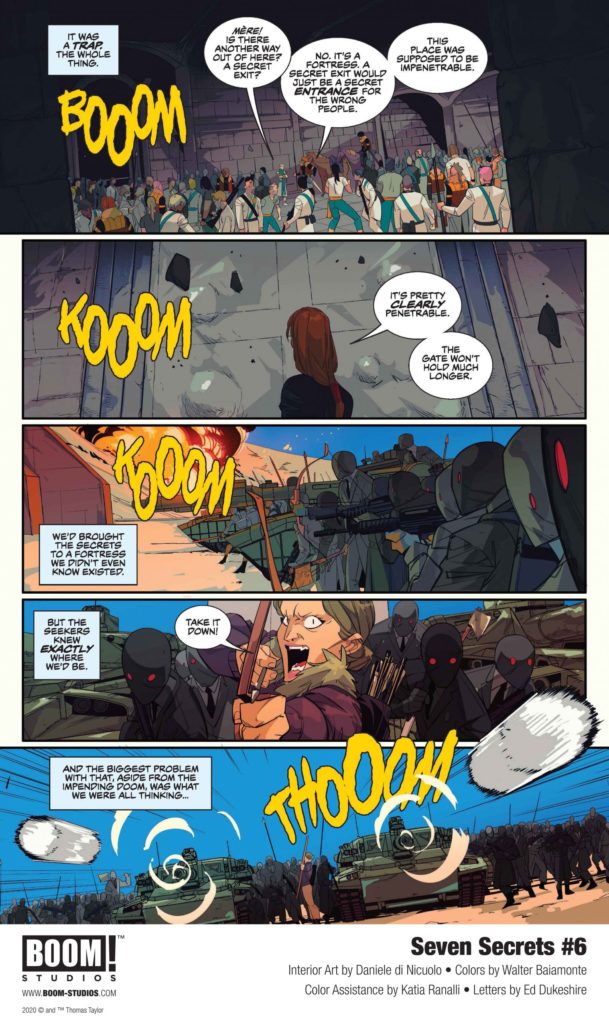 Positives
Tom Taylor's adventure into a secret society guarding secrets that could lead to the downfall of humanity.  Issues #1 – #5 have brought us to this point where Caspar, having recently been promoted to a Holder is already in the midst of an assault on he and the rest of the Holders and Keepers.
Taylor has developed Caspar into a character you can sympathize with in the death of his father as well as his eventual training to become a Holder of one of the secrets.  Taylor not only develops Caspar in these issues, but also develops quite the array of characters within this secret society.  What he has done for the DCeased series has been amazing.  His fleshing out of this entire new series makes DCeased look like a three frame comic on Sunday morning.  It's just that good!
A lengthy battle, some sacrifices, and an eventual escape with six of the seven secrets lead us to a series of cliff hangers that make a subscription to this comic ever more enticing.  What is in those brief cases?  Where dimension are the Holders and Keepers in now?
And how does Caspar play such a pivotal role in all of this?  Taylor is at the top of his game in story telling with existing characters and universes he creates.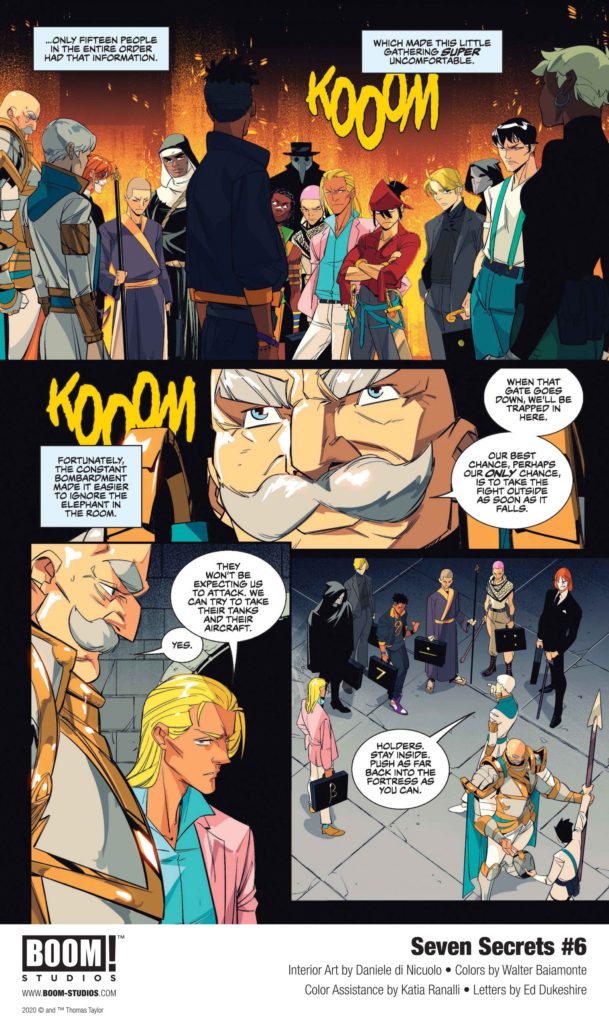 Positives 2.0
Daniele Di Nicuolo illustrates Taylor's Universe perfectly.  The lines, the environment, the expressions and …Canto.  Easily he is the best supporting character in this environment.  Pretty traumatic issue for him as he loses his hand and he allows the first secret to fall (Don't open that briefcase.  Do you remember what happened to Atlantis?)
Huge kudos to Di Niculolo taking the story from cities to compounds to what appears to be another universe dimension.
Negatives
The only negative is that I am late to the party.  But being a fan of Taylor's DCeased series provided the intrigue to look for other Taylor creations.  This series is still in its infancy of as Caspar is the center of everything, but Taylor has a great ability to juggle a lot of different characters in his worlds.
Verdict

Tom Taylor is at the apex of his game and we are the benefactors.  I continue to appreciate his endeavors in the DC arena, and it is arguably hard for writers to expand to less established universes and characters.  Not Taylor…he along with Sean Murphy and his Murphyverse endeavors in White Knight seem to be the new Lewis and Clark in comics…forging through areas that have never been explored  before!