Review: Future State: Aquaman #2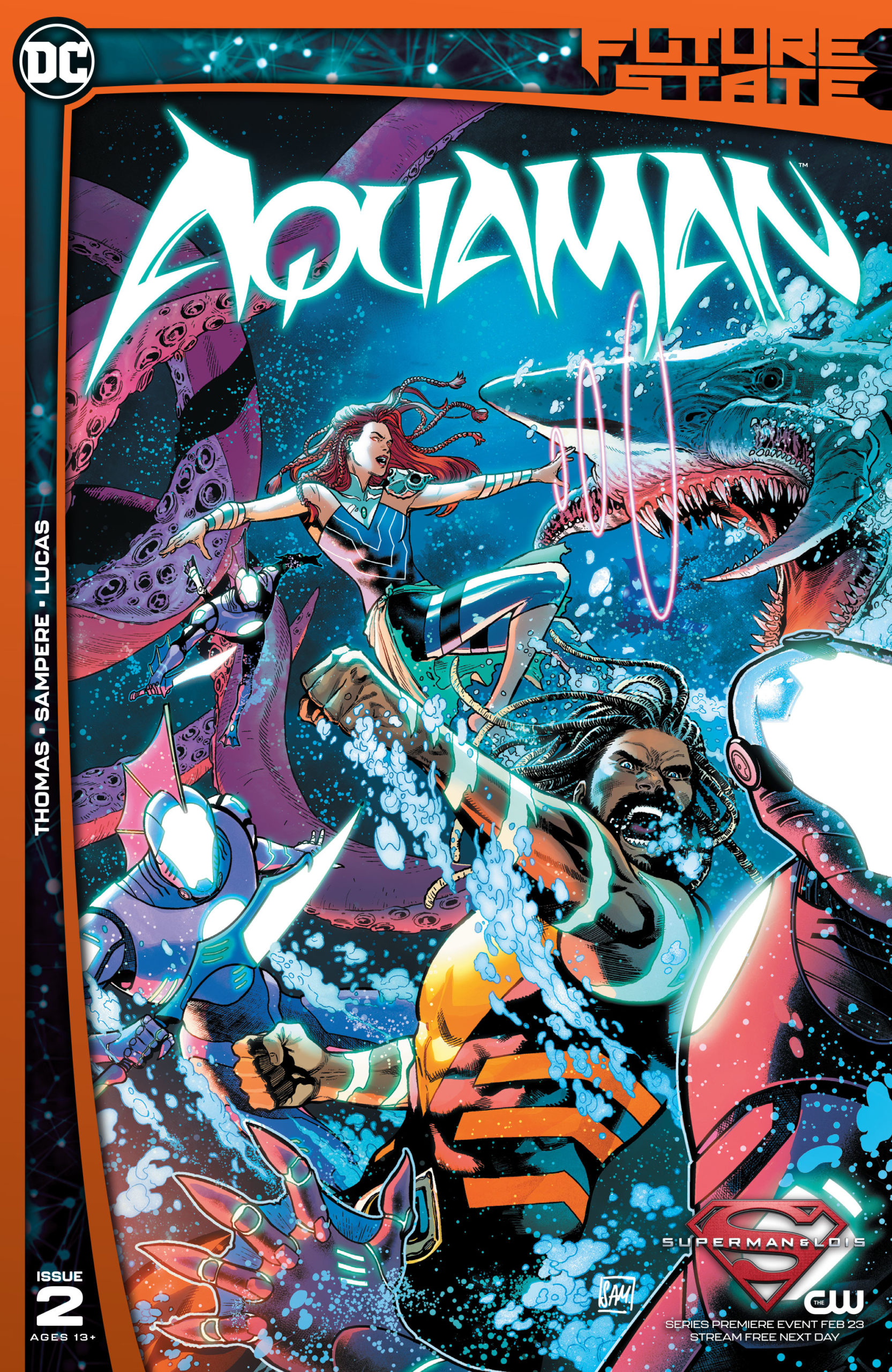 [Editor's Note: This review may contain spoilers]
Writer: Brandon Thomas
Artist: Daniel Sampere
Colors: Adriano Lucas
Letters: Clayton Cowles
Reviewer: Tony Farina
Summary
Andy Curry, daughter of Arthur and Mera, has had a pretty terrible month. Jackson Hyde, a.k.a. Aquaman, won't stop calling her Aqualass when she's told him a thousand times it's Aquawoman. She's manifested a new power that scares the absolute hell out of her. Oh, and she and Jackson just got ripped apart in the midst of a cosmic space ocean and she can't find him anywhere! For the first time in her 14 years, Andy's all alone-and it's gonna take her wits, her will, and every single lesson Jackson ever taught her to survive.

Positives
Future State: Aquaman #2 features, once again, the amazing, talented and simply perfect artist for this subject and these characters Daniel Sampere. That opening panel is just a kick in the gut. Couple that with Lucas' genius color palate and Cowles spot on lettering, you have a poster. Don't believe me?  Just feast your eyes.
I love, love, love what Brandon Thomas is doing with Andy's character development. That whole "Aqualass" nonsense that ran through this was done purposefully for the payoff and what an action packed payoff it is. There is such emotional resonance as well.  Thomas makes the years of training we see unfold in just a few short panels feel meaningful and important. I want to tip my cap to the way we learn so much about Jackson in just a few panels at the end. It is just excellent storytelling.
Negatives
Future State: Aquaman #2 should NOT be called Aquaman. It is Aquapeople or Aquafolks or, and this might take people by surprise, Aquawoman. Andy Curry is the star of this book. Was there some fear at DC that an Aquawoman book would not sell? It does both Andy and Jackson a disservice to just name this book after him. Sure, we see him in a few action packed moments, but for the most part he was locked away.
Verdict
Future State: Aquaman #2 is superb. When everything with Future State shakes out I desperately want this series to continue (albeit with a different name). There is a lot of potential here. Jackson was clearly shortchanged here, but that means we can only hope for more time with him. My fingers are crossed. My webbed toes are crossed. I want more of Andy and Jackson. Yes please!