Review: Superman: Red & Blue #1
[Editor's Note: This review may contain spoilers]
Writers: Marguerite Bennett, Dan Watters, Wes Craig, Brandon Easton, John Ridley
Colors:  See Graphic Below
Letters: See Graphic Below
Artists: Jill Thompson, Wes Craig, Steve Lieber, Clayton Henry  
Reviewed by: Carl Bryan
Summary
"Mxyzptlk said you were more fun than this.  I am out of here!" – Creature from the Fifth Dimension who has stolen all the colors in the world.
Superman: Red & Blue #1 –  This new series presents fresh new visions of the Man of Steel in his two signature colors of red and blue! Around the world, everyone knows that when they see a red and blue streak in the sky, it's not a bird…it's not a plane…it's Superman.

To start things off, Academy Award-winning writer of Future State: The Next Batman John Ridley joins artist Clayton Henry (Batman/Superman) to tell a story of Clark Kent as he confronts a villain who still haunts him, in a story that shows what Superman can mean to a whole country.
Then, Brandon Easton (DC Future State's "Mister Miracle") and Steve Lieber (Superman's Pal Jimmy Olsen) take readers to the streets of Metropolis to show how one hero can mean so much to an individual in pain.
Plus, writer/artist Wes Craig (Deadly Class) tells a tale of Superman's early days and the man who inspired him to become the hero he is today! 
And Marguerite Bennett (Future State: Kara Zor-El, Superwoman) and artist Jill Thompson give us a tale of teenage Clark Kent.
 Dan Watters and Dani, the team behind Coffin Bound, bring us an outlandish fable about what happens when all colors are stolen!
Positives
Black and white is the perfect medium for Batman (who makes a special guest appearance in a black and white story by Dan Watters and Dani.  However, Red and Blue is the perfect compliment to that storyline and reserved exclusively for the son of Krypton.
I know what you are thinking…we have visited the Red Superman and the Blue Superman before…in the Silver Age (love that red costume though) and in the 1998 fiasco where Superman was in two energy beings.  Thankfully, his comic is not in that wheelhouse.
Rather we get a glimpse of Superman through the ages.  From a child in Smallville in his first days of school –  "So…what are you going to do about it?" questions Pa Kent to a five year old Clark when he observes someone being ostracized on the playground.  
To a POW story akin to Louis Zamperini's real life story of Unbroken.  If there was an Oscar in the comics business, this story by John Ridley and artist Clayton Henry.  Again, thank goodness for Bruce Wayne/Batman.  I'll do nothing to spoil this story as it is as strong and real for anyone that endured a Prisoner of War experience. 
Art imitates life in that you have to admire Clark's parents, their Smallville brand of raising him, and the strength that he has to shift planets in orbit or to turn the other cheek.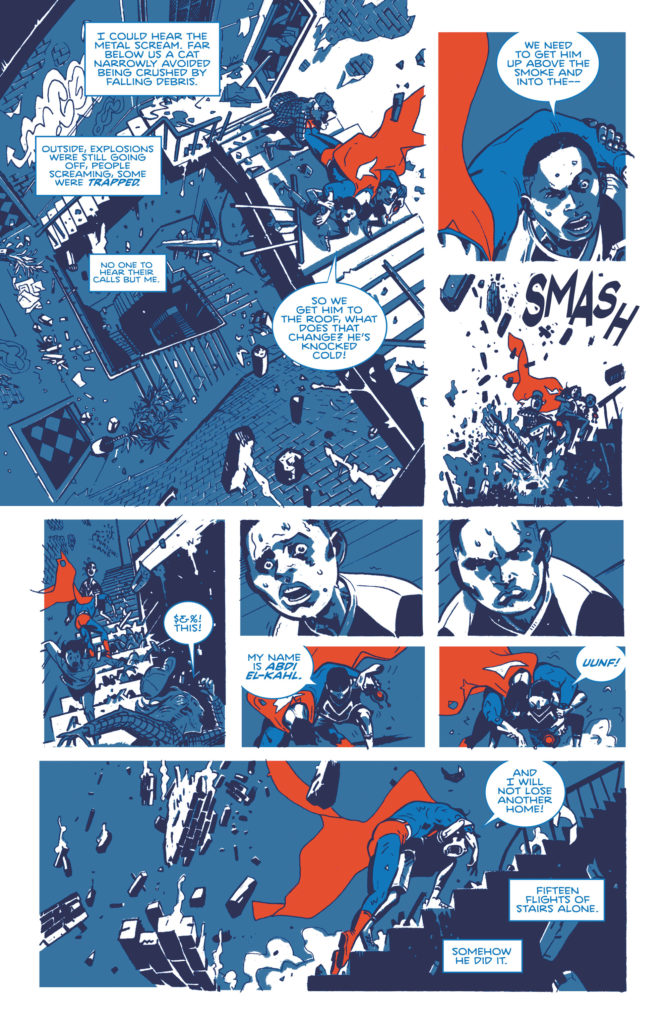 Positives 2.0
While all the stories are simply wonderful and stand on their own, Dan Watters and Dani could very much be a part of a college coach in poetry.  Dan Watters verbally paints an imagery of Red and Blue that makes me want to hear what he has to say about every color in the Crayola box…all 64.  
Negatives  
Crickets chirping….the sound of the wind as a Red and Blue streak passes by.
Verdict
While the Black and White is Batman's playground, Red and Blue fit our Big Blue Boy Scout just fine.  I was skeptical as I remember the prior Red and Blue endeavors within the time line.  This first issue crushes those endeavors, and gives us priceless stories to add to the legend of Superman and the humanity and grit of Clark Kent!  
I cannot wait for the same treatment of Wonder Woman…hint, hint.