Review: Spawn #316
[Editor's Note: This review may contain spoilers]
Publisher: Image Comics
Writer: Todd McFarlane
Artist: Carlo Barberi
Letters: Tom Orzechowski
Colors: Jay David Ramos
Reviewed by: Carl Bryan
Summary
"Seconds from now he'll painfully receive his answer." – Narrator
"CHAIN GANG,"  INTRODUCING A NEW SUPER-TEAM…the CHAIN GANG! Spawn and Medieval Spawn continue to battle the Omega Spawn. Just as it looks like they are both defeated, out of the bowels of Hell emerges a Spawn like no other….The Plague…those are not the green eyes we are used to!

Positives
Carlo Barberi's pens provide a clean, clean look to this comic.  Most of the Spawn comics are in the dark, but here we have a battle on the beach where the blue sky and brown sand give the backdrop to let colors pop and pencil marks display. Barberi falls right in lines with McFarlane and Capullo in how he details the drawings of these characters as he not only works on our beloved Al Simmons' Spawn, but he gives the Monolith quite the treatment.
Omega Spawn is in a league of its own and Barberi's pens Jay David Ramos' coloring is to be celebrated.  The symphony of moves exhibited by Medieval Spawn, Monolith and Al working together fighting the Omega Spawn is priceless!  The introduction of The Plague is something to behold.
This is a different Spawn…Red Eyes and what appears to be limitless powers.  It is going to be the game changer in the battle for Earth. 
She-Spawn finds something and we are going to be richer for it.  This character is changing the landscape of the McFarlane Spawn universe.  As previously mentioned in prior reviews, her book cannot come soon enough. 
This entire comic is about battle, with a cliff hanger that peels back even more layers to what Al Simmons let loose in issue #300! Story wise, we find out a lot more now in regards that there are more Spawn than we anticipated.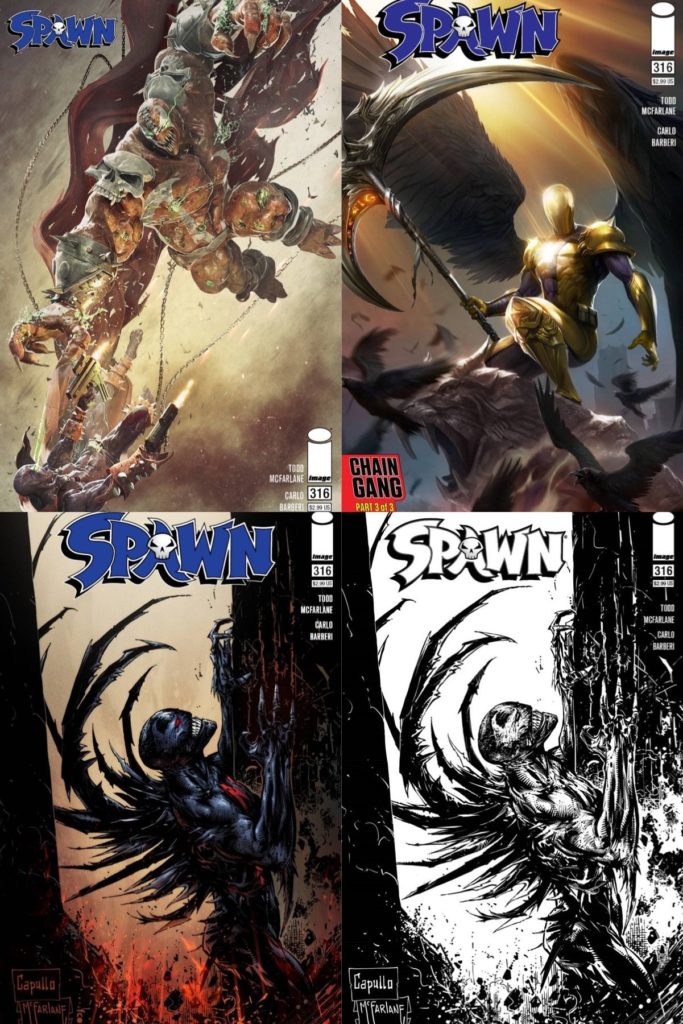 Positives 2.0
Spawn #315 – "8936"…. The Power Meter is filling back up fast.  McFarlane teases another Spawn…this one has a Middle Eastern look or perhaps is that Asia?.  Kudos for Tom Orzechowski who turns lettering into a "read between the bubbles" art!  Look at the voices when each Spawn speaks.  There's a string of pearls that Orzechowski has strung together for us.
Accolades for World Record Setting
Each issue of Spawn sets a new World Record for independent comics.  That's history every time you buy an issue! Speaking of Record Breaking…. 2021 is the year of Spawn. 
 Spawn's Universe #1 will kick things off. The first title will release in August with a book called King Spawn #1. This will mark the first time in twenty-eight years that anyone can buy a monthly issue #1 Spawn book.  This will give McFarlane hope of reaching a new generation of readers that missed out on the initial launch of the Spawn back in 1992.
October will bring Gunslinger Spawn #1. Finally, there will be a new #1 team book, which will band five characters together to fight against forces too big for any of them to take on alone. That book is titled The Scorched. Spawn, Redeemer, Gunslinger, Medieval Spawn and She-Spawn begin the group's adventures, but McFarlane promises a rotating cast of heroes over the coming months to keep the roster of heroes fresh.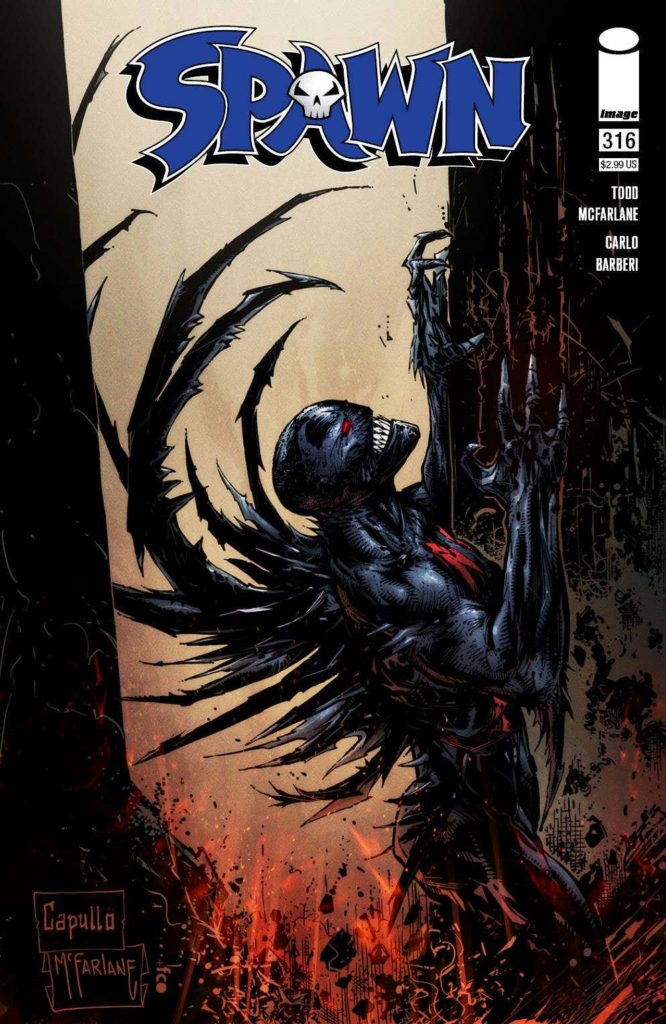 Negatives
None… Do I like the fact that Al Simmons is arguably the weaker Spawn at the moment?  No…but for a long time Spawn fan, to have various versions of Spawns converge into one book to battle for the fate of the Earth.  I don't think Todd McFarlane even expected what an independent comic in 1992 was capable of.
Verdict
Spawn #316- If you need to catch up on all things Spawn, then check out Spawn: Compendium that came out recently.   It collects Spawn #1-50, and is a wonderful down and dirty on the origin of Spawn.  It comes out just in time to be in concert with what is coming up in the Spawn Universe.  Since #300, McFarlane has been on fire and the heat is being turned up in the Spawn Universe with new titles featuring other Spawns coming out soon!