Review: BATMAN #107
[Editor's Note: This review may contain spoilers]
Writer: James Tynion IV
Artists: Jorge Jimenez, Ricardo Lopez Ortiz
Colours: Tomeu Morey
Letters: Clayton Cowles
Reviewed By: Derek McNeil
Summary
Batman #107: Tensions are sky-high in Gotham City following the events at Arkham Asylum, and public opinion and unrest are starting to boil over. The Dark Knight has his hands full juggling the investigation of the reappearance of an old enemy and the rise of a new gang in Gotham called the Unsanity Collective…Gotham City is getting more dangerous by the minute!
Plus, in part one of "Legend of the Ghost-Maker," James Tynion IV and Ricardo Lopez Ortiz tell the most insane tale of action and adventure featuring Batman's frenemy Ghost-Maker! This one is not to be missed!
Positives
"The Cowardly Lot" is an appropriate title for a story arc featuring the Scarecrow. It not only refers to the Scarecrow's modus operandi of spreading fear, but also to the famous quotation from Batman's origin story, "Criminals are a superstitious, cowardly lot". Like many of Batman's rogues, Scarecrow is a reflection of Batman. Both Batman and Scarecrow weaponize fear, though their methods and choice of victims are vastly different.
In Batman #107, we continue to see how the Joker War and the subsequent destruction of Arkham Asylum. The main thing we see this issue is how Batman's relationship with the GCPD has changed. Batman has his first encounter with Renee Montoya since she became Commissioner. Renee calls Batman out for "contaminating a crime scene" and threatens to arrest Batman if he doesn't immediately leave.
Batman does leave, but not before making a dig at Montoya. He admonishes her, "Don't forget how to ask the questions that need asking". Batman is subtly reminding Montoya that she herself has a masked identity as the Question. Before taking Nakano's side against Gotham's masked heroes, she needs to keep in mind that she's one of them.
We also see Barbara Gordon as Oracle, telling Bruce about her idea for a re-imagined Bat-Signal: "It's not like the cops are going to put the old one back on the roof of the central precinct with Nakano in charge. But it's important to remind people that you're still out there". The signal would be put on multiple random rooftops, signalling Batman to "meet a Gordon on top of a weird old  building, and find out about the crisis of the day. I really like seeing that Barbara has been putting her mind to adapting to the changed situation in Gotham.
Positives Cont.
We see Harley have her own encounter with the police, which she escapes with the aid of Ghost-Hunter. Ghost-Hunter admits to a fascination with Harley. I am quite intrigued to see how the relationship between the two develops. I believe the two of them have the potential to make quite a unique and powerful partnership.
Also, there is a strange woman watching the encounter. I don't know who this mysterious woman of colour is, but I suspect that she's connected to Poison Ivy. She is accompanied by two "animals" that appear to made of plant material. Also, she states that Harley's presence in Gotham "means that there's still hope". This rather cryptic statement implies that Harley has a large part to play in the coming issues.
And we see the return of Matches Malone. Bruce adopts this familiar alter-ego to infiltrate the Unsanity Collective. I did notice, however, that he is now going by "Match". He has also modernized his wardrobe since we last saw him. Even Matches has had to adapt to the new Gotham City.
Speaking of Ghost-Hunter, he gets his own backup story, starting this issue. I quite enjoyed getting a chance to see Ghost-Hunter in solo action as a crimefighter. Up to now, we have only seen him in conflict with Batman and fighting alongside Batman. Now we get a glimpse at what his adventures were like when not operating under the rules that Batman has laid out for him.
This adventure is delightfully over-the-top, with grandiose villains and swashbuckling action. Ricardo Lopez Ortiz's artwork is especially suited to the larger than life story depicted here. While the villains shown here are essentially parodies of typical supervillains, Ortiz also depicts them in a way that shows they are still deadly threats.
Negatives
This isn't a criticism of Batman #107 itself, but of Tynion's overall story in general. Important elements of the story are scattered through various titles. For example, Montoya becoming Commissioner was told in The Next Batman: Second Son. While it's reasonable to assume that readers will be aware of plot points raised in longtime sister title Detective Comics, is it reasonable for Tynion to assume readers are religiously following Batman: Urban Legends, The Joker, and Harley Quinn?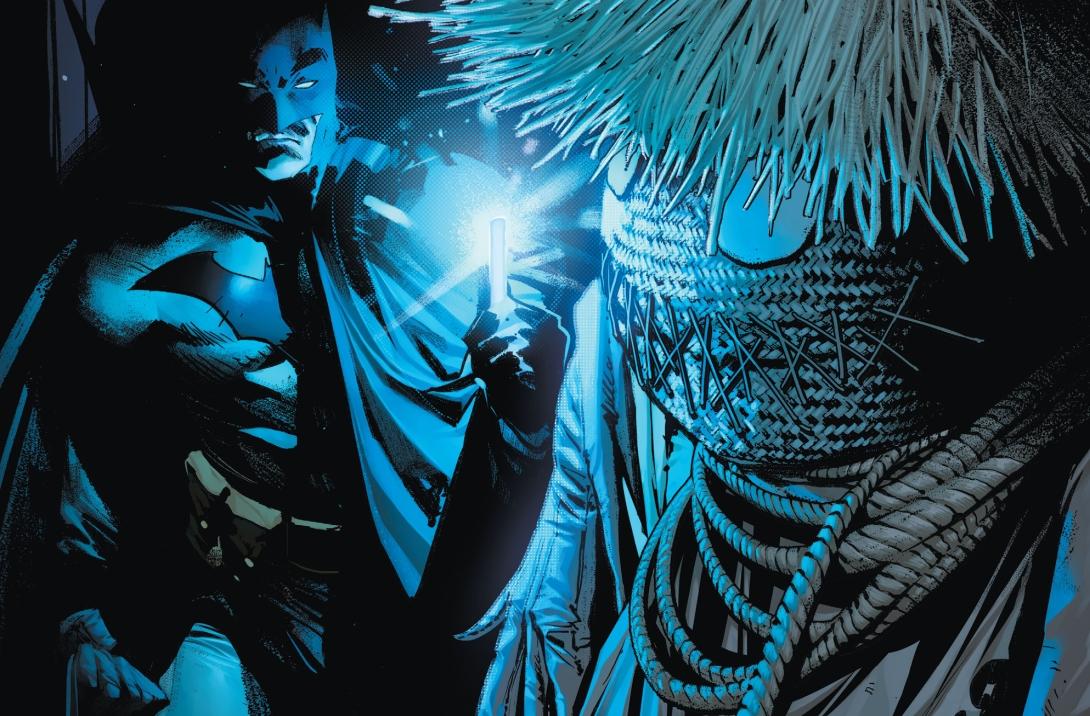 Verdict
The Gotham City in Batman #107 appears to be well on its way of becoming the dystopian city we saw in Future State. Hopefully, Batman and the Bat-Family will be able to prevent that future from being realized. In either case, it's certain that the journey toward that future will be a helluva ride with James Tynion IV at the wheel.