Review: Man-Bat #3
[Editor's Note: This review may contain spoilers]
Writer: Dave Wielgosz
Artist: Sumit Kumar
Letters:  Tom Napolatino
Colors: Romulo Fajardo, Jr.
Reviewed by: Carl Bryan
Summary
"Only you can set yourself free from your delusions pal  I should know.  I am a certified therapist…. "- Harley Quinn
Man-Bat #3 – Kirk Langstrom's mental state has been deteriorating for years, but in the wake of his violent altercation with the Suicide Squad, he's found himself on the verge of a complete emotional collapse.
Luckily (or unluckily) for Kirk, Dr. Harleen Quinzel is offering pro bono-and entirely unsolicited-psychological counseling.
As Harley delves deep into his damaged mind, she uncovers tragic events that set the stage for his transformation into Man-Bat in the first place. will her psychotic brand of psychology help Kirk make peace with his inner demons or leave his mind even more fractured than it was?
Positives
Dave Wielgosz is churning out quite the tale as this is not just a reincarnation origin story of Man-Bat.  Wielgosz is propping up Man-Bat with the right number of mainstay characters.  Whether you consider Langstrom as a B villain among Batman's Rogues Gallery, he is quite the celebrated Knight on the chessboard among the Suicide Squad and Scarecrow.
Scarecrow?  Yes…turns out that the villain we really need to be on the lookout for lately is the ultimate mind manipulator.  Not one to share any spoilers, but the last page is quite the cliffhanger…maybe we can get Leo DiCaprio to portray him as this Inception style surprise is right up his alley.
Positives 2.0
Dave Wielgosz starts this story with glimpses of Langstrom's love for his wife and for his family.  That's where most motivations out of science come from…to help someone else who might have a condition or situation where we need a cure.
Wielgosz creates a character in Langstrom a misguided and misunderstood scientist.  He desperately wants to help, but the Man-Bat wants to take him over…give into the carnal instincts.  Where does he fit in?  I loved the Gotham City Monsters and JL Dark
Where does Langstrom fit in?  So many places for this character to be other than facing Batman every so often.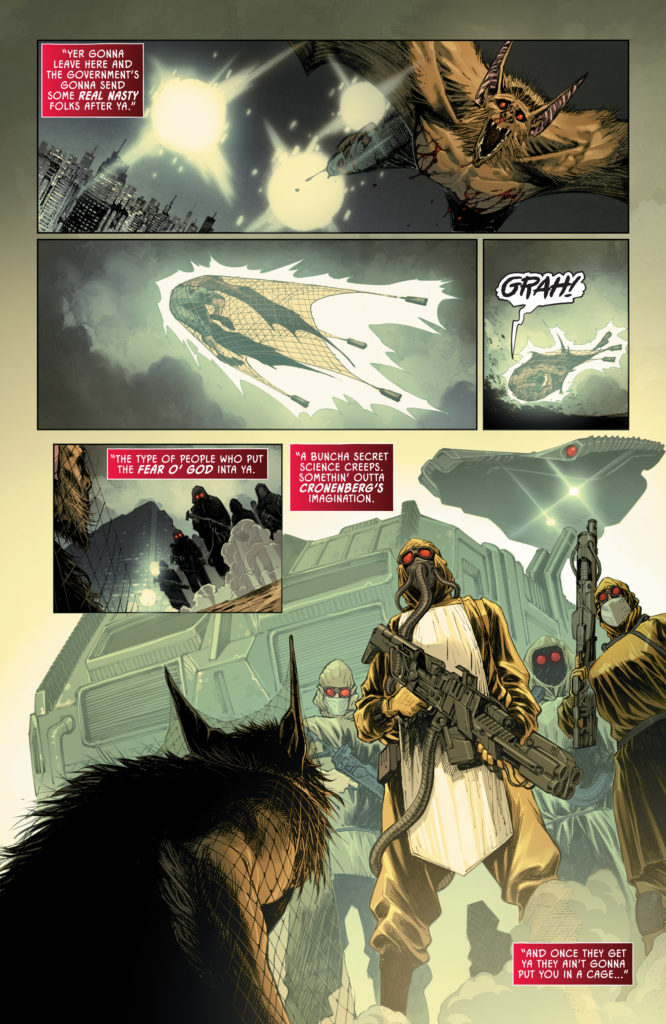 Negatives
I've bought into the timing issue from last month as this all takes place before Death Metal.  But now with the introduction of Scarecrow in the current time line as well as this book…well.  It gets confusing.  We just can't have the Scarecrow building the same type of terror in the current Batbooks, as well as adorned in the same costume he is wearing in these Man-Bat books.
Major factual error – fifty points subtracted off your paper in Journalism class.  Keep that time line correct!
Verdict
Dave Wielgosz and Sumit Kumar work really well together to deliver a solid revisit to the origin of Man-Bat.  However, how this inserts into the current Future State or as a stand alone tale is a bit confusing.  However, taken on its own, its a great reminder of Man-Bat and a hopeful piece of story telling that allows him to remain relevant on the DC landscape.  He's a team player and not really worthy of a monthly series.  The old misguided principled anti-hero is a bit played out.