Review: Commanders in Crisis #7
[Editor's Note: This review may contain spoilers]
Publisher: Image Comics
Writer: Steve Orlando
Artist: Davide Tinto
Colorist: Francesca Carotenuto
Letterer: Fabio Amelia
Reviewed by: Carl Bryan
Summary
""Why can't ideas start out there?" – Frontier gazing to the sky
The last survivors of the Multiverse live among us under new, super heroic identities, five survivors of doomed worlds…taking a second chance to ensure our world lives on.
A new twist on strange superhero comics, COMMANDERS IN CRISIS follows in the footsteps of Doom Patrol and Thunderbolts as five unexpected heroes come together to solve a murder unlike any other. The victim? Compassion itself…This is "ideacide"!
Commanders in Crisis #7 – The American Individuality Act moves forward as the world looks on in envy.
The loss of empathy has left few speed bumps on the road to worldwide chaos. Can the Crisis Command's hail mary revelation about the Multiverse kickstart Earth's caring?
And will Frontier escape the Lightning World in time for it to matter?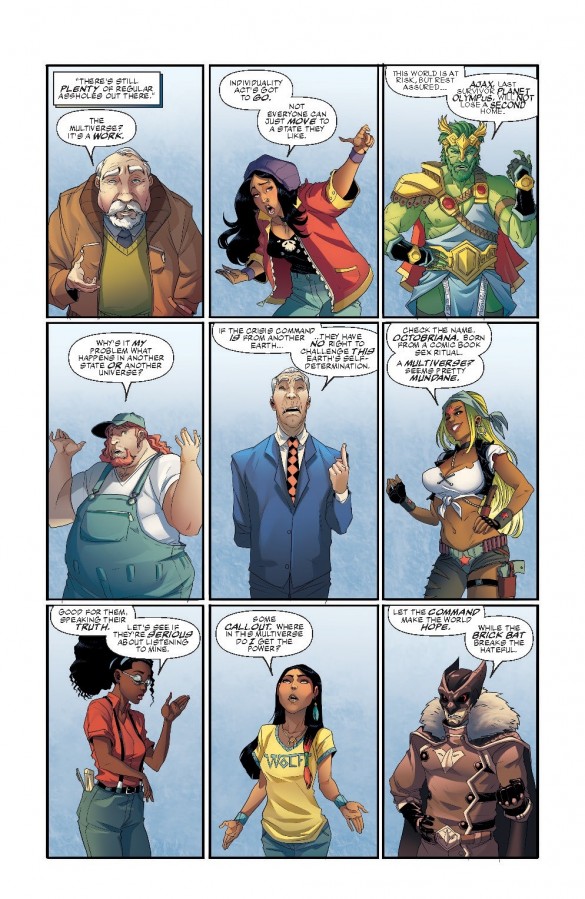 Positives
Steve Orlando's writing continues to get stronger as we are introduced to the World of Gods.  In fact this is a pivotal part in the story thus far as empathy has been turned into a real person and killed.  However, Frontier has now realized that the strange nature of the imaginary world might allow them to return empathy to the world.
Thunder Woman  (Orlando's Thor) isn't sure that will work, but she's at least willing to humor Frontier long enough to find out.  In Washington, the senators behind the American Individuality Act realize that they can't ram through their legislation without repercussions, while Seer faces her own evil doubles, thanks to the villain called… Head Cannon!
Orlando continues to add layers to the Commanders as this is as unique of a Justice League/Avengers as you will find.  Given Orlando's penchant for all things topical and placing politics as a back story, his layering can appeal to a host of readers.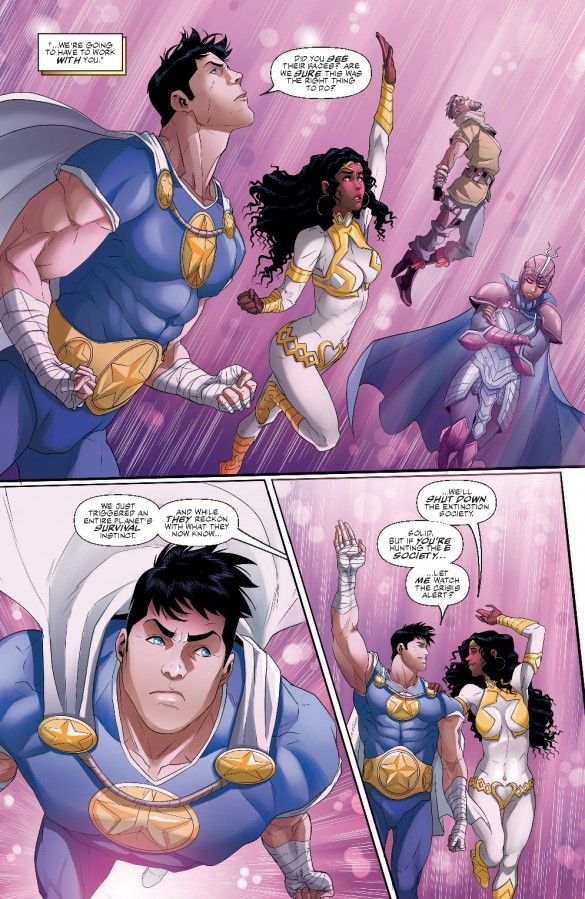 Positives (more…)
I continue to applaud the craft of Davide Tinto and Francesca Carotenuto – their lines are clean, their colors are vivid, and the frames are perfect for this comic.  They tell a story within a story, and they work so well with Orlando's script!  This art is reminiscent of Dan Jurgens' era of Superman versus Doomsday.  The character drawings are perfect.  They remind one of sticker art that you just want peppered all over your laptop cover (That's a compliment!)
Huge Huge shoutout to the Revenge Regiment…copies/clones of Frontier (and a lot better than HeadCannon…whew).  Pummel, Reptant (now I can see this being a mainstay villain), Mother Miasma, and Rurikid.  I would love to know the origins of these clones, but at this point, I cannot wait to see the look on Frontier's face.
Love the introduction of the American Dreamer.  Orlando is adding ingredients to this mini-series at a breakneck pace.
Negatives
Not exactly a negative, but Image is the playground Steve Orlando needs.  His writing outlet is both philosophical as well as very sexual.  That is not a bad thing, but an applause for Image for allowing Orlando to be very inclusive and equitable in his work.
Again, not a negative per se, but it is a moment to pause if a younger reader is interested in new heroes and is not familiar with Orlando's work in this arena.  The characters he has now developed have rings of familiarity to them to other heroes in other companies.
Okay  – Bourgeiois Swan…Orlando is definitely digging in at either Donald Trump or Aflac commercials.  Either way, this is his Universe's "Howard the Duck".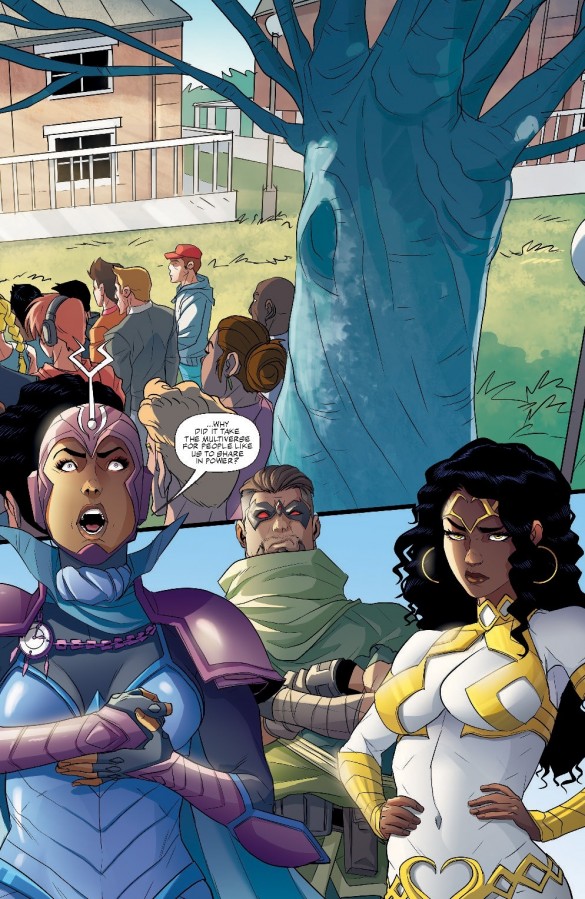 Positives (Third Round!)
Sawbones and Seer continue to be my favorites in this new array of heroes.  However, we get the new characters previously mentioned which means we may get another few issues after this 12 issue stint.  And that would not be bad!   There are only so many powers to go around and Orlando has done his homework on spreading the wealth among his heroes and villains.
Verdict
The issues get better and better.  The story line gets stronger and stronger.  Go back and purchase issues 1-5.   You'll be glad you added this to the collection!  Again, note that the script continues to get deep and thought provoking, the art pushes the edges in story telling and the colors are as vivid as any comic produced.  Image has a hit on its hands.