Review: Wicked Things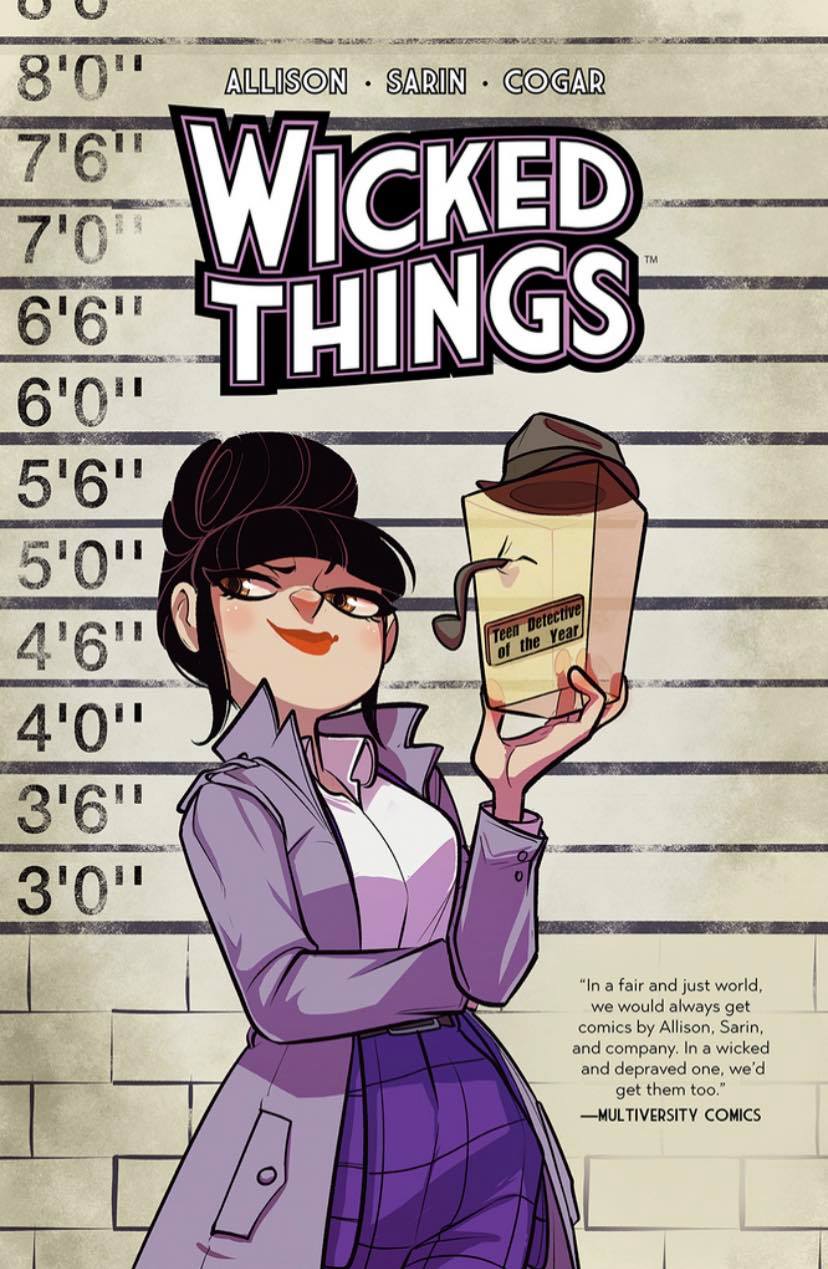 [Editor's Note: This review may contain spoilers]
Publisher: BOOM! Studios
Writer: John Allison 
Artist: Max Sarin 
Color Artist: Whitney Cogar
Letterer: Jim Campbell
Review by: Kendra Hale
Summary
Fans of Sherlock Holmes, Encyclopedia Brown, Nancy Drew, The Hardy Boys – it would honestly just be easier to say mystery lovers – lend me your attention for a few moments. John Allison and Max Sarin give us sleuthing gold in this fabulous treat, Wicked Things. The book collects all six issues of this great series. So, let's discuss and meet Charlotte Grote. 
Charlotte, or Lottie, is a lover of mysteries, always has been. Her compass points toward justice and her mind works in mysterious and interconnecting ways.  She is college bound to Oxford, knows what she wants for the future as a detective, and has the best friend a girl could ask for in Claire.  The girls set out for a bit of a vacay as Lottie was nominated by Claire for the Teen Detective of the Year Award (16-18) as part of the 75th Annual Solvers Award Show.  
You should never meet your heroes though, as Charlotte sadly learns once they arrive at the hotel. She is starstruck by all the famous sleuths she is surrounded by that hail from all over the world. Problem is…they are nothing like she has imagined them to be. Pretentious, snotty, rude, boorish, and some just plain boring.  Lottie is fired up. She plans to win this award and show them she is on their level of solving crime. 
The one thing that brightens the mood, aside from Claire and her room service orders, is seeing the person Charlotte holds on the highest pedestal, Kendo Miyamoto.  Her wish comes true… being invited to join him for breakfast. But after a weird translation from his attendant, things go sideways. Like a roller coaster, Lottie rides the lows and highs as Claire tries to boost her mood. But nothing in her short life could prepare Charlotte for what happens on Awards Show night.
Lottie finds herself in quite a bad situation, and soon enough in handcuffs, as she's accused of murder!
While the murder charges are being investigated, Charlotte is given a choice. She can go forward with her trial immediately, with no way to combat the staggering evidence that points to her, or she can help out the fuzz with the cases that have stumped and befuddled them. Easy choice, right?
Put on house arrest and given a curfew, Lottie tries to make the best of her situation. She helps where she can and soon enough proves her worth to those closest, as well as her superior D.I. Rick Dennison. But the real criminal or criminals still roam the streets, and Charlotte has a whole new world to keep pace with. Murder, Mayhem, and a house full of fellow criminals being used for their skills…what more could you want?
Positives
Wicked Things has so many to name. The artwork is adorable and unique, it enhances the characters so much. John Allison and Max Sarin give us so many great and memorable moments. It would be easy to say that Wicked Things is a series that falls into the Mystery genre and leave it at that. But to do so would be a disservice. It has humor, heart, and a sincerely great story. 
Some of my favorite moments are ones that are entirely relatable.  Lines like "You shouldn't go on a hunger strike on an empty stomach." and "No more imported Manga?" had my side splitting as I could hear these as though spoken. But by far, the "Poop Poop" line and artwork is my absolute moment of the book. It happens so unexpectedly and is genuinely hilarious. This is a series I could literally read everyday and be happy. 
Negatives
It doesn't let you go and you want more. Addiction? Sugar high? Side Cramps? That's all I got.
Verdict
 Charming and witty with killer bangs. Pick up Wicked Things now!

Images May Be Subject To Copyright.