Publisher: Titan Comics
Writer: Jody Houser
Artist: Roberta Ingranata
Color Artist: Enrica Angiolini with Shari Chankhamma
Letterers: Comicraft's Richard Starkings
Summary
Doctor Who: Missy #2 has hit the stands and broken barriers. In this issue, Missy makes her daring escape from Stormcage Prison – with the help of an old friend – and we even get a cameo appearance from the most underrated Doctor of the modern era, 12, as played by the inimitable Peter Capaldi.

Positives
I've been reading and collecting Doctor Who comics for 44 years, and in that time many legendary comics creators have charted the course of the TARDIS and her legendary occupant. Writers like Pat Mills, John Wagner, Scott Gray, and a legendary run by Steve Parkhouse. Then we've had artists like Dave Gibbons, John Ridgway, and Martin Geraghty… to name just a few. For me, Jody Houser and Roberta Ingranata, along with color artist Enrica Eren Angiolini, and letterers Comicraft, have joined the elite, and rank amongst my favorites, and the all-time best.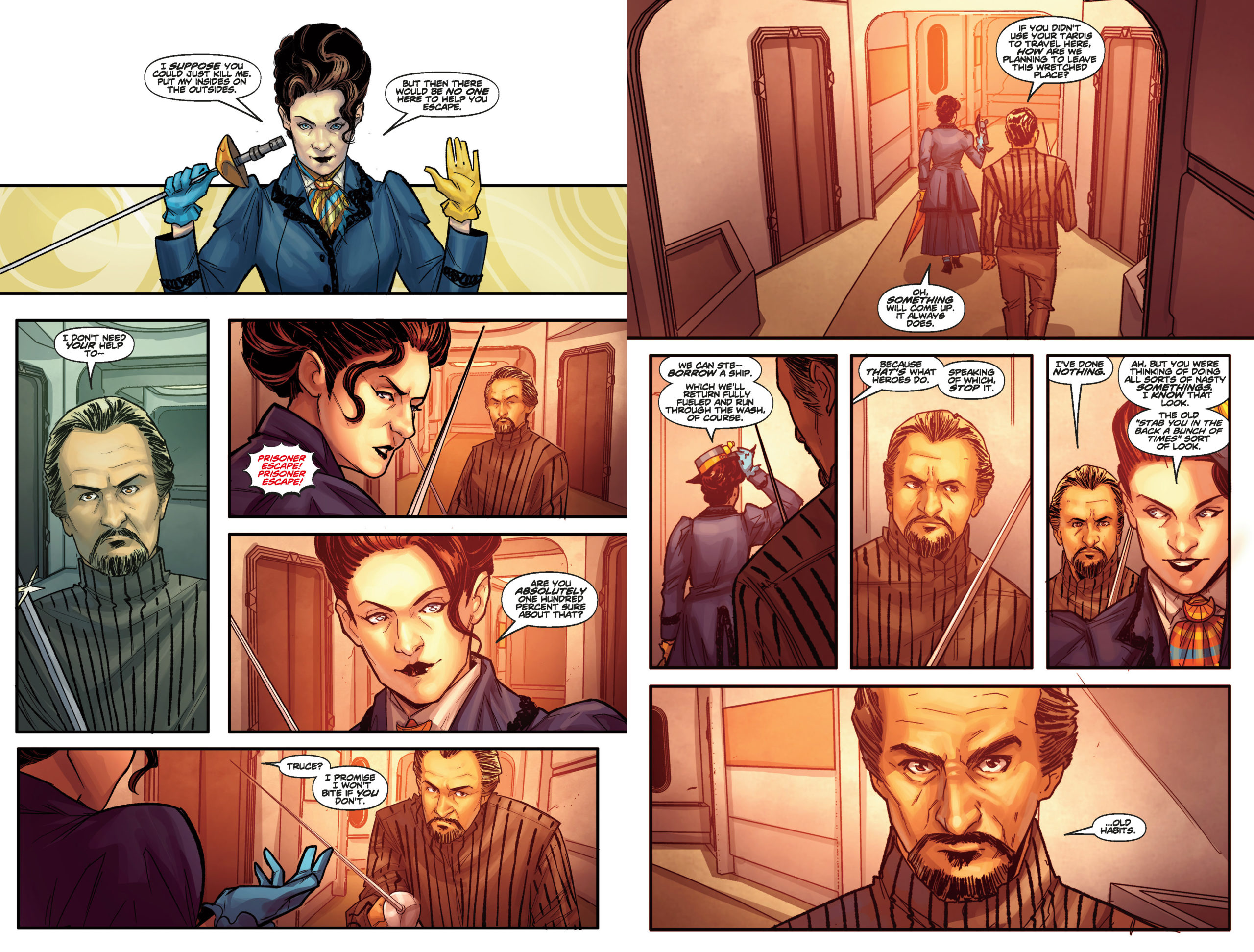 Not only do we get a pitch-perfect Michelle Gomez Missy, but I can clearly hear Peter Capaldi's gruff, Scottish brogue, and the caramel smooth tones of another great Doctor Who character, one that's very good at breaking out of prisons. I'm not giving away any spoilers, you won't get me to sing. No way! I'll save my melodies for a summer's day, by the pond… though the review art attached below gives away a river of info, anyway…

Don't Expect Any Negatives
As you can see, Roberta Ingranata and Enrica Angiolini's version of the Doctor's wife is as picture-perfect as their Master and Missy. The way these two work together always puts a smile on my face. Their work, alongside Jody's incredible dialogue, makes this series a must for any fan of Time Lords and Ladies, renegade or otherwise.
Verdict
Daring escapes, running down corridors, sword fights, and smart talk; Doctor Who: Missy #2 has it all. Buy this comic, and do that thing. The book thing. There's a word for it. I can't recall… just don't do it in the TARDIS console room without the Doctor's permission.

Images Courtesy of Titan Comics