Review: The Swamp Thing #4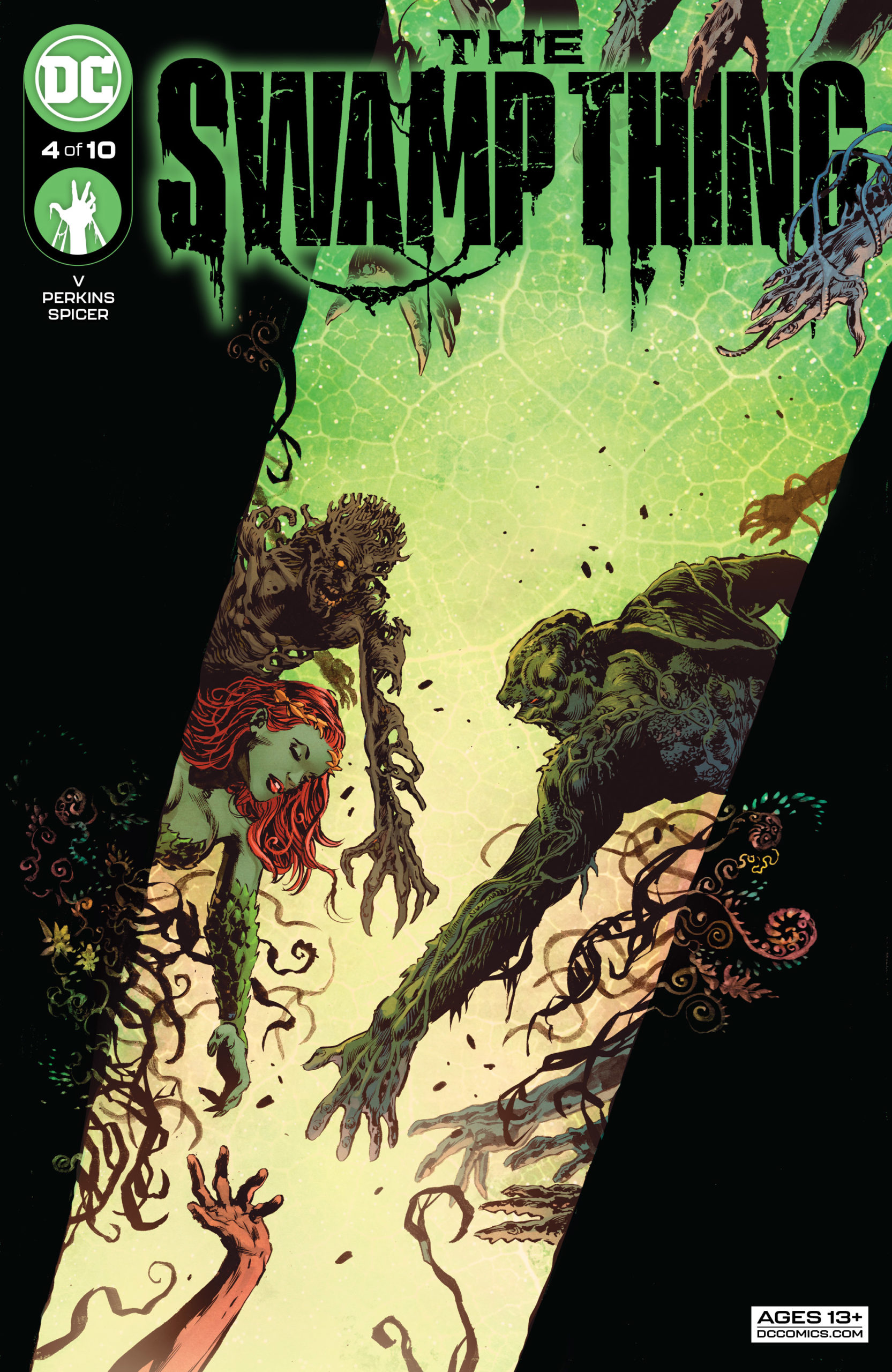 [Editor's Note: This review may contain spoilers]

Writer: Ram V
Art: Mike Perkins
Colors: Mike Spicer
Letters: Aditya Bidikar

Reviewed by: Matthew B. Lloyd
Summary
Levi's journey in the Green ends with a reunion with Jennifer who's ventured away on her from the Floronic Man.  But, how do the two get back home, and what knowledge does "Alec Holland" impart to Levi?
Positives
It's almost hard to know where to begin with The Swamp Thing #4.  I mean, what isn't good about it?  Perhaps, the most striking thing about the issue is Mike Spicer's colors.  It's not often a colorist gets recognized first, but the colors in this issue just sing.  We've already seen some great work by Spicer in previous issues, but this sojourn into the Green, which ironically Spicer renders with many, many colors besides green delivers an alien world that is both beautiful and frightening, much like Swamp Thing himself.
Mike Perkins contributes much the same for his part in this issue.  There are moments of beauty and moments that impart fear.  Perkins own resume indicates he's been a wonderful artist for many years.  But, it seems like his style may fit Swamp Thing like some of those who've worked on the character in the past including co-creator Berni Wrightson and the defining artists of Alan Moore's iconic run, Stephen Bissette and John Tottleben.  There's a texture to Perkins work that gives it a tactile feeling, you can tell what's supposed to be hard and soft by looking at it not simply knowing of what it's made.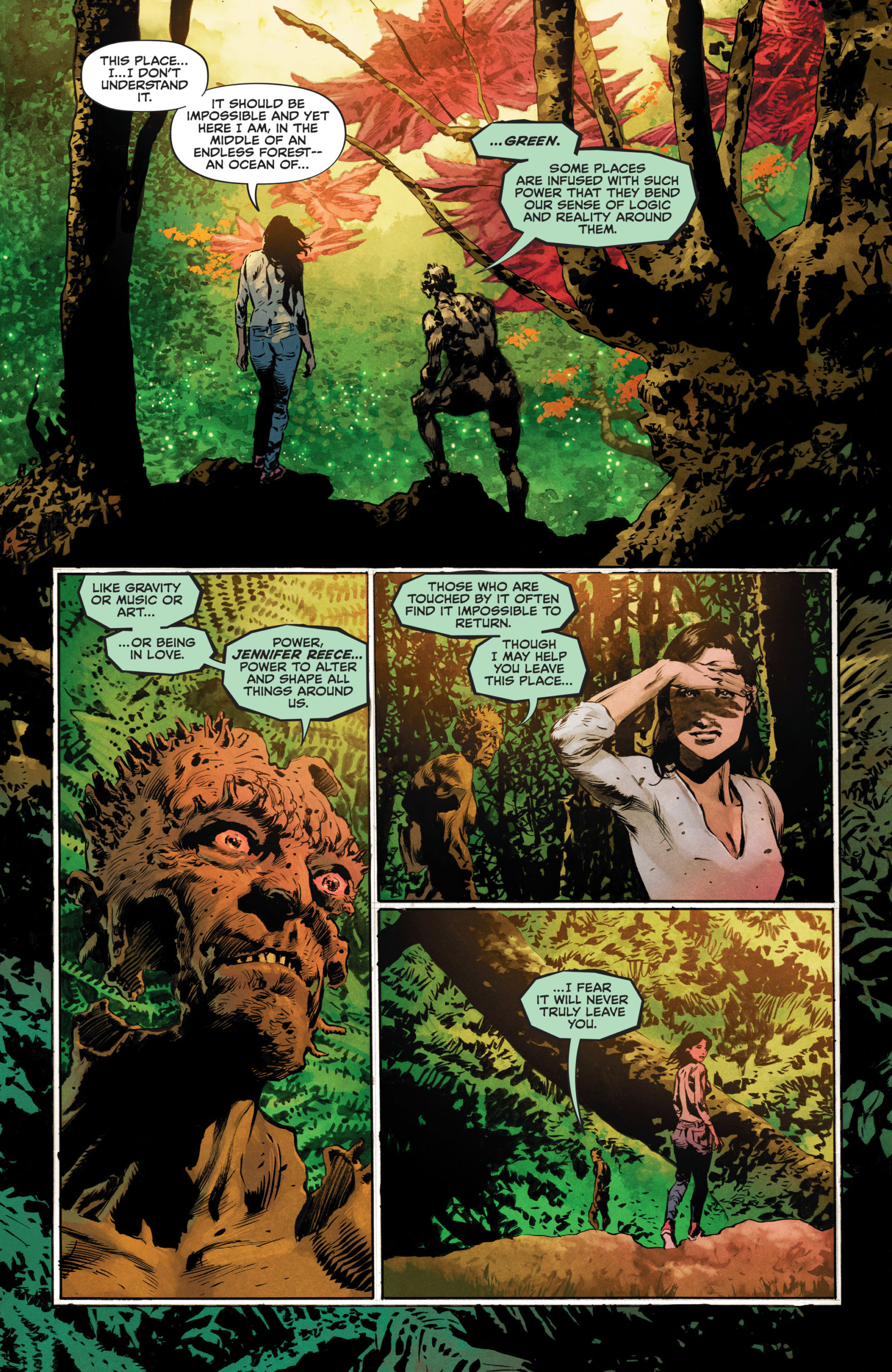 Positives Cont'd
All this of course is complimented by Ram V's story.  V doesn't waste time with any sort of drawn out fights or needless action, because the real draw of this series is learning how Levi fits into the lineage of the Avatars of the Green.   As Jennifer is lost with the Floronic Man, Levi has a meeting with Alec Holland.  Holland helps him understand some of his abilities and introduces him to his responsibilities.  There's a moment where Levi taps into "memory" and seen not only past avatars, but Abby Arcane as well.  The most gratifying image is the homage to the cover of House of Secrets #92, the first appearance of the Swamp Thing (not Alec Holland but Alex Olsen!).  This image is not only a nostalgic moment for longtime readers, but it instantly tells the reader that all that has come before matters and is connected.
It's this exploration of Levi's journey as he figures out what it means to be the Swamp Thing that he also finds out a bit about his humanity.  In this sense, this doesn't have to be a sci-fi/horror story, but the genre allows the creative team to show Levi discovering things in a creative and entertaining way.  To top it off, the mystery is engaging in its own right as it encompasses the Swamp Things of the past, Alec Holland's legacy and Levi's personal story and relationships.  It's top-notch storytelling in every aspect. 
Negatives
If there's a negative to be found, one might say that the Pale Wanderer is nowhere to be found this issue, except V cleverly has Levi mention him.  If there is any other negative it's that this series is only slated for ten issues.  But, WHAT a ten issues it's going to be!
Verdict
The Swamp Thing #4 is a glorious journey through the Green.  The pacing is incredible as it allow Ram V to go wide and deep as Levi beings to learn what it means to be the Swamp Thing, but also what it means to be human.  The art by Mike Perkins and Mike Spicer is simply gorgeous and evocative of many emotions.  As times the colors seem to weave their own magical message as they are there for a purpose other than keeping this form being a black and white comic.  Don't make a mistake and pass up this series.  The character has a legendary pedigree of creators-Wein, Wrightson, Moore et al..-  and the current team is producing work at that same level.   Remaining character focused, The Swamp Thing is one of the best books out there, and probably DC's very best.