Review: Scooby-Doo! Where Are You? #110
[Editor's Note: This review may contain spoilers]
Writer: Sholly Fisch,  Paul Kupperburg
Artist: Randy Elliott, Fabio Laguna
Colors:  Silvana Brys, Heroic Age
Letters: Saida Temofonte, Travis Lanham
Reviewed by: Carl Bryan
Summary
This lighter side of the Scooby-Doo comics contains two stories that have all of the standard Saturday morning hi-jinks we expect from the Scooby-Doo series.
Pulp Friction – It's a beautiful day at Sunshine Citrus Grove, and the gang can't wait to snack on the delicious fruit that is ripe for the picking! That is, until the appearance of the ghost of Johnny Appleseed threatens to close down the orchard for good. Can Mystery Inc. find a way to trap the ghost before it's too late?
"Over the Boardwalk"  – Velma reminisces about the Coney Island of old as Shaggy and Scooby eat all the hotdogs they can find.  Fred and Daphne soak in some rays on the beach.  But who is going to fend off all the monsters that are haunting the boardwalk?
"Its a Mystery" – Velma loves a good mystery book, but when the story hits close to home, Velma hits the road to solve a poisonous birthday cake tale.  It's two slices of the same case.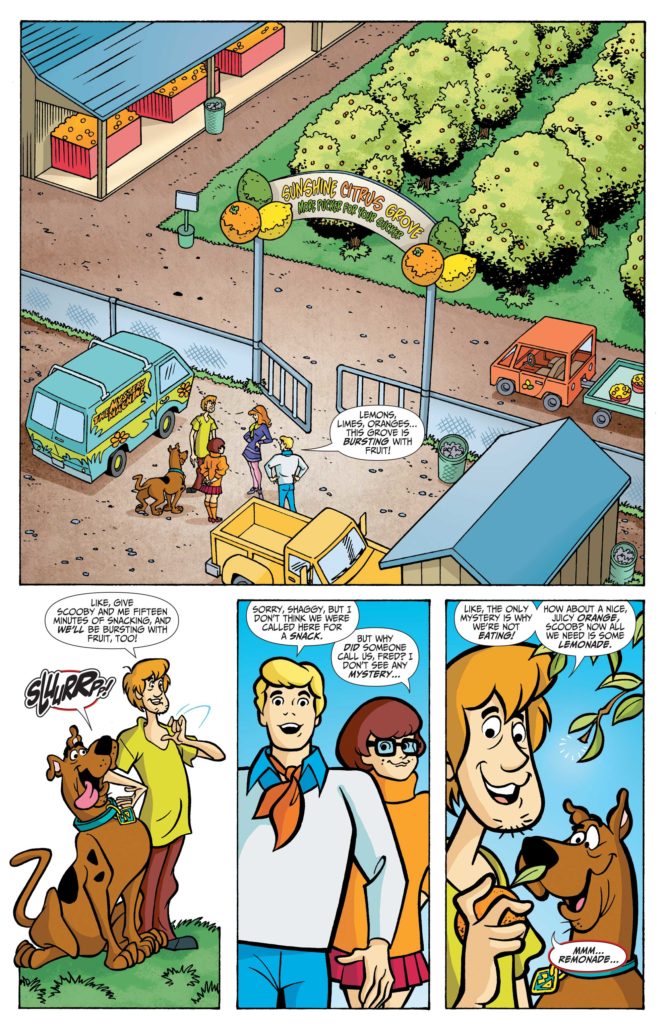 Positives
In each story, you get the components of a great Scooby-Doo episode – the mystery set up, the comic escapades of Scooby and Shaggy and "I would have gotten away with it if it wasn't for you annoying kids!".
Both mysteries have a common ground… escape  What I love is that this comic introduces a new lesson or sport or subject for young readers.  While it is fun to solve the mystery, it also evokes questions that kids can ask their parents about history or any other back story provided.
Negatives
No real negatives as this is a wonderful comic for young readers that follows a solid formula for years.  No surprises, but also not anything that will detract the reader from enjoying Scooby and the Gang!
Verdict
Scooby-Doo comics are a great way to teach kids critical thinking skills as well after you see the evidence, and they pick who is the culprit.  As a parent you should sit with your son or daughter and simply read a copy of Scooby-Doo! Where Are You?