Review: SWEET TOOTH – Season One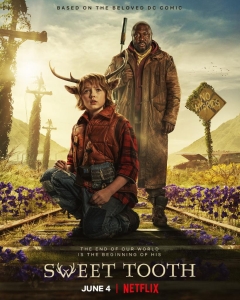 [Editor's Note: This review may contain spoilers]
Directors: Jim Mickle, Toa Fraser, Robyn Grace
Writers: Jeff Lemire, Christina Hamm, Jim Mickle, Beth Schwartz
Starring: Christian Convery, Nonso Anozie, James Brolin, Dania Ramirez, Adeel Ahktar
Reviewed By: Derek McNeil
Summary
Sweet Tooth 1×01 – "Out of the Deep Woods": Growing up in a remote forest cabin with his dad, Gus learns lessons about survival and the dangers that lurk beyond the fence to the outside world.
Sweet Tooth 1×02 – "Sorry About All the Dead People": Gus follows a reluctant Big Man into the unknown. Dr. Singh discovers what it will cost to save Rani. Aimee finds a new beginning after the world ends.
Sweet Tooth 1×03 – "Weird Deer S**t": Eager to send Gus on his way, Big Man figures out how to hide him in Plain Sight. The Singhs attend a neighborhood party that takes an ominous turn.
Sweet Tooth 1×04 – "Secret Sauce": Gus lands under the protection of some new friends as Big Man's past catches up to him. Dr. Singh fears a nosy neighbor will unearth Rani's secret.
Sweet Tooth 1×05 – "What's in the Freezer?": Gus and Big Man pick up a travelling companion, who suggests a perilous shortcut. Aimee's sanctuary comes under threat. Time's running out for the Singhs.
Sweet Tooth 1×06 – "Stranger Danger on a Train": In a moment of desperation, Dr. Singh makes a bold promise. A lost memento makes for a bumpy ride to Colorado. The Last Men close in on the Preserve.
Sweet Tooth 1×07 – "When Pubba Met Birdie": Gus's quest to find Birdie and uncover more about her connection to his father leaves him questioning everything he's ever known.
Sweet Tooth 1×08 – "Big Man": His world shaken, Gus runs off and makes a rash decision. Big Man comes to grips with long-ago mistakes. Aimee makes a last stand against General Abbot.
Positives
Netflix has launched Sweet Tooth Season One, which adapts Jeff Lemire's comic series for DC's Vertigo imprint (and reprinted under DC Black Label). Like many TV adaptations, the story is not exactly the same as Lemire's comic book, but starts with the same basic premise. This is a drawback for those who would have preferred a strictly faithful adaptation, but it does a number of benefits.
First off, even though the basic premise is the same, and many of the same story beats are carried over, the writers can surprise viewers by diverging from the established story. The TV series doesn't have to follow the exact path laid out by the comic. Knowing exactly what's coming can rob the story of the ability to build suspense.
Also, the overall tone of the series is a bit lighter. This makes it more appealing to a wider audience. And Lemire has stated, "Jim [Mickle] felt, and I agreed, that if we were going to do a post-apocalyptic thing on TV, you needed to find a new angle on it. So, Sweet Tooth takes a somewhat fresh approach to Lemire's dystopian future.
That future is much brighter and colourful than depicted in Lemire's stark, artwork. We see a lot of green open spaces as nature reasserts itself. And there is an optimistic thread in the series. The hybrid children are implied to be the future of humanity – provided they can survive long to create that future. The world of Netflix's Sweet Tooth could almost be characterized as Stephen King's The Stand, reworked as a Disney movie.
Positives Cont.
The idea of a pandemic wiping out much of the world's population seems rather apropos given current events. So, an brighter, optimistic story is a refreshing break from the more serious real world implications of Covid-19.
Another difference from the comics is that the story isn't focused as much on Gus. He's still the central figure, but we see more of the supporting cast. Other characters have their own stories apart from Gus. Presumably, these threads will cross over with Gus' story in later seasons, but for now, they serve to illuminate the wider world Gus lives in.
Some great choices have been made in the casting of this series. In keeping with the lighter tone of the story, Christian Convery seems to have been selected for maximum cuteness, and chipper personality. His Gus is starkly different than the emaciated figure drawn by Lemire in the comic. Convery is quite the talented actor, and has great emotional range. He can make viewers laugh in Gus' lighter moments and sympathize with his tragedies.
Nonso Anozie plays Tommy Jeppard, or as Gus calls him, "Big Man". Some viewers may have concerns about a Black actor being cast for a character that was White in the comics. However, I don't feel that there was anything about the character that marks him as having to be any specific ethnicity. And in any case, his backstory appears to have been completely rewritten anyway. Anozie does a brilliant job of capturing the gruff, angry loner who comes to care for the young boy that fate has saddled him with.
Negatives
There isn't much to complain about in this Sweet Tooth Season One. I have to admit though that the scenes without Gus are often not as engaging. I wouldn't go so far as to say they are boring, but I sometimes wished that they'd hurry up and get back to Gus and Jeppard.
Also, for those who wanted an adaptation that had the same tone as the comic and followed the same basic story, you might find this show disappointing. However, I do urge you to give it a try anyway. You might actually enjoy it as much as you did the original, despite the differences.
Verdict
Sweet Tooth Season One may have taken a chance by changing the tone of Jeff Lemire's comic, but that chance has definitely paid off. Sweet Tooth is an engaging and charming series. And I look forward to seeing the story progress through future seasons.