Review: Spawn #320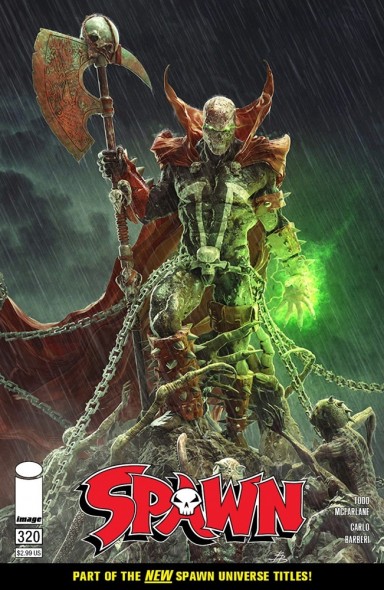 [Editor's Note: This review may contain spoilers]
Publisher: Image Comics
Writer: Todd McFarlane
Artist: Carlo Barberi
Letters: Tom Orzechowski
Colors: Jay David Ramos 
Reviewed by: Carl Bryan
Summary
"Don't let them turn you ugly, Al.  Don't give them that victory.  You're better than that!  You're not a killer.  You're my King!  Act like one!" – Wanda
Spawn #320 – As the NEW Spawn Universe begins, our hero is pulled into making a decision that will ultimately force the conflict that spins into SPAWN's new monthly title coming next month, (KING SPAWN #1).

Spawn's battle against a new and expanding ROGUES GALLERY starts here!
Spawn/Al Simmons narrates the story as he goes to save Cygor  from The Soul Crusher!  The ensuing battle provides us as readers that Al has gone through more change that he realizes.

Positives
Carlo Barberi 's pens are scary good!  The detail he provides in both Spawn's chains and the Soul Crusher's pipes are as good as when McFarlane peppered pages with Spidey's webs.  I would hate to see the entrance exam to be allowed to take over the penciling on a Spawn issue.  
I think the ultimate compliment is that you cannot tell where McFarlane, Capullo and Barberi begin and end on this book.  When the art is seamless, the story follows!  Well done!
Positives 2.0
Spawn #320 – McFarlane gives the narration reigns over to Al himself as we learn our anti-hero has a soft spot for some of his prior enemies, such as Cygor.  Given that, the scene with Wanda verbally anointing Al as her King is very pertinent.  Wanda's placement is both pivotal as well as established a turning point of sorts given how brutal Issue #319 was with that vampire battle.  
McFarlane has our head on a swivel with blood and guts in one issue and then an entire pivot to include love and friendship…albeit with a chain in the eyes here and there!
Check out the cover homages as well.  Look below!  And yes…that Spawn #222 cover is an homage to a Venom cover.  McFarlane is an Easter Egg Bunny!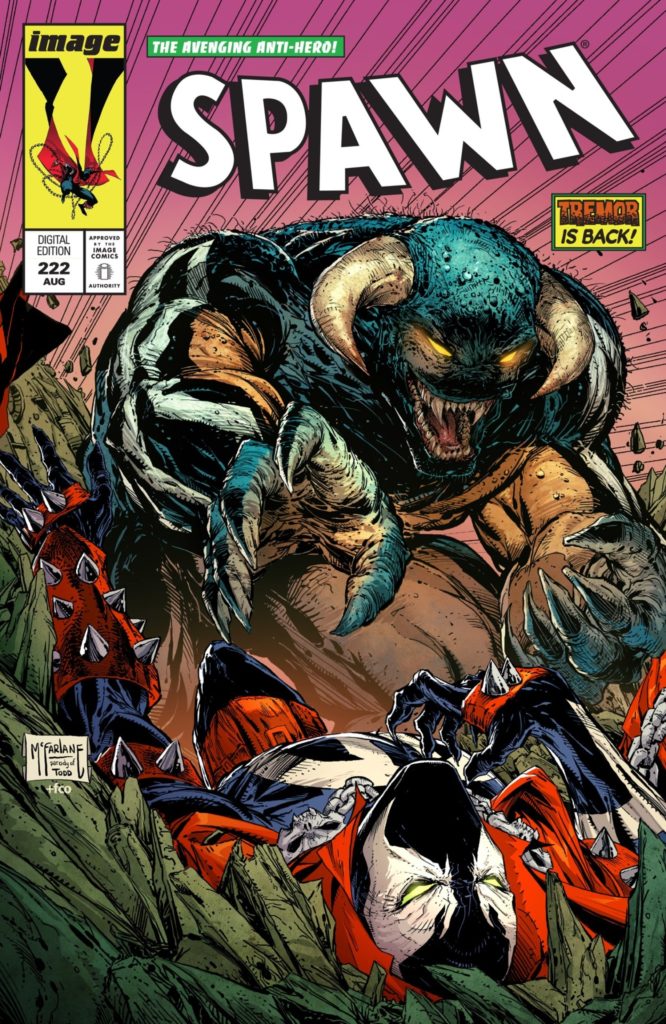 Accolades for World Record Setting
Each issue of Spawn sets a new World Record for independent comics.  That's history every time you buy an issue! Speaking of Record Breaking…. 2021 is the year of Spawn.  Spawn's Universe #1 kicked things off last week.  The next title will release in August with a book called King Spawn #1. This all marks the first time in twenty-eight years that anyone can buy a monthly issue #1 Spawn book. 
This will give McFarlane hope of reaching a new generation of readers that missed out on the initial launch of the Spawn back in 1992. October will bring Gunslinger Spawn #1. Finally, there will be a new #1 team book, which will band five characters together to fight against forces too big for any of them to take on alone. That book is titled The Scorched. Spawn, Redeemer, Gunslinger, Medieval Spawn and She-Spawn begin the group's adventures, but McFarlane promises a rotating cast of heroes over the coming months to keep the roster of heroes fresh.
Negatives
None as Spawn's major creator mastermind, the Todd Father, is back on track.   He is pouring a lot into the Spawn Universe and it is showing…in a good way!
Verdict
Spawn #320 – Cygor and Wanda have placed a bit of nostaliga if not humanity in Spawn's heart.  He can go ruthless in seconds, but also he is very cognizant of how many characters he has pulled into his battle with Heaven and Hell.  The foreshadowing of Wanda's comment gives us a catapult into August with King Spawn #1.  It's shaping up to be a great Universe with McFarlane pulling out all the stops!