Review: Wonder Woman: Black & Gold #2
[Editor's Note: This review may contain spoilers]
Writers: Rachel Smythe , Stephanie Williams, Tillie Walden, Che Grayson, Mariko Tamaki
Colors:  See Graphic Below
Letters: See Graphic Below
Artists: Rachel Smythe , Ashley A. Woods, Tillie Walden, Corin Howell, Jamie McKelvie
Reviewed by: Carl Bryan
Summary
"Because deep down, folks just want to be good to each other." – Clark to Pa Kent
Wonder Woman: Black & Gold #2 – Just in time for Wonder Woman's 80th anniversary, DC Comics proudly presents a new anthology series starring the Amazon Princess embellished in the the color of her famous lasso.
This new, visually stunning, and all-star-packed celebration of Wonder Woman continues! Some of comics' greatest storytellers present five beautifully bombastic tales that take Diana all over the DC Universe.
First stop…the very depths of hell! Both friend and foe come along for the ride of a lifetime with guest appearances by Steve Trevor, Nubia, and the First Born.
The issue concludes with a journey to a place never seen before-Wonder Woman's dreams-as the celebration of her 80th anniversary continues!

Positives
Having reviewed Batman: Black & White and Superman: Red & Blue, I really wanted DC to make sure they provided the same, if not better, treatment of Diana Prince.  Arguably the most powerful of The Trinity, I really appreciated that it was Red & Blue, but for her, as well as the eye being drawn upon gold…pure gold.
DC is putting together a great run in accentuating both artists and authors in their treatment of their heroes in this format.  It is a chance for readers to have a better glimpse into the imagined lives of these characters.  We think we know it all, but through the golden lenses of these collectives authors and artists, we get some new stories that contribute to all things Princess Diana!
Issue #2 takes a look at Diana as a god as she literally takes on Eros…the god of love!  Mariko Tamaki's Without Love  gives Diana a "Thor" like treatment Diana has to deal with a "Loki" type Eros as mankind's feelings of love at stake.
Che Grayson and Tillie Walden in their respective stories keeps the focus on Diana as a god as she battles in hell then embraces a homecoming.
Stephanie Williams' Common Motivator is just in time for the Olympics as Diana and Nubia compete but find that they have a bit more in common in their disdain for their opponent.
Finally, Circe and Diana lock horns in a battle of wits with the Man of Steel's existence on the line in The Acquaintance.
Positives 2.0
This began with Batman: Black & White, followed by Harley Quinn: Black + White + Red, and continued with Superman: Red & Blue.  Now, it is going further with Wonder Woman: Black & Gold, so why don't we get some others, like Green Lantern: Green & White or maybe something like Booster & Beetle: Blue & Gold… so many playgrounds for a host of authors and artists!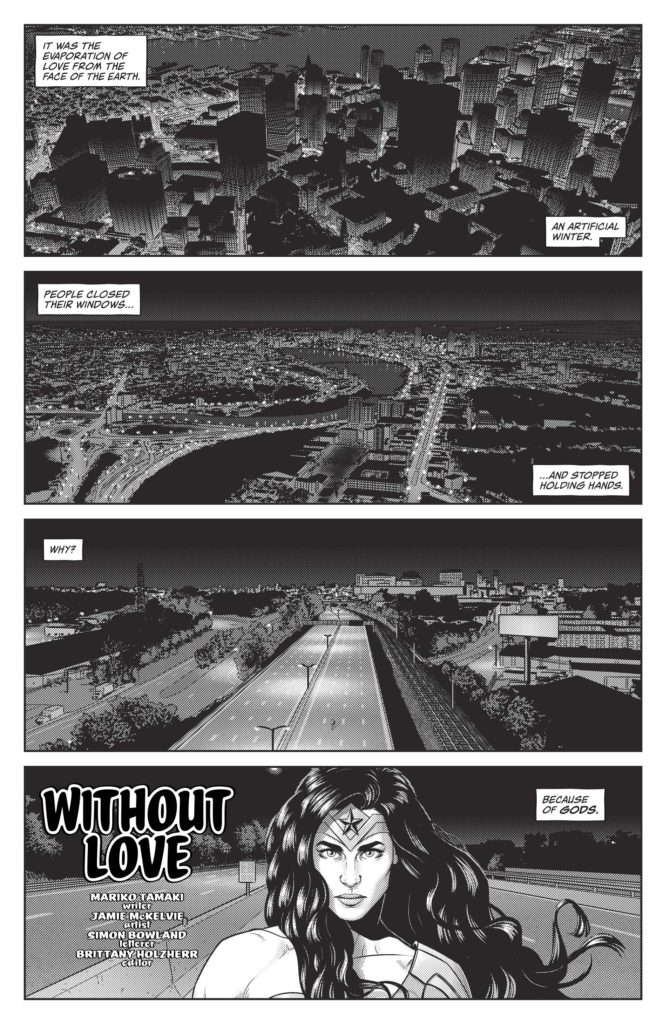 Negatives  
You have to know going in that each story is like a playground for both author and artists.  Some stories will be poignant and will cause you pause.  Some will not be your cup of tea as you see the human side of Diana versus the hero side of Wonder Woman.  Either way, the reader gets to explore sides of Diana that we did not know existed as we get a variety of takes on his character from numerous authors!
Verdict
While the Black and White is Batman's playground, and Red and Blue fits our Big Blue Boy Scout just fine, the gold is a perfect setting for Wonder Woman! When you think you have heard every angle to these heroes, these book provide just more evidence that they, and the many timelines they touch, can go forever.
This playground has been great for both Batman and Superman, and seems like it will do wonders (pun intended) for this Amazonian Princess.  I appreciate that DC is providing more insight into these characters for authors and artists alike.