Review: Karmen #4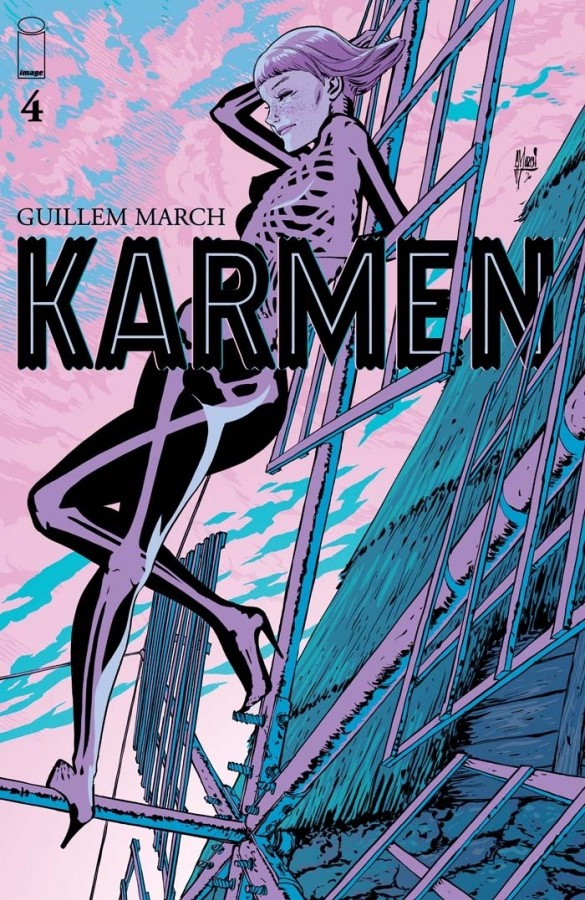 [Editor's Note: This review may contain spoilers]
Publisher: Image Comics
Writer and Artist: Guillem March 
 Letters: Cromatik, LTD.
Color Assistant: Tony Lopez
Review by: Kendra Hale 
Summary
While Karmen #3 gave readers so many revelations to ponder, answers and so much more are given in Karmen #4. Following the journey of Cata has been an eye opening look into the after world that could be. We get an explanation of the work that goes on behind the scenes at Karma Corp., where Karmen works and is seen as the troublemaker. 
I Don't Want To Become Like I Was Before
After meeting Angelina by chance, Cata gets a helluva reality shock once she realizes just who she is. All of her decisions come full circle as she races to face Xisco. She finally understands the bigger picture that was her life and the players in it. But will she have time left to rectify things before it is time to move on?
Meanwhile, for Karmen, we see how Karma Corp. has established processes that are mechanical on how souls are to be collected and judged.  Just a ship 'em in, do the paperwork, ship 'em out type of atmosphere. But Karmen puts a personal touch on her work, she genuinely shows compassion for the souls in her care, which causes unrest with the other angels who view the souls as mere paperwork.
Positives
The artwork is absolutely breathtaking as we lead up to the final issue. The emotions that Guillem writes and creates with his art are so eye-catching and poignant. Especially the last few scenes where Cata is face-to-face with Xisco. 
It is intoxicating watching the story unfold, and Karmen #4 is impossible to resist. With one issue left to close this part of the tale, I don't know what else could be pulled out in order to top the masterful artwork and storytelling we get here. But I look very forward to finding out. 
Negatives 
There is literally nothing wrong. At all. 
Virdict
Karmen #4 draws us closer to the final and if you haven't been paying attention, now is the time! Especially with the absolutely STUNNING covers. 

Images May Be Subject To Copyright.