Review: Hardware: Season One #1
[Editor's Note: This review may contain spoilers]
Writer: Brandon Thomas
Artist: Denys Cowan
Inks: Bill Sienkiewicz
Colors: Chris Sotomayor
Letters: Rob Leigh
Reviewed by: Seth Singleton
Summary
Hardware: Season One #1 makes a bold introduction. Curtis Metcalf is the most dangerous man in the world. He is intelligent, he is resourceful, oh, and he is angry. And the one man he blames is his employer and benefactor Edwin Alva.
Positive
Weapons are too limiting when describing the Arsenal that Hardware carries. First, there is the plasma whip which can cut through metal and also latch on. Hardware also wields a plasma knife that can cut through bulletproof glass and metal with ease. Metcalf throws the knife like a dagger and wields it like a sword.
Hardware wears a jetpack. It is voice-controlled and operated by an intriguing A.I. The A.I has a personality that will make Barbara Gordon's Oracle jealous.
P.O.P. is the name of the A.I. that runs all of Metcalf's systems. It talks to Metcalf like a father and calls him Son. Metcalf talks to P.O.P. like a father. The conversations feel like a mix of computer commands and a grown son talking and sometimes arguing with his father.
Metcalf is a wunderkind who gives Mister Terrific a run for his money but without the millionaire father. Instead, Metcalf is supported by a stranger. A man who became a mentor. Edwin Alva allowed Metcalf to lower his guard.  The two met when Metcalf was in grade school. Alba immediately recognized Metcalf's brilliance.
This is a tale of two stories. The first is the story of Metcalf. It is a story about the recognition that the opportunities he pursued and achievements he attained could never equal the freedom he always desired. His liberty was betrayed by his original benefactor — Alva.
Alba is the type of man who believes that Metcalf was and is a wise investment. A stock or product is a thing. Things should not be deceived into thinking that success equals independence. Now, Alva has framed Metcalf for the event known as The Big Bang.
Negative
There are books that leave readers wanting more. Likewise, readers can expect to feel hungry for the next issue.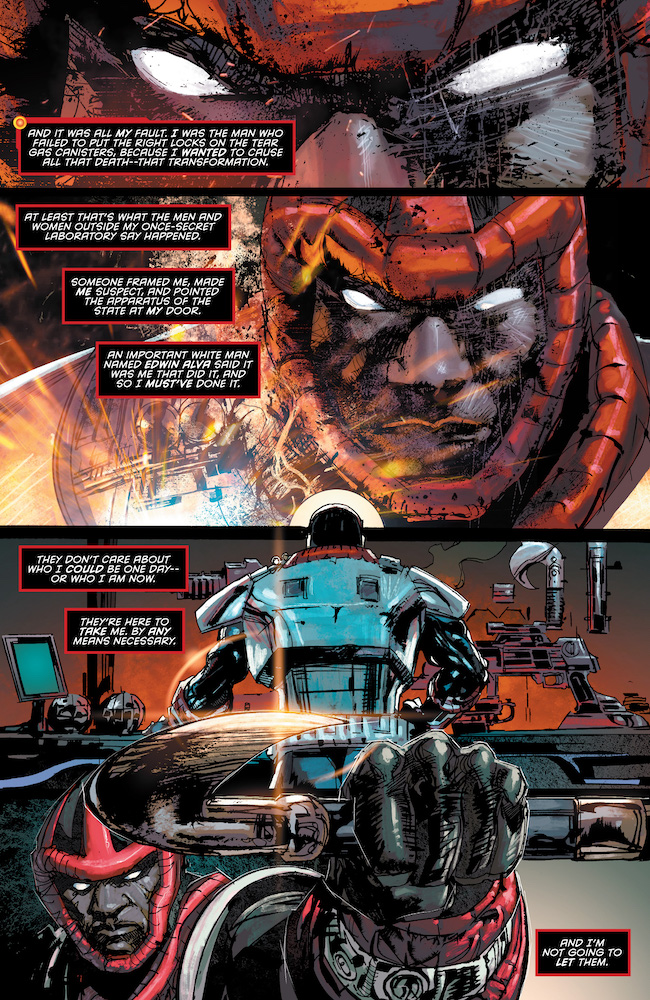 Verdict
This updated version of Metcalf, Alva, and Hardware injects new blood into a story that was already original when it first appeared in the 90s during Milestone's initial run. Metcalf is angry. Alva betrayed him. He witnessed his inventions twisted by a monster and used against his community. He is held responsible for the actions of Alva. Alva is a puppet master who believes he is untouchable.
Metcalf has the power and even in this first issue the opportunity to end Alpha every single act of violence. Instead, Metcalf attacks Alva's finances. He plans to destroy the vaunted reputation and wealth of the biggest global playmaker in the game. This is a story of revenge in a changing landscape of a country and a world. It's a slow burn that will consume all it touches and leave behind only the fertile soil made better for seeds to grow.