Review: Robins #1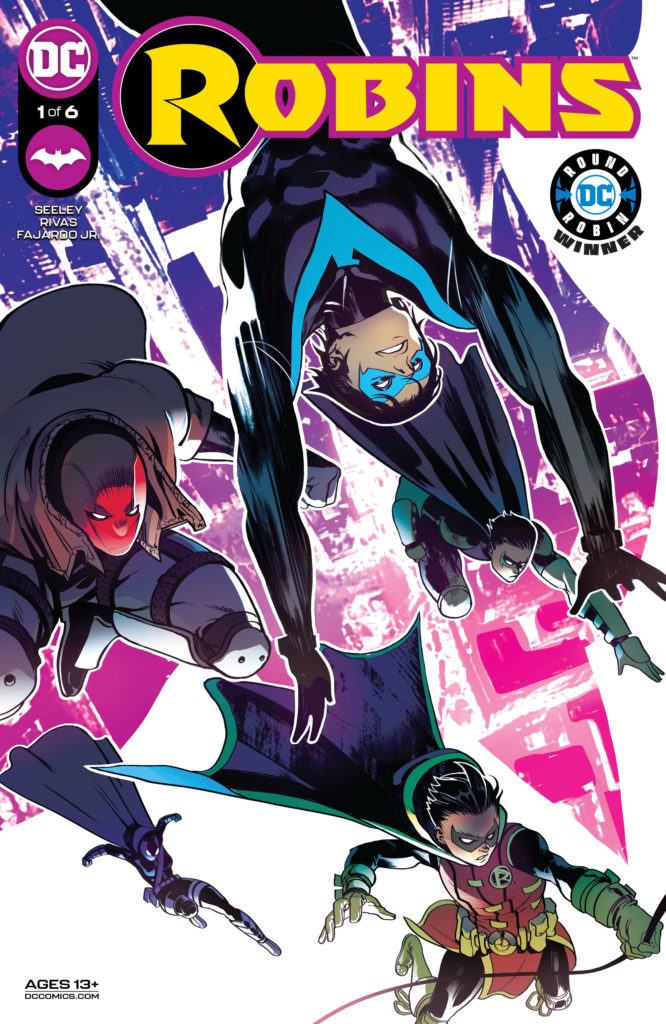 [Editor's Note: This review may contain spoilers]
Writers:  Tim Seeley
Colors: Romulo Fajardo Jr
Letters: Steve Wands
Artist: Baldemar Rivas
Reviewed by: Carl Bryan
Summary
Robins #1 –  Tim Seeley takes us on a ride where five of the most prominent Robins will unite to discover the truth about a secret Robin that predates them all.
Batman has had a Robin by his side pretty much non-stop since Dick Grayson debuted in 1940's Detective Comics #38, and now five of those sidekicks – the aforementioned Dick Grayson, Jason Todd, Tim Drake, Damian Wayne, and Stephanie Brown – will come together in a new six-issue Robins limited series that will introduce a new villain who claims to be the original, forgotten Robin.
Over the decades, Batman has had several sidekicks take up the mantle of the second half of the Dynamic Duo, but it seems that Robins will shed some light on a hidden chapter from Batman's past that may change the entire history and legacy of Robin as we know it by introducing a character who may predate Dick Grayson in the role.
Positives
Holy Family Reunion….or Guess Who Wasn't Invited to Dinner?  Call it what you will, this story is somewhere between 1970s fun time comics and a deception we knew nothing about…another Robin…I mean one before Dick Grayson.
Never mind the sleek martial art battle scenes featuring all the Robins working together or the summit around the kitchen table.  This is a funny book, but it is also a curiously released one.  Sometimes I wonder if we don't get overkill, and we may have that here.
Plot-wise, I think this road has been covered a lot, but throw in a pre-Dick Grayson Robin and then you have our attention!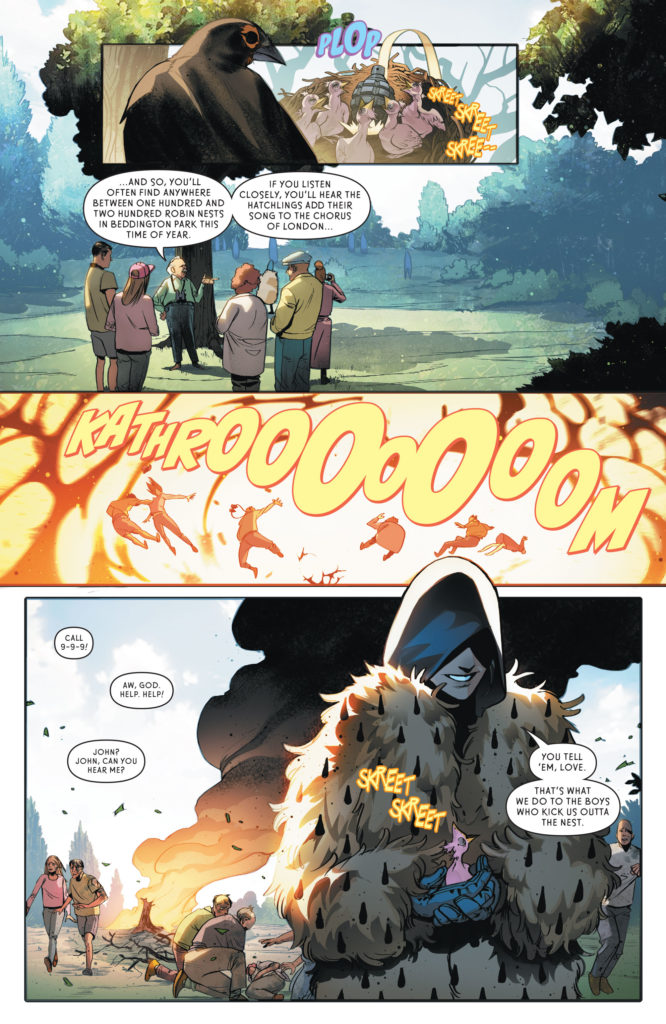 Positives 2.0
The writing is strong and full of sibling jabs and rivalry.  Dick seems to be the elder Brady of the Brady Bunch, with little Damian poking at everyone.  When you do see this cavalcade of personalities together, it is quite something to behold!  So the writing continues to be intriguing, but a bit repetitive on the history lesson!
There's this amazing blend of comedy and drama that I think is almost perfectly conveyed by Baldemar Rivas' art. The action scenes are really dynamic and fluid.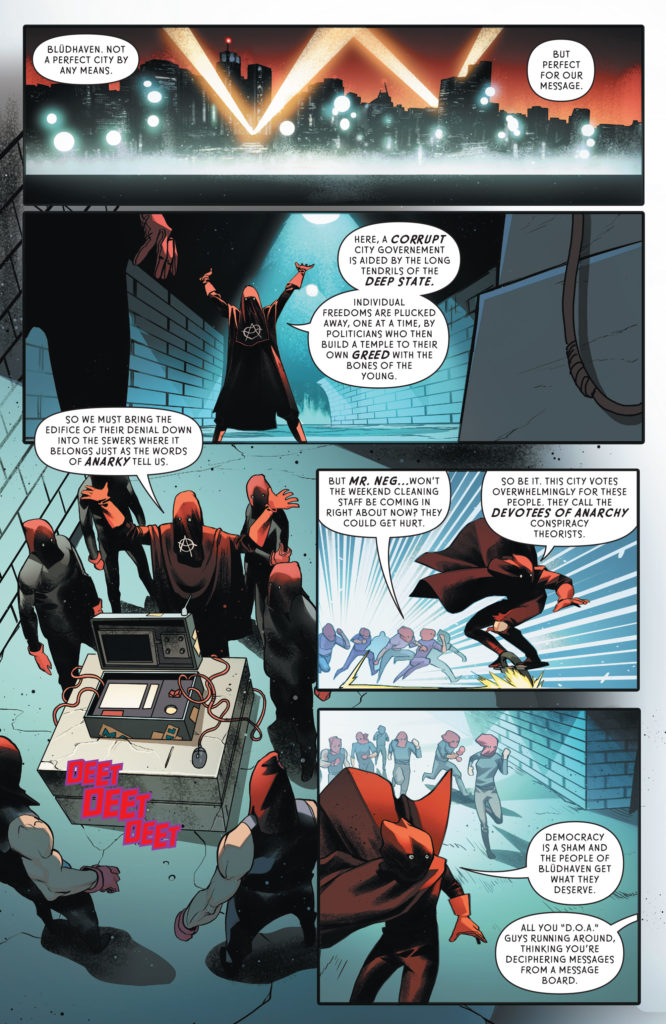 Negatives  
I am not entirely sure how much Robin chirping we can endure as an audience.  Future State Gotham already has the Robins working together pretty seamlessly.  We also see in the pages of Nightwing that all the Robins typically make an appearance or two throughout the run.  Haven't we also seen in the pages of Robin where everyone tries to get Damian from competing in this death tourney?
Taking into account the entire Joker War, Court of Owls, and Dick's foray into amnesia and becoming Ric… we have about rewritten all the history we care to.  However, the last page is a breath stopper and causes you to pause in regards to was there a prior Robin to Dick?  That would mean SHE is how old?
Great cliffhanger Mr. Seeley!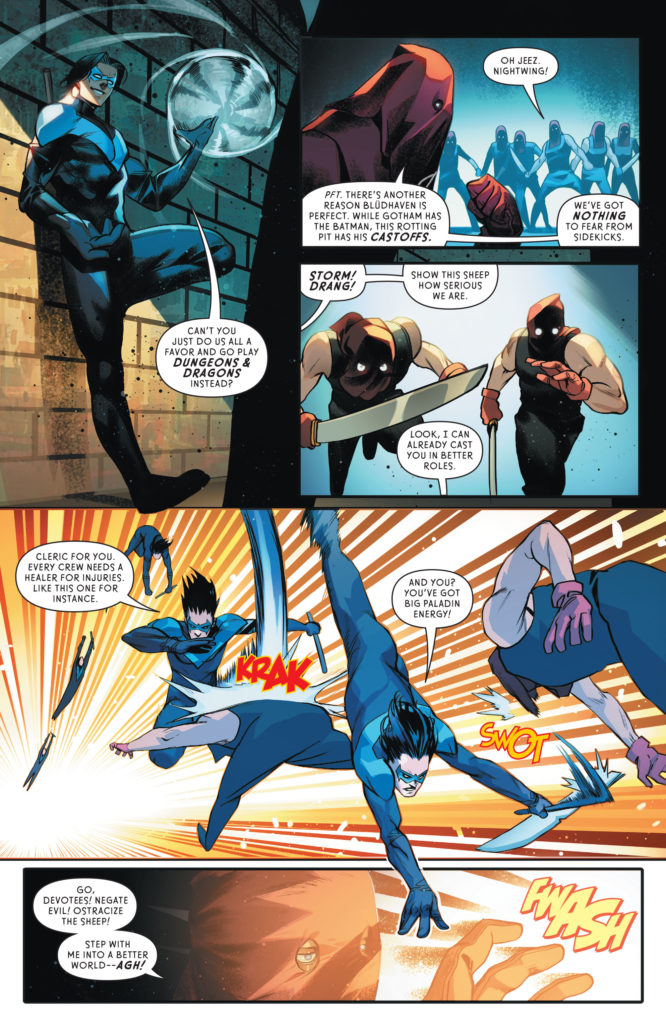 Verdict
The premise is great and judging by Robins #1, it's going to be a strong 6 issue run.  It appears as a bit of group therapy for the Robins as sitting around the table recounting their history is a bit too 1970s for me.  Educated readers don't need to be caught up to speed that much.  However, let's see where this all goes! I'm in!