Review: Detective Comics #1045

[Editor's Note: This review may contain spoilers]

Writers: Mariko Tamaki and Stephanie Phillips
Art: Dan Mora and David Lapham
Colors: Jordie Bellaire and Trish Mulvihill
Letters: Aditya Bidikar and Rob Leigh

Reviewed by: Matthew B. Lloyd
Summary
Batman and Mayor Nakano finally come to an understanding after a showdown with Hue Vile's legacy.  And, what will be the fate of the new Arkham Tower?
Positives
Like last issue, Fear State lurks on the edges while Mariko Tamaki concludes the storyline that's been running in Detective Comics since issue #1034.  The subplot all along has been Nakano's desire to rid the city of its vigilantes with the Batman at the top of the list.  Nakano ends up seeing things differently and it takes these particular events to change his perspective.  All along this run in Detective Comics has been about character.  While Vile and Roland Worth have been the obvious villains, Nakano has really been the antagonist.  The full story has played out in Fear State as it's sprawled over numerous titles, but in Detective Comics #1045 we get the more personal story between Nakano and Batman.  Keeping things on a more intimate level balances out the event aspect of Fear State and comes across as much more interesting.  Nakano doesn't simply realize he's been wrong, we get to see it all played out and why he's able to see things differently.
The second feature in Detective Comics #1045 poses some interesting questions about Gotham City and Arkham Asylum.  While we don't get the continuation of the history lesson from last issue, we do get the idea that there's something terribly wrong with Arkham and that it needs to be destroyed.  We even get some of Batman's frustration with the failures of Arkham Asylum coming through.  This does beg the question: Can an Arkham Tower be any better?  Is it Arkham Asylum or the city that is at fault?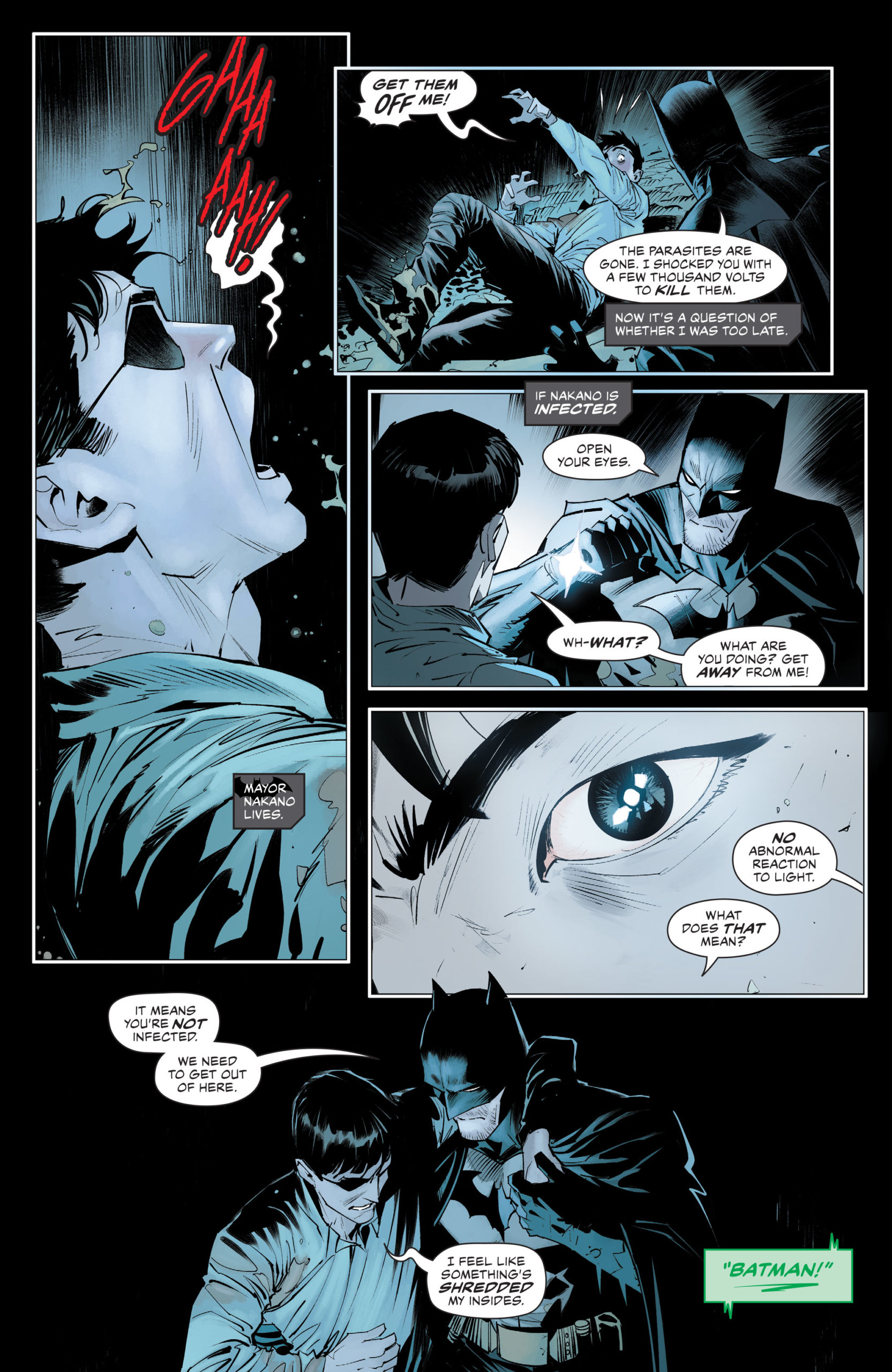 Negatives
I was hopeful that the  history lesson in the second feature would continue.  Perhaps, we'll get more of that in the next chapter, but with Harley Quinn showing up it feels like it's going to go in a different direction.  Harley has a way of detracting no matter her role, so I am a bit concerned at how this is going to go.
Verdict
Detective Comics #1045 wraps up its storyline in a satisfying fashion, not just giving Nakano a change of heart, but demonstrating why he would have one.  The more personal approach to the characters has been a strength of Tamaki's run so it's only logical this storyline's conclusion would hinge on it.  The Fear State event doesn't spoil the story and that's a feat in and of itself.