Review: Gunslinger Spawn #2
[Editor's Note: This review may contain spoilers]
Publisher: Image Comics
Writer: Todd McFarlane
Artists:  Brett Booth
Letters: Tom Orzechowski
Colors:  Andrew Dalhouse
Reviewed by: Carl Bryan
Summary
"I'm betting I'm not the only one dragged from a different time.  Tell me how;d we get here!" – Gunslinger Spawn
GunslingerSpawn #2- Introducing the second issue of the new monthly title spinning out of the SPAWN UNIVERSE, with one of the most popular characters in the entire SPAWN mythology!
Vampires. Guns. And Blood!!!

But whose blood will be spilled first?!? Gunslinger stumbles across a vicious vampire cult's plot to kill Al Simmons…who Gunslinger needs alive if he is ever to return back to 1859.

Positives
Where to start?  Let/s go with Brett Booth.   Booth is as true as Spawn Artist as Capullo, McFarlane, and Philip Tan.  His attention to detail falls right into line with the template that McFarlane has provided since Issue #1. Gunslinger Spawn and his freshly adorned "sidekick" Taylor are in the thick of it with a battle with angels. 
We get quite the tutorial in how to kill an angel and what the "coupling" with an angel means.  We give a lot of credit to JK Rowling and her invention of all things Muggles and Hogwarts.  But let's take a moment to applaud Todd McFarlane and all he has contributed to the stories centered around Heaven and Hell.  It's literally scary how much he adjusts the lenses of religion as well as myth and conjecture. 
Positives 2.0
This Spawn does not have a "secret identity" as we only see Gunslinger Spawn as a weakened cowboy that is out of his time arch.  His craving to get back to the familiar is a great story line, but his dealing with all things against him is arguably one of the best battle scenes in the history of Spawn books.
Booth lets the blood fly in buckets, and it just fits!  Speaking of buckets…several pages attributed to Gunslinger Spawn discovering indoor plumbling.  After quite the battle, McFarlane knows how to really lighten the moment in the comic .
Tom Orzechowski continues to be the artist among artists in his lettering.  After 3oo plus issues of Spawn and these new titles, if Tom Orzechowski is not providing the "voice" of a Spawn, we surely know.  His borders on anything from Heaven to Hell set the right tone for your reading.  That is an art form in itself!
Accolades for World Record-Setting
2021 is the year of Spawn. We are awaiting  a new #1 team book, which will band five characters together to fight against forces too big for any of them to take on alone. That book is titled The Scorched. Spawn, Redeemer, Gunslinger, Medieval Spawn and She-Spawn begin the group's adventures, but McFarlane promises a rotating cast of heroes over the coming months to keep the roster of heroes fresh.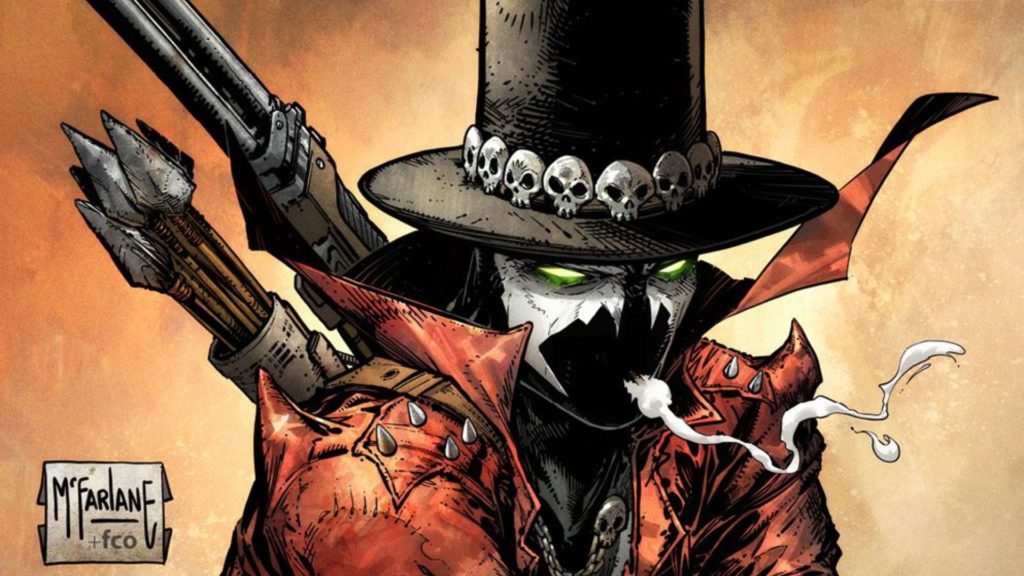 More Positives
This team of artists is top-notch.  If you like your comics with immaculate detail, check out every page of this comic book.  The penciling alone must have taken months.  It is so fine pointed!  But that is McFarlane and his team…no shortcuts!
Verdict
This is the #2 issue you want on your shelf right now.  The artwork alone is worth every penny, but the story line that contributes to the Spawn timeline as well as provides a real "fish out of water" tale is beyond description as you have to read this comic several times over to love both the script as well as appreciate the art.  McFarlane has created a dream team of characters, but he has recruited a dream team of writers, colorists, and artists.  And of course, Tom Orzechoswski remains as a pillar to all things Spawn!  BUY ALL THE SPAWN TITLES…. but know the primary color is RED!