Review: TEEN TITANS ACADEMY #9
[Editor's Note: This review may contain spoilers]
Writer: Tim Sheridan
Artist: Mike Norton
Colours: Hi-Fi
Letters: Rob Leigh
Reviewed By: Derek McNeil
Summary
Teen Titans Academy #9: Homecoming continues! Homecoming is a time for reunion and reflection, and the shocking news that Roy is alive has left the Titans-and the Flash-with plenty to reflect upon. As old wounds are ripped open, the Academy's very existence is called into question, leaving the futures of its vulnerable young students up in the air and exposing them to the fury of an old foe out for vengeance!
Positives
Teen Titans Academy #9 features a moment that I've been waiting for ever since Roy Harper was resurrected in the pages of Infinite Frontier. The reunion of Roy and Wally West. Wally recently learned in The Flash 2021 Annual that he wasn't really responsible for Roy's death during Heroes In Crisis. This gave him some closure, but wasn't able to save Roy. While King's miniseries was a powerful story, it damaged a one of the most beloved characters in comics. And thanks to Joshua Williamson, Jeremy Adams, and Tim Sheridan, that damage has been healed.
And with Tempest's appearance, we get a full reunion of the original lineup of the New Teen Titans. This really is a Homecoming celebration. I was quite pleased to see the school's faculty feature prominently this issue. Over the last few issues, the focus has been centred on the new students. While those were great stories, it did leave me feeling like we weren't getting enough of the OG Titans. But I'm sure Sheridan will manage to give the faculty, students, and upperclassmen a fair share of the spotlight as the title progresses.
I noticed in an earlier issue that Gar was referred to as Mr. Changeling, and wondered if this was an official change or a mistake. Roy also calls hi Mr. Changeling in this issue, which seemed to verify this as a deliberate change. Tim Sheridan was kind enough to clarify via Twitter that Gar has indeed reverted to his Changeling identity from Beast Boy. He explained, "The biggest reason is that he's just not a boy anymore—and 'Beast Man' was already taken by [Masters of the Universe]".
Positives Cont.
This makes sense, although I'm happy with either codename. Beast Boy has connections to his time in the Doom Patrol before his time on the Titans, while Changeling hearkens back to the New Teen Titans. Both names are tied to important eras in DC history. And it makes sense that he would want to drop the "Boy" now that he is older.
We also see some significant developments with the students, as Psimon attempts to enlist a new Fearsome Five, comprised of Nevermore, Matthew Price, Bolt, Tress, and Red X. This issue pretty much confirms Red X is one of the students, as Raven confirms that five students are missing, not four. It would appear that the secret of Red X's identity is close to being revealed.
What is somewhat surprising is how close some the students are to taking Psimon's offer. Tress and Bolt aren't sure what to think, while Matt and Dane seem inclined to join Psimon. Red X sympathizes with Matt's desire to assert his independence, but doesn't want any of them to join this new Fearsome Five.
Red X ultimately prevents this with the brutal solution of killing Psimon. This will almost certainly put an end to his time as a student of the Academy. Dane whisks him away from the scene, also severing his ties with the school. Although, it was already becoming clear that Dane was soon going to become a threat, rather than remain part of the team.
Negatives
I can't really find much to complain about this issue. This series has been stellar so far, and Teen Titans Academy #9 is my favourite issue yet. I do have one question though. At one point, Gar appears to be eating a Double Bacon Bomberz burger. Isn't Gar supposed to be vegetarian?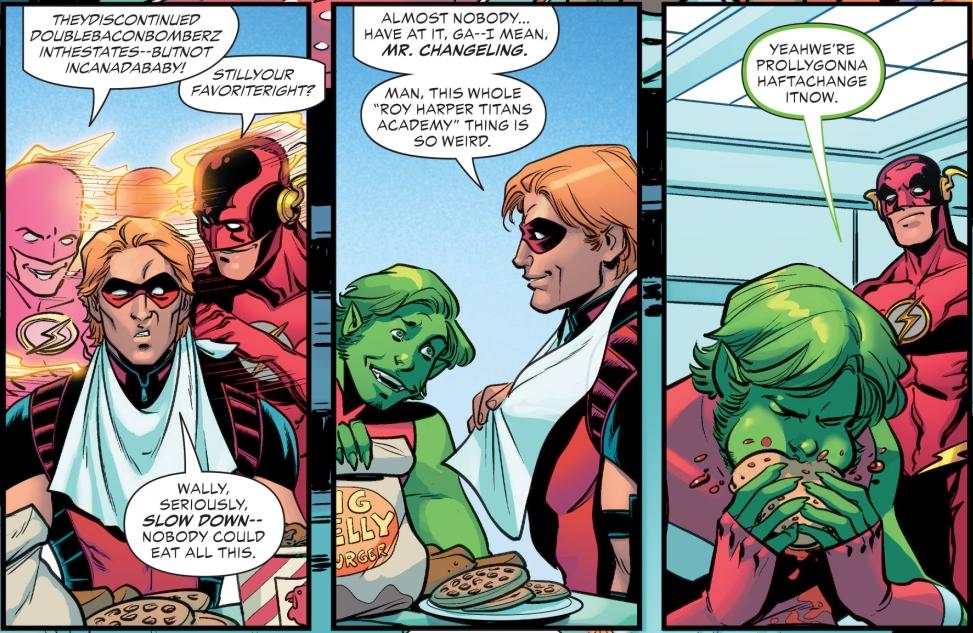 Verdict
Tim Sheridan's direction for the Titans has made Teen Titans Academy one of the most exciting titles of the Infinite Frontier era. The threads he has been laying since Future State: Teen Titans are coming together, and I look forward to see where all this is leading in the months ahead.