Indie Comics Review: BLACK HAMMER REBORN #6
[Editor's Note: This review may contain spoilers]
Writer: Jeff Lemire
Artists: Malachi Ward, Matthew Sheean, Rich Tomasso
Colours: Malachi Ward, Rich Tomasso
Letters: Nate Piekos of Blambot, Rich Tomasso
Publisher: Dark Horse Comics
Reviewed By: Derek McNeil
Summary
Black Hammer Reborn #6: A multidimensional nightmare continues to wreck-havoc on Spiral City as bizarre versions of Black Hammer heroes come face-to-face with the brutal vigilante known as the Skulldigger.
Positives
Black Hammer Reborn #6 begins with a flashback showing how the unlikely partnership between Skulldigger and Doctor Andromeda began. Twenty years ago, Andromeda faced his evil doppelganger from an alternate Spiral City, but Skulldigger intervened to save the hero. Andromeda then recruits Skulldigger to join him in the fight against his doppelganger's plot to revive Anti-God.
I really like the offbeat pairing of Andromeda and Skulldigger. The former is the brains and the latter the brawn. But neither is lacking in either – Andromeda wields significant power and Skulldigger is no dummy. Additionally, I like that they bond somewhat over their similar father-son issues. The moment where Doc Robinson tells Skulldigger, "I–I had a son too. I lost him as well" was an especially poignant moment, especially having read Doctor Andromeda and The Kingdom of Lost Tomorrows (which I also highly recommend).
In the present, Black Hammer and Skulldigger are in the alternate city, facing off against Sherlock Frankenstein and his Liberty Squadron. This team is composed of hero versions of familiar Spiral City villains. One thing I find particularly interesting is that many of these doppelgangers heroes are still active, where many their villainous counterparts have gone straight and retired. Or is this a hint that this Liberty Squadron isn't what it seems. If Spiral City's villains have reformed, does that imply that their heroic counterparts have become corrupt?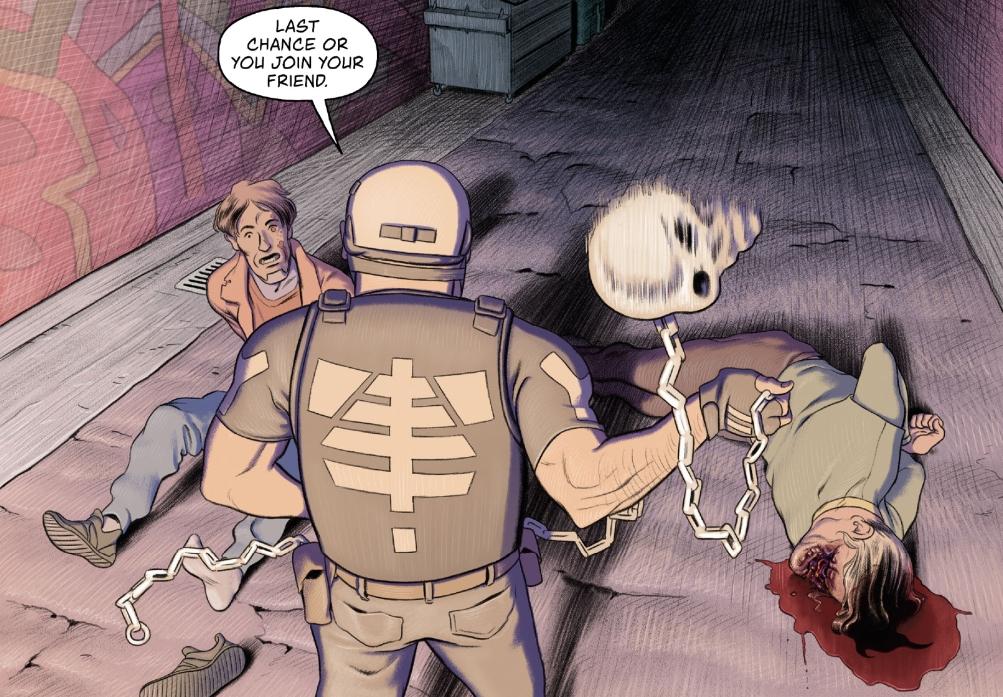 Positives Cont.
One of these heroes is of particular interest: Grimdigger. This character appears to be an amalgamation of Grimjim and and Skulldigger. This makes me curious about his backstory. The Skulldigger + Skeleton Boy miniseries revealed that Skulldigger is Grimjim's son, who had been rescued and raised by a costumed hero. It appears that in the alternate Spiral City, Grimjim was a hero, and thus his son took on an similar but distinct identity.
This is a fine example of Lemire's world-building. Such details reveal connections to other Black Hammer stories, giving each new story added layers. Even though the titles in the Black Hammer line often feature distinctly dissimilar parts of Lemire's universe, he has certainly done a masterful job of drawing firm connections between them.
The two page backup story featuring Inspector Insector give a similar example. Spinning directly out of the main story, it shows what happened to Lucy's son Joe immediately after his apparent death at the hands of Colonel Weird in issue #4.  However, Joe's adventure in Limbo-Land has a rather whimsical tone in contrast to the main story's serious one. Essentially, Joe has fallen out of a superhero story into a funny animal story.
Rich Tomasso has done a wonderful job of conveying this tone through his artwork and colours. He gives it a cartoony style, which contrasts with the superb, but more traditional superhero style that Malachi Ward and Matthew Sheean provide for the main story. Overall, Black Hammer Reborn #6 is a visually pleasing issue, beautifully conveying Lemire's equally superb story.
Negatives
I have nothing to complain about in this issue. I couldn't even find any minor nitpicks to call out. Lemire is at top form as usual and the artwork is gorgeous.
Verdict
Black Hammer Reborn #6 is another terrific addition to the growing Black Hammer canon. The previous titles in the line have given me high expectations for any new issue. But Jeff Lemire has not failed to meet them yet. I look forward to learning more about this parallel Spiral City as the story continues in the upcoming issues.