Review: The Joker #10
[ Editor's Note: This review may contain spoilers]
Writers: Sam Johns, Matthew Rosenberg,
Artist:  Belén Ortega, Francesco Francavilla
Letters: Tom Napolitano, Ariana Maher
Colors: Francesco Francavilla, 
Reviewed by: Carl Bryan
Summary
Following the harrowing events of Batman: The Killing Joke, the course of James Gordon's life-and that of his family's-was forever changed! But what happened when Gordon's path again crossed with The Joker's…
PUNCHLINE BACKUP: Harper Row has successfully gotten Punchline's former friend, Kelly Ness, out of Blackgate. What Kelly reveals about Punchline's past and true nature will change her criminal case forever, but will Harper and Leslie Thompkins be able to protect her from Punchline's loyalists?

Positives
I can't think that this historical dive into the events of The Killing Joke and the glimpse into the impact on James Gordon and his children sets up a deeper impact on the choice that Gordon has before him.
He failed to take the shot on The Joker earlier in this series and arguably was manipulated into helping The Joker escape the clutches of other enemies that have reared their heads in this story.  The psychological impact that this villain has made across the DC landscape is almost immeasurable.  
Sam Johns and Matthew Rosenberg are providing us a case against all things Joker and Punchline and again, making it easier for the reader to accept that The Joker wins if Gordon kills him.  But Gordon arguably has every right to eliminate the source of all things evil in Gotham.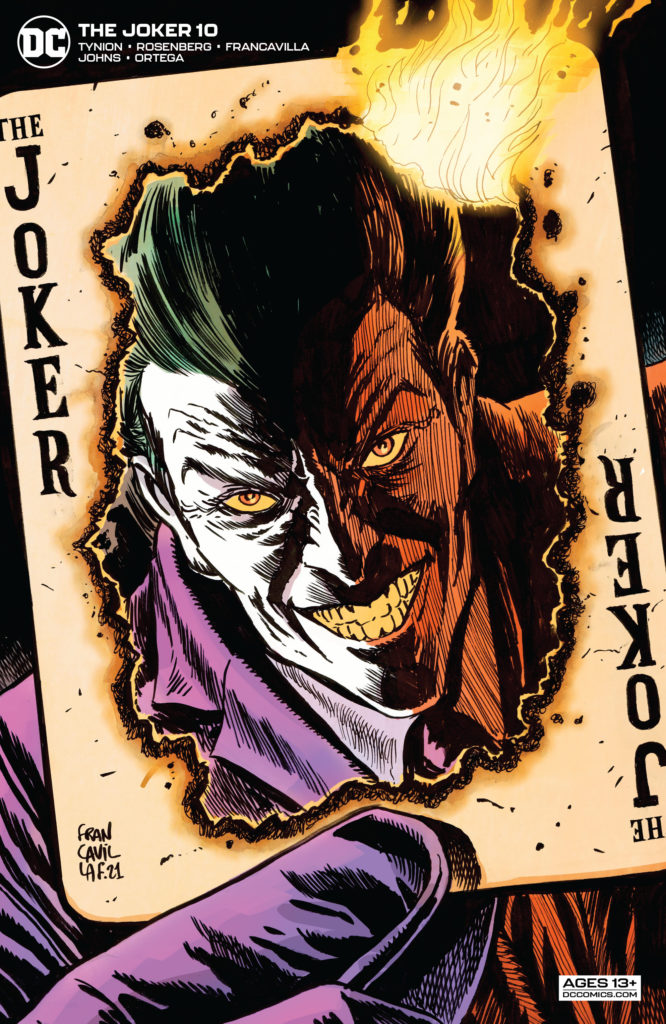 Positives 2.0
Ironically in the story, we have Batman who is a psychological profile in and of himself in both motivation and duality advising Gordon that he needs to accept help from a psychiatrist.  One could look at this story through a lense of "the pot calling the kettle black", but given the state of mental health in the world during a pandemic, the advice Batman provides resonates.
I am beginning to accept the flashback stories drawn differently as I was addicted to the earlier issues of more intense art…blood, muscles, and expressions.  But given the long ball of the storyline, it is more acceptable to view this work as a total book rather than a running comic.
Connecting the Joker dots is an intense job, but this book is exceptional in that!   
Chapter Ten continues…
Oh…lest we not forget, another chapter of Punchline has developed quite the cult-like following both for readers and within the book.  In such a short time with the Clown Prince, she surely has delved deep into his type of manipulative ways! She is scary in how she can manipulate everything from behind bars.    Again, in such a short time she has become connected to all things that can manipulate anyone!  Love where this character is going!
While this book is working a separate storyline with the Joker's girlfriend, readers are long overdue to see these two together.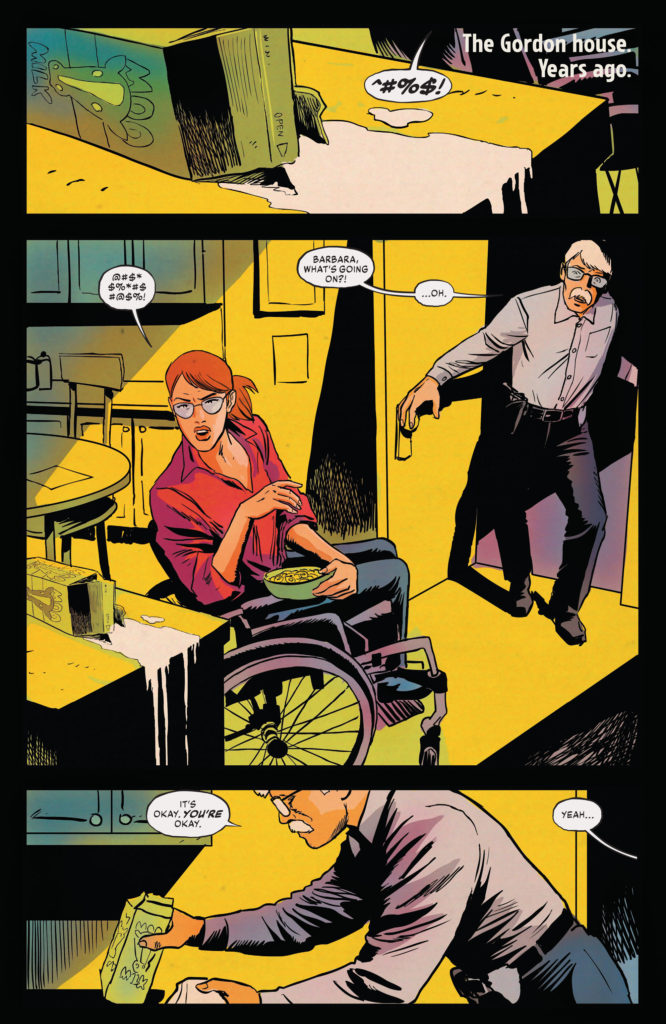 Negatives
Where is Alfred's daughter?  You cannot just drop that on us in issue #7 and then there's no follow-through.  I know we got a LOT of information fleshing out this storyline, but Julia Pennyworth's existence is a pretty huge thing deserving some ink time!
Verdict
The cover says it all.  The impact that The Joker has had on James Gordon's family has been so significant.  I never thought that the Bat-Family would be without Alfred.  Is it time for one of the biggest foes of Batman to bite the dust at the hands of James Gordon?  This latest installment certainly is putting us on a road to where Gordon may take that pivotal shot that will resonate around the DC Universe.