Review: Nubia & The Amazons #2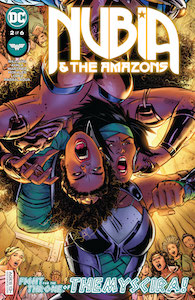 [Editor's Note: This review may contain spoilers]
Writer: Vita Ayala, Stephanie Williams
Artist: Alitha Martinez
Inks: Mark Morales
Colors: Emilio Lopez
Letters: Becca Carey
Reviewed by: Seth Singleton
Summary
Nubia & The Amazons #2 asks more questions than it answers about the Well of Souls, the newest arrivals, and a lurking evil with a dangerous interest in a powerful weapon. 
Positives — Questions Unasked
Pride Of A Lion starts with a question that is not asked by Nubia. On the first page, Nubia seeks counsel from the Divine Matrons. When they turn the tables and offer her the chance to ask them each one question, Queen Nubia holds back. She admits that she does not know or understand enough to ask the questions she is seeking. 
"Fortune favors the bold," or Fortis Fortuna Adiuvat was the only type of leadership that ancient leaders understood. They may have represented the pinnacle of modern thinking at that time, but that did not make them good leaders. Nubia knows that fortune favors the wise. It's why she is the queen. That and she can fight. 
Positives — Victor's Circle
A great moment in this issue is the Victor's Circle. Not only was it established in 1041 BCE but it is described brilliantly by Stephanie Williams and Vita Ayala as "an unknown known or a known unknown depending on who you ask," and probably only if they know what you are talking about. That will mostly be limited to people living on Themyscira or with ill-gotten knowledge of its culture. 
It gets better. The Victor's Circle is a place for settling disagreements or enjoying a casual dust up. There are also record-holders like Diana, Nubia, Mala, Philippus, and Antiope. But the records they hold are only available within the pages of the book, and not this review. 
And it's within the circle that both Nubia and Andromeda experience a strange sensation. For Andromeda, it is about a memory she can't quite recall. When Nubia realizes her opponent is distracted she quickly ends the spar. But even after the combat, Andromeda remains lost in a mystery. It is a costly distraction that sets up the events leading into the next issue.
Knowledge is powerful. Corrupted knowledge is terrible and destructive. When Clio decides to enjoy a book in the Gardens of Themyscira she runs into a friend. But her friend has been changed by a dangerous force and Clio finds herself in similar peril. Watching how dangerous things will get is sure to be a tense experience. 
Negatives
There are no negatives to find here.
Verdict
Williams and Ayala are master storytellers and their story is sewn to the page with Becca Carey's letters. Nubia spent lifetimes guarding the Amazons and now she is striving to use her warrior strengths and skills to lead them. But she knows that the challenges she faces are many. They are obscured and they are also subtle. However, whether the challenges are layered through time, folded realities from multiple Earths or the emergence of ancient enemies, Nubia, and her Amazons will face them together. 
The sublime pencils of Alithea Martinez and her collaboration on inks with Mark Morales is a perfect tandem. Aleen Passalaqua's colors are rich and abundant. Set on an island of paradise, this is a story brimming its pages and promising more to come.