Review: Time Before Time #9
[Editor's Note: This review may contain spoilers]
Publisher: Image Comics
Writer: Declan Shalvey, Rory McConville
Artist: Joe Palmer
Colorist:  Chris O'Halloran
Letterer:  Hassan Otsmane-Elhaou
Reviewed by: Carl Bryan
Summary
"Me and you…we're going to go back and fix everything." – Stan to Tatsuo after he has drugged Tatsuo
Time Before Time #9 – Marston and Amadeus venture to the dying embers of the 30th century to do business with a rival organization.
In 2042, Tatsuo tries to track down Kevin before it reveals his location, but he's not the only one hunting for the robot.  Who's hunting Tatsuo?  All this, and Stan has a way to fix things.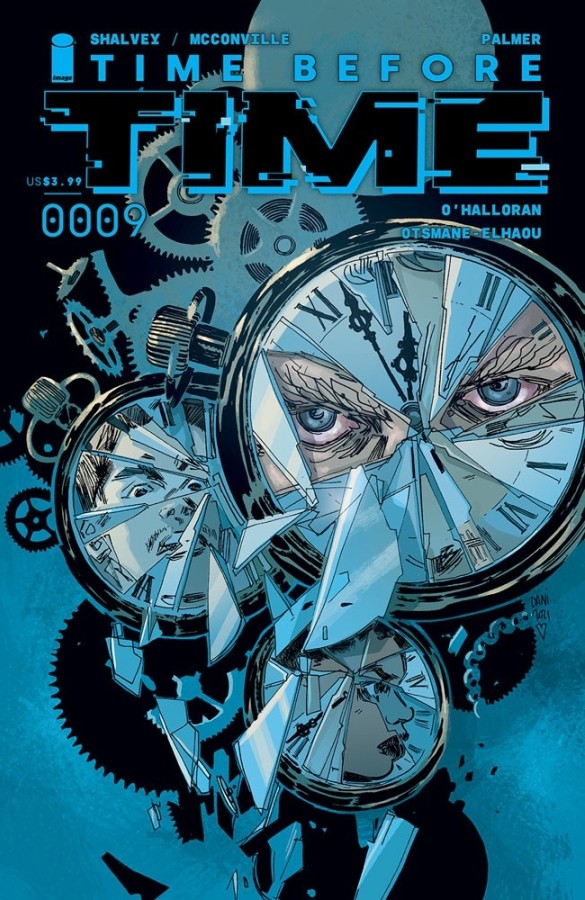 Positives
Writers Declan Shalvey and  Rory McConville are amping up the chase as they provide the mundane aspects of finding someone in a particular year.  Think about it…you're trying to find Tatsuo and you only know what YEAR he is in…we are not talking city, zip code or even continent.
The frame by frame evaporation of the months of a stakeout by Gair and Simone in 2042…. time drips by during these phases and the art team takes us from hopeful optimism that this assignment will lead them to Tatsuo to desperation to "get back" to 2094.
A rogue robot full of future tech on the loose in 2042….straight from the future with Tatsuo and Stan looking for him.  Kevin the robot is the string that is pulled to unravel Tatsuo's plan.  But it is the revelation of Stan that "all-time era stinks"  is the cliffhanger.
You see on social media an homage to The Matrix of red pill or blue pill.  Stan has a drugged time travel expert and a way to travel… he wants to fix it all.  Are we talking Adam and Eve "Control Alt Delete"…. what's going on?
If you like your art circa Umbrella Academy style, this is a great comic.  However, with the release of some of these alternate covers, I would love it if the book would explore giving some of the cover artists some leeway in exploring their talents between the pages.  The dramatic dates at the top work…but that alternate cover above really is awesome and would work in the actual comic frames.
The Scumbag rotates its artists… it's a great idea with no slight to the current team.  Just mix it up a bit when you go to different time eras.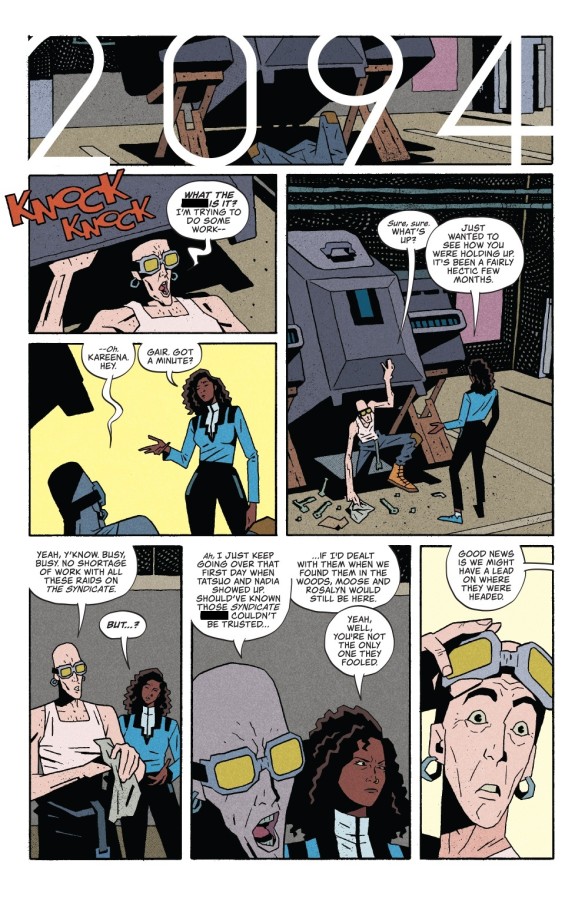 Negatives… but not really

issue #9 settles regular readers back into the chase.  The entire time traveling has been a crap show for those involved.  It's a war between "haves and have nots".  Stan's realization that every time period has its faults is pretty dramatic, but the cliffhanger at the end baits the hook once again for a future issue.
Time will tell if this is a hit or a mini-run.  However, for right now, it is marching a bit slow.  I am ready for this sequence as a reader to reach a climax so we can look at other time travel implications.  The old butterfly effect needs to happen!
Verdict
Depositing yourself somewhere in time…Looper, Stephen King's 11/22/63, Avengers: Endgame, and now this book.  But this take is different.  An acknowledgment of what time travel can do to your body, the overarching power of a Syndicate that can find you somewhere in time, and pods that you have to trust your life to that look like bad refrigerator-freezers.
What's not to be intrigued about?  The Syndicate is a perfect villain for this time chase!  And this issue proves there is more playground here that can be explored in a quality way!
Again, get in on the ground floor of Time Before Time.  Click on the aforementioned link to transport yourself back in time to the first issue.  However, it is up to you to find Issues #2 – #9.