Review: King Spawn #8
[Editor's Note: This review may contain spoilers]
Publisher: Image Comics
Writers: Sean Lewis, Todd McFarlane
Artists:  Javi Fernandez, Thomas Nachlik
Letters:  AndWorld Design
Colors: FCO Plascencia
Reviewed by: Carl Bryan
Summary
"Al?" – Wanda
King Spawn #8 – With one vision of Wanda….. The stakes just got higher for Al Simmons.  What is the mysterious Exodus Foundation and what are their nefarious goals and why would they be offering Al a seat on the God Throne? 
All that, and a young child is practicing for an eventual David versus Goliath conflict.  
Positives
If you have been a Spawn reader for any length of time, you have to know that all roads and decisions by Al Simmons/Spawn were made in one decision.  That request to come back from the dead and see Wanda again…  That's when the roller coaster began and all that we have experienced the past thirty years has led us to the longest independent comic run in comic history.
Sean Lewis provides the readers of King Spawn the origin question… can Al sit atop a throne and bring back his queen – Wanda?  Is it all smoke and mirrors from Heaven?  Hell? Jason Wynn? Or any of that in-between.  
Lewis and Todd McFarlane return us back to Al's roots and place the deal of the millennium in front of him.  Spawn has always been a love story.  Will Al get his wife back?
Positives 2.0
King Spawn has pulled out all the stops.  Where Spawn has not softened by any means, King Spawn is hard as a diamond.  The scenery, the creatures, the pace is tough for a novice reader.  This is the book that the original Spawn readers were after as it is dark.  
Spawn has all the playgrounds of four titles now (The Scorched, Spawn, King Spawn, and Gunslinger Spawn).  This comic's the upstairs attic, with all its creepy corners, or the basement with the shadows that take us to bad places.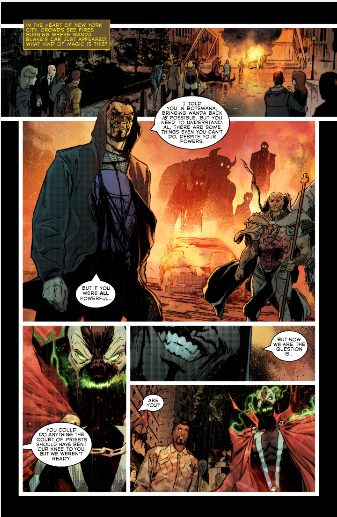 Accolades for World Record-Setting
King Spawn #8 continues to deliver! All of the Spawn titles are providing fans with something to read about on a weekly basis, but this book is the true history lesson as Sean Lewis is all about the Spawn canon.  His writing arguably contributes more to the ideas that McFarlane put out there some thirty years ago than well… the Todd Father himself. 
Verdict
Issue #8 has us on the edge of our seat as that one glimpse of Wanda….what would you do?  What will Al do?  Only Sean Lewis and Todd McFarlane know. Let's hope they give King Spawn his queen.

//pagead2.googlesyndication.com/pagead/js/adsbygoogle.js
(adsbygoogle = window.adsbygoogle || []).push({}); https://pagead2.googlesyndication.com/pagead/js/adsbygoogle.js