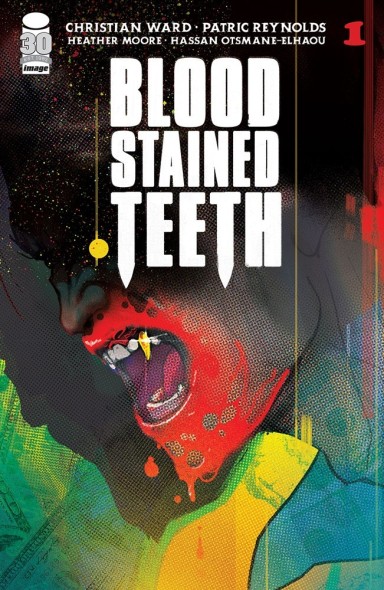 Review:  Blood Stained Teeth #1
[Editor's Note: This review may contain spoilers]
Publisher: Image Comics
Writer: Christian Ward
Artists: Patric Reynolds
Letters: Hassan Otsmane-Elhaou
Colors:   Heather Moore
Reviewed by: Carl Bryan
Summary
"The humans always come to me with their stories.  I don't care.  I just want their money!" – Atticus Sloane  
Blood Stained Teeth #1– CHRISTIAN WARD, the Eisner Award-winning co-creator of ODY-C, Invisible Kingdom, and Machine Gun Wizards, returns to Image with red-hot artist PATRIC REYNOLDS (The Mask) for an all-new ONGOING SERIES—a fast-paced 100 Bullets-style crime saga with fangs!

Atticus Sloane—misanthrope, criminal, asshole, and vampire—lives in a world where blood isn't the only thing vamps crave. And for the right price, he'll make you a vampire too. After all, immortality isn't cheap.
Positives
In three paragraphs, Christian Ward provides the prelude to the conflict we are witnessing in the pages of this comic.
Only First Born vampires have the ability to turn someone,  The First Born are rich and powerful and have long watched from positions of power over human society.  The world is theirs.   Sips–those that are turned– are vicious, unsatisfiable killers and are decreed forbidden by the First Born.  This is the story of those Sips and the Vampire who made them
Ward gives us an interesting character in Atticus Sloane. the vampire who turns humans into the Sips for profit.  The premise is unlike any other in the horror genre and to be honest, is one of the most refreshing vampire books since Salem's Lot or anything that Anne Rice provided us.
Ward immerses us into the world of Atticus but also gives us characters like Brother Stoker (wonder whom that is a homage to?) and Mr. Tooth…a First Born heavy.  As it turns out, Atticus has not revealed himself as the one who is turning Sips and this starts the conundrum.   No spoilers here, but Issue #1 tips the dominoes forward!

Positives 2.0
Patric Reynolds, Hassan Otsmane-Elhaou, and Heather Moore – this strong art team has brought Ward's word into light (and dark…we are dealing with Vampires here) with bold pinks, yellows, and greens.  It's a color explosion of decor, but those pasty white fang adorned faces are pretty intense!  Well done!
Negatives
I am a sucker (no pun intended) for Issue #1 of any comic.  I blame it on Spawn #1.  However, I have been sorely disappointed in the past, but when you find a diamond like this one…you have to have it on your shelf!
Verdict
Buy this one!  Ward has hit a home run with a new vampire tale that takes the genre and flips the script!  The ground floor of any new book is special, but we have what could be the next #1 horror film in our hands here!