Review: Naomi Season Two #3
[Editor's Note: This review may contain spoilers]
Writer: Brian Michael Bendis & David F. Walker
Artist:  Jamal Campbell
Letters: Wes Abbott
Reviewed by: Carl Bryan
Summary
"I'm tired." – Naomi
Naomi Season Two #3 – Naomi's life has fallen into complete chaos over the mysteries that surround her and her origin.
Dee is missing and Naomi deeply feels it has to do with her, so she teams up with Justice League legend Cyborg to work out the clues left behind in the wake of his disappearance.
Meanwhile, special guest star Hawkgirl harbors the secrets of Dee's dark Thanagarian past that could threaten Naomi's place in the JL!
From the original creators of Naomi comes this all-new DC epic starring the CW's newest sensation!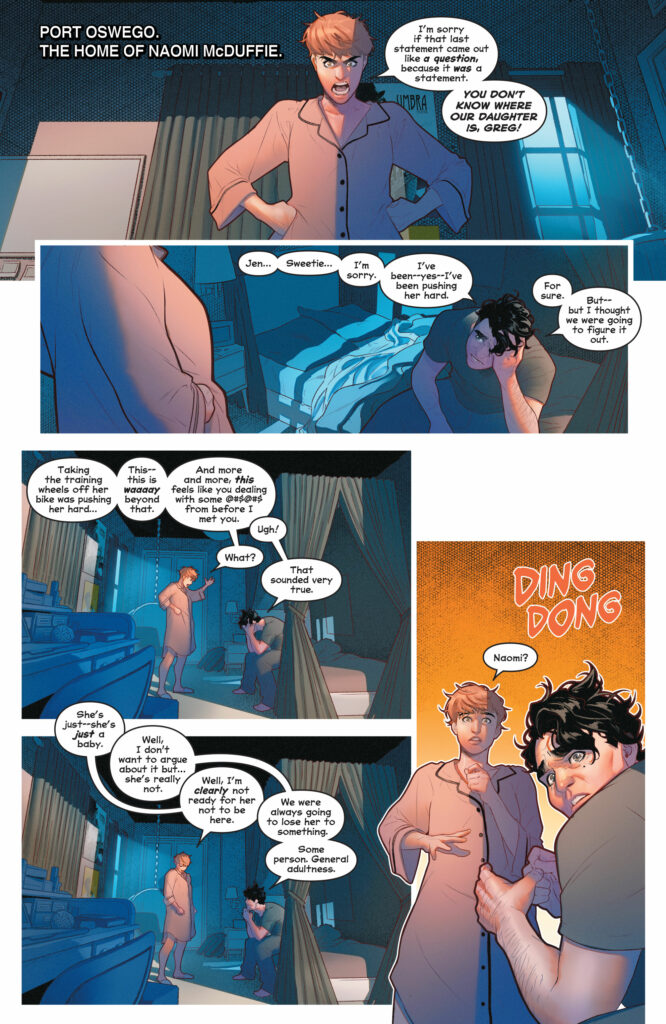 Positives
Jamal Campbell continues to make this book the coolest drink for the eyes since a copy of Renaldo's Nightwing.  Simply put, his frames, his colors, and his pencils are what make Naomi the coolest book to read.  Whether it is bright colors, subtle hues, or the hairstyles… the hairstyles… oh, and Hawkgirl's Abs… Campbell has attention to detail which is really really great art!
While Campbell handles the artistic duties, Brian M. Bendis and David F. Walker provide the script that captures both teenage angst as well as parent worry.  Who knows where both of them find their muse in terms of all the hormone-driven dialogue.
Speaking of dialogue, I think that both of them laid a foundation a bit for a Cyborg/Naomi team up on a regular basis.  Though the dialogue did not flow, it certainly displayed a complement of powers that could be a great team up in this book!
This issue provides a bit of a rehash of what has transpired in that Naomi is looking for Dee and she is also discovering nuances about her powers.  Her parents are extremely worried on a lot of levels and the heroes Naomi keeps company with have some strong opinions about her, her past, and her relationship with her parents.
It's a teenage mess that any tween embraces right now in literature.
Negatives

Nothing at this point.   The cliffhanger will have you wondering more and waiting for Issue #4 in the second arc.  Go ahead and pull out your wallet.  The art alone is worth it, but this hero has a great writing team as well!
Verdict

As always with Naomi, you should invest in past issues, and after reading them, hang them on your walls!  Campbell's art is magnificent and poster-worthy at every turn!  Naomi's story is for every kid and every parent… adults should read this book with their kids, it'll put relationships into a great perspective.