Indie Comics Review: The Fox: Family Values #1

[Editor's Note: This review may contain spoilers]
Publisher: Archie Comics
Writers: Dean Haspiel,  Vito Delsante and Alex Toth
Art: Dean Haspiel, Richard Ortiz and Alex Toth
Colors: Matt Herms and Alex Toth
Letters: Jack Morelli and Alex Toth
Reviewed by: Matthew B. Lloyd
Summary
The Fox returns in a one-shot with two news stories spotlighting the importance of family and the third tale is by the legendary Alex Toth!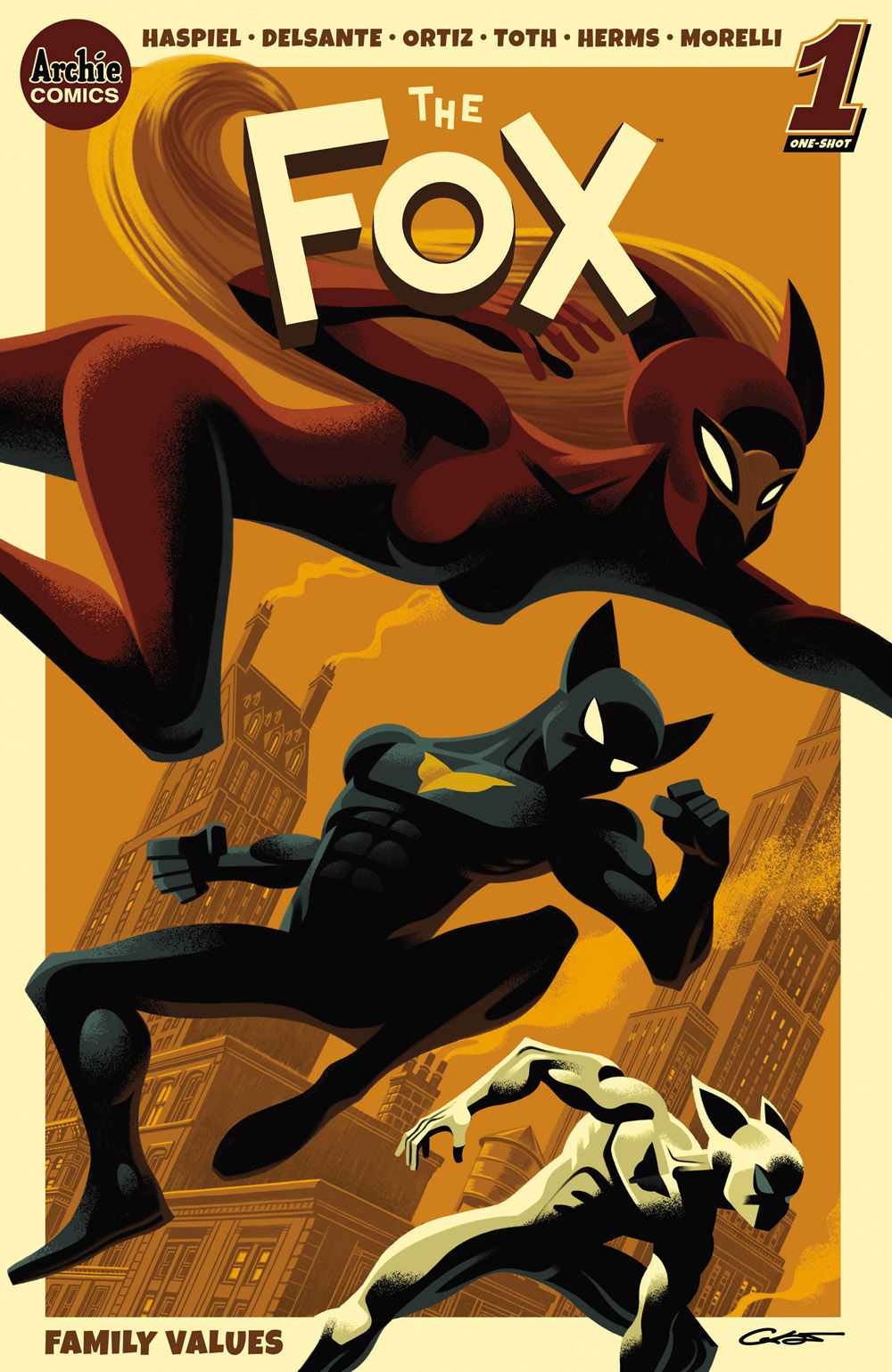 Positives
It's almost unfair to include the Alex Toth reprint in The Fox: Family Values #1 as he is one of the best to ever draw comics and the two Fox stories he did for Red Circle Comics (Archie Comics super-hero imprint at the time) are two of the best stories the company ever published.  The story here first appeared in The Black Hood #2, and though it's nearly 40 years old, it remains a "how to" do comics.  Toth is a master and it's hard not to love his unique approach to characters.  Toth was an economical artist that got more out of a line than anyone.  It's not hard to see his influence on an artist like Dean Haspiel.  When I read this story when it first came out in 1983 I desperately wanted Toth to do a Fox series.  We only got two stories, but these stories are hard to beat.  Toth infuses fun, humor, action, adventure, and character throughout.  Additionally, his craft is demonstrated in his layouts, framing, and ability to lead your eye in just the right way.  
Toth's approach to the character set the tone for the recent Fox stories over the past ten years by Dean Haspiel and Mark Waid.  Though the Archie Comics superhero characters come and go every few years- The Mighty Crusaders: The Shield one-shot came out last June-  there's been some traction with Haspiel's Fox.  Toth introduced the quirky fun element to the character that Haspiel has used in his stories.  The two new stories in The Fox: Family Values #1 owe a lot to this.  In "Mid-Life Pisces," the Fox Family shows how balance is necessary for relationships and how one has to embrace who they are, no matter what weirdness may result.  It's a story about being who you are and making it work for you and not letting others define who you are, especially if you are trying to do the right thing.
"Back to Back" is the stronger of the two new stories, it's a little more concise and directed.  We get the action and excitement along with a touch of weirdness.  This story delineates the pre-marital adventure of Paul and Mae (The Fox and She-Fox) as they come to terms with how their relationship will work with Paul's life as a superhero.  
Negatives
At times the two new stories seem to veer into Deadpool territory, but they wisely don't cross that line.  If anything, the characters need a longer arc.  Toth is able to do something with just one character, but the new stories try to bring in both Mae and the fox-spring (offspring!), Shinji.  It's great to see the family together, but it may be more effective to put a little more focus on the Fox if we are only getting a one-shot.  And, sadly, this is a one-shot.  Please, tell Archie Comics we need more super-hero content, they've got a significant stable of characters that deserve the exposure.  Consistent exposure.
Verdict
The Fox: Family Values #1 is without a doubt a fun issue with some heart.  It's little more than a tease as it is a one-shot and there is only one more archival Toth story to track down.  Nevertheless, the Toth reprint is worth it for this issue alone, and the new material is fun and entertaining.  It's not your standard superhero comic, but we need variety in comics, don't we?