Here are the composer's thoughts:
The Sandman is an incredibly eclectic story spanning everything from other-worldly magic to deep trauma and horror but is always told with real human feelings.
The Sandman's range of genres gave Buckley the opportunity to embrace a large palette for the score including full orchestra, choir, early music instruments, such as viola da gamba and baroque flutes, and some esoteric sounds. He combined historic classical music and instruments with modern electronic textures to bridge time within the music. One of the most notable experimentations is that of Dream's theme, using bells to portray his character's ruling of the sleeping world, reminding the viewer of a midnight chime. The bells are sometimes warped or dissonant, mimicking the inconsistency and eclecticism of dreams. As an Endless, Dream's theme is ubiquitous, being used throughout episodes regardless of his on-screen presence.
The highly emotional score switches from dark to dainty themes episode to episode in The Sandman: Season 1, while still remaining cohesive and homogenous. Buckley created sounds unique to every moment of the series, making the music feel alive and distinctive.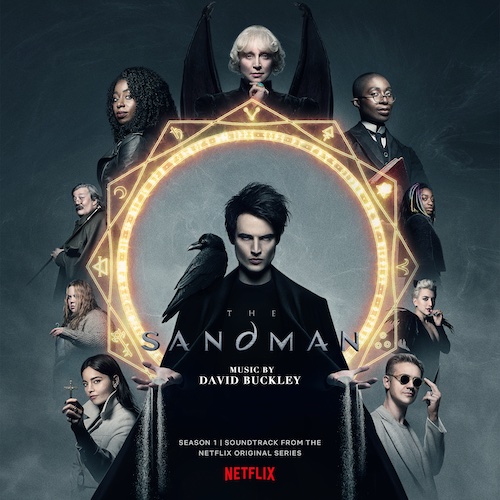 The Kingdom Of Dreams
Meet Ethel Cripps
The Threshold Of Desire
Jessamy's Flight
The Houses Of Secrets & Mysteries
Dream's Escape
Johanna & Rachel
The Oldest Game
A Kind Word And A Friendly Face
God Tells Me To Do It
Every Hundred Years
A True Annulet
Dreams Shape The World
The Throne Room Of The King of Dreams
Jed Walker, Guardian Of Sleepers
Sleep Well, John
New Dreams To Spur The Minds Of Men
Even A Nightmare Can Dream
A Remedy For Poison
The Truth Of Mankind
Into The Vortex
Return To The White Horse
This Is Fiddler's Green
Children Of The Endless
There Is Hope
New Dreams… A New Age
Fortune Go With You
ABOUT 'THE SANDMAN'
There's another world that waits for all of us when we close our eyes and sleep — a place called the Dreaming, where The Sandman, Master of Dreams (Tom Sturridge), gives shape to all of our deepest fears and fantasies. When Dream is unexpectedly captured and held prisoner for a century, his absence sets off a series of events that will change both the dreaming and waking worlds forever. To restore order, Dream must journey across different worlds and timelines to mend the mistakes he's made during his vast existence, revisiting old friends and foes, and meeting new entities — both cosmic and human — along the way.
Based on the beloved award-winning DC comic series written by Neil Gaiman, The Sandman is a rich, character-driven blend of myth and dark fantasy woven together over the course of ten epic chapters following Dream's many adventures. Developed and executive produced by Gaiman, showrunner Allan Heinberg, and David S. Goyer, The Sandman also stars Boyd Holbrook, Patton Oswalt, Vivienne Acheampong, Gwendoline Christie, Charles Dance, Jenna Coleman, David Thewlis, Stephen Fry, Kirby Howell-Baptiste, Mason Alexander Park, Donna Preston, Vanesu Samunyai (formerly known as "Kyo Ra"), John Cameron Mitchell, Asim Chaudhry, Sanjeev Bhaskar, Joely Richardson, Niamh Walsh, Sandra James-Young and Razane Jammal.
ABOUT DAVID BUCKLEY
Emmy-nominated composer David Buckley is currently scoring Kandahar starring Gerard Butler. Recent film scores include Universal's Nobody starring Bob Odenkirk, Greenland also starring Butler, the remake of Papillon starring Charlie Hunnam & Rami Malek, Jason Bourne directed by Paul Greengrass, and The Nice Guys for Shane Black and Joel Silver. Previous scores include the Joel Schumacher-directed thriller Blood Creek, Ben Affleck's crime drama The Town, Taylor Hackford's action feature Parker and Rob Minkoff's fantasy adventure The Forbidden Kingdom.
For television, David composed the music for the hit Scott Free/CBS drama series The Good Wife and continues to score the spin-off, now in its sixth season, The Good Fight (for which he received an Emmy nomination for Outstanding Title Music). He also composed the scores for Mercy Street (PBS), BrainDead (CBS), The Gifted (Marvel/FOX), The Stranger (Netflix), Stay Close (Netflix), and The Lincoln Lawyer (Netflix). He is currently scoring the third season of Evil (CBS).
Born in England, David's first involvement with film music was as a cathedral choirboy performing on Peter Gabriel's score for Martin Scorsese's The Last Temptation of Christ. He continued his musical education at Cambridge University. In 2006, David moved to Los Angeles where he began collaborating with Harry Gregson-Williams on film scores, including Shrek The Third and Gone Baby Gone. He has written music for films including Wonder Woman, all the Fifty Shades movies, Big Eyes and American Hustle, and his music was featured in David O'Russell's Joy. David was honored as a 'Brit to Watch' by BAFTA.
As well as film and TV, David has written the music for a number of games, including Batman Arkham Knight (Warner Bros/Rocksteady).
ABOUT WATERTOWER MUSIC
WaterTower Music, the in-house label for the Warner Bros. Discovery companies, releases recorded music as rich and diverse as the companies themselves. It has been the soundtrack home to many of the world's most iconic films, television shows, and games since 2001.
The Sandman: Season 1 soundtrack is available to purchase on CD and is streaming on Spotify and Apple Music.