Review: Harley Quinn: A Very Problematic Valentine's Day Special (2023)
[Editor's Note: This review may contain spoilers]
Directed by: Cecilia Aranovich & Jennifer Coyle
Written by: Justin Halpern, Patrick Schumacker & Dean Lorey
Starring: Kaley Cuoco, Lake Bell, Alan Tudyk, James Adomian, and others
Reviewed by: Ryan Rodrigues
Summary
To celebrate their first ever Valentine's Day, Harley Quinn strives to plan the greatest, most romantic night ever for herself and Poison Ivy.  Heroes and villains of Gotham City and beyond also take part in the celebration of love, the aims to achieve the most gushiest, mushiest and most romantic day of the year, in the new Harley Quinn: A Very Problematic Valentine's Day Special.

Positives
If you're a fan of the hit TV Series, which has now completed its third season, then you'll enjoy this "Special", which has a sense of logical flow from the events of the latest season. It is quite possibly one of the most vulgar and outrageous story-lines to ever come from DC animations. As per the title, it follows mainly Harley Quinn (Kaley Cuoco) and Poison Ivy (Lake Bell) on their Valentine's date, where utter chaos and extreme humour follow suite. If you're not familiar with the TV series, Harley and her band of friends often make many fourth wall breaks, and this is no different. I've tried best to avoid any major plot spoilers.
Though, if I did want to break it up, the 44-minute episode features three main groups, Harley & Ivy, Clayface, and Bane. Clayface's (Alan Tudyk) story follows him preparing for a date with a new match from a dating app (even against Ivy's remarks that it might be a catfish), and Bane (James Adomian) who randomly happens to stumble across a date whilst being in the city alone.
The craziness of the adventure begins when Harley purchases a spell from Etrigan the Demon to impress Ivy in the bedroom. The unfortunate side effects of the spell are realized when Ivy releases her pheromones into the Gotham skyline. This causes the people and animals of the city to not hold back their inhibitions (to put terms politely). Meanwhile, Clayface is on a journey of self-discovery and self-love. Bane is faced with a self conscious issue and visits Etrigan to get some help with a certain something being disproportionate with the size of his body. Unfortunately for Bane, this has hilarious side effects when mixed with Ivy's pheromones.
Valentine's Day Highlights
A personal highlight throughout the episode was the various super couples giving testimonials about their romances: Superman and Lois Lane, Hawkman and Hawkgirl, Killer Croc and Enchantress, Aquaman and Mera, Darkseid and Kimberly Guilfoyle (random, but also funny).
If you're a big Brett Goldstein fan, he has quite the important part to play in the overall plot.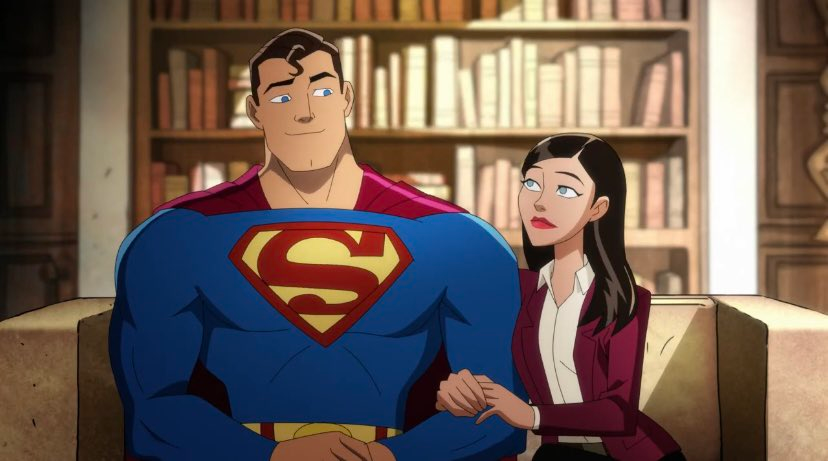 Negatives
No real negatives for this animated special, other than it being pretty much the length of a double episode, so it is much shorter than many other DC animated films. The themes and tone of the special, in particular, are very mature, and definitely wouldn't be recommended to younger audiences.
Verdict
The story is a great and I enjoyed the small jokes within the Valentine's Day themes of love and romance. Bane's predicament is utterly hilarious and tied in nicely with the larger story about Harley trying to impress Ivy. The plot holds nothing back and features strong adult themes and references. However, this stays true to the genre and the audience that the series has focused on within the first three seasons. It's lots of fun and worth the watch for any fans of the series.
Score: 4/5