Review: Fables #158

[Editor's Note: This review may contain spoilers]

Writer: Bill Willingham
Art: Mark Buckingham and Steve Leialoha
Colors: Lee Loughridge
Letters: Todd Klein

Reviewed by: Matthew Lloyd
Summary
In which a nesting doll is revealed, an aerial dogfight occurs, and too many pay the price for living in an interesting world.
Positives
With Fables #158, things become more clear, and what I mean is that we can clearly see that Peter Pan is up to no good!  Sure, it was obvious that was Tinkerbell since she first showed up in this series, but even now it's hard to imagine Peter Pan as a villain.  He's clearly doing villainous things as he kills the magical creatures in Black Forest and even attempts to kill Connor Wolf.  What's not clear is how Peter Pan got this way.  He mentions Geppetto in a manner that signifies that he knows Geppetto was The Adversary.  Now, there's no reason that this couldn't be a fake Peter Pan, or someone in disguise, etc, but it's even harder to believe villainy in Tinkerbell.  Could she be under someone else's control?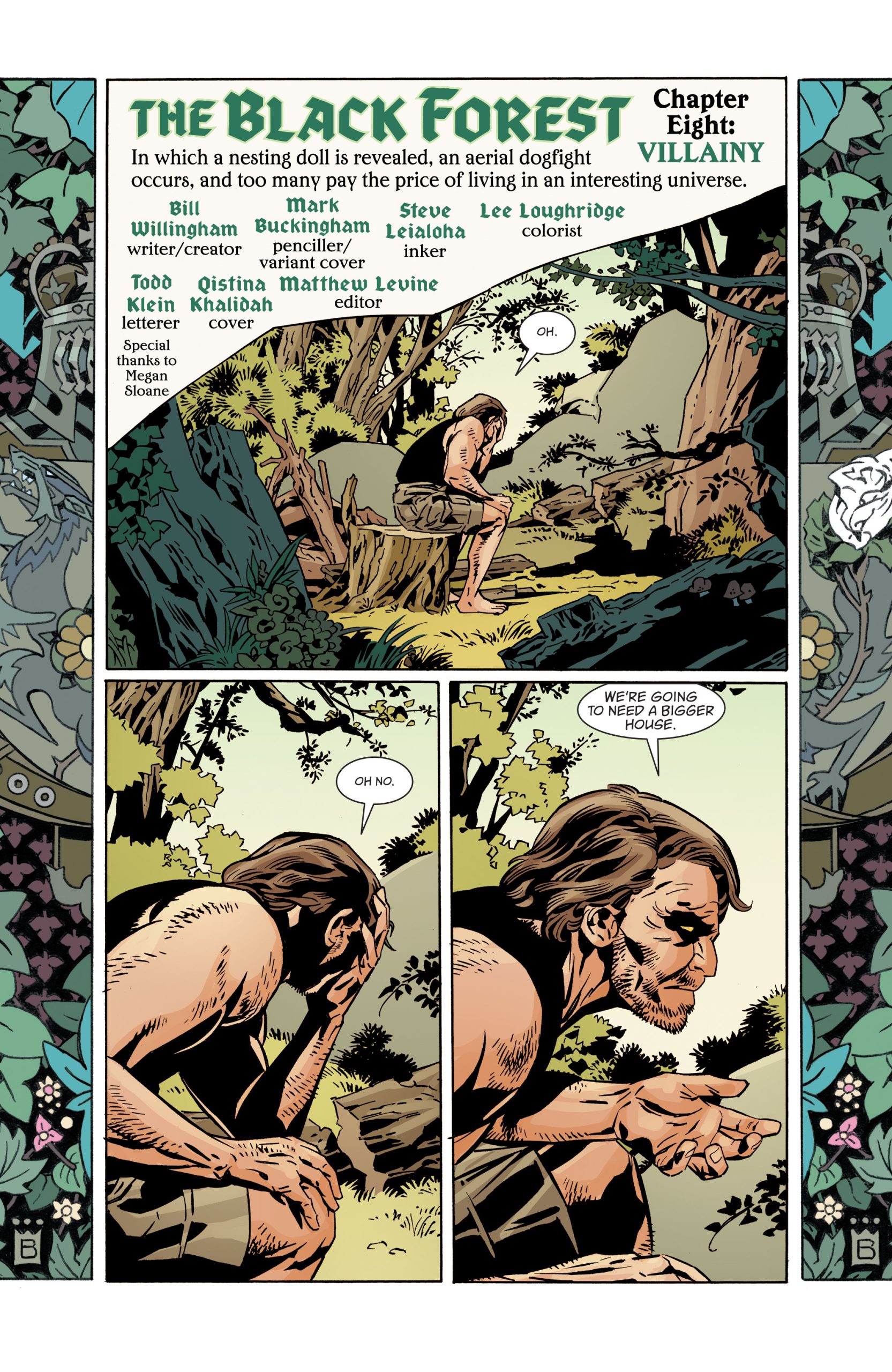 Positives Cont'd
In some ways it feels like there's been a lot of set up for the first seven issues of "The Black Forest" arc.  Thankfully, a lot of it comes to a head in Fables #158 as a clear dividing line is established.  Green Jack's sojourn into "our" world ended somewhat oddly last issue, and it seems to be pointless right now, but there's always the chance things could develop as the arc concludes.  For now, it's gratifying to see Bigby come face to face with Green Jack.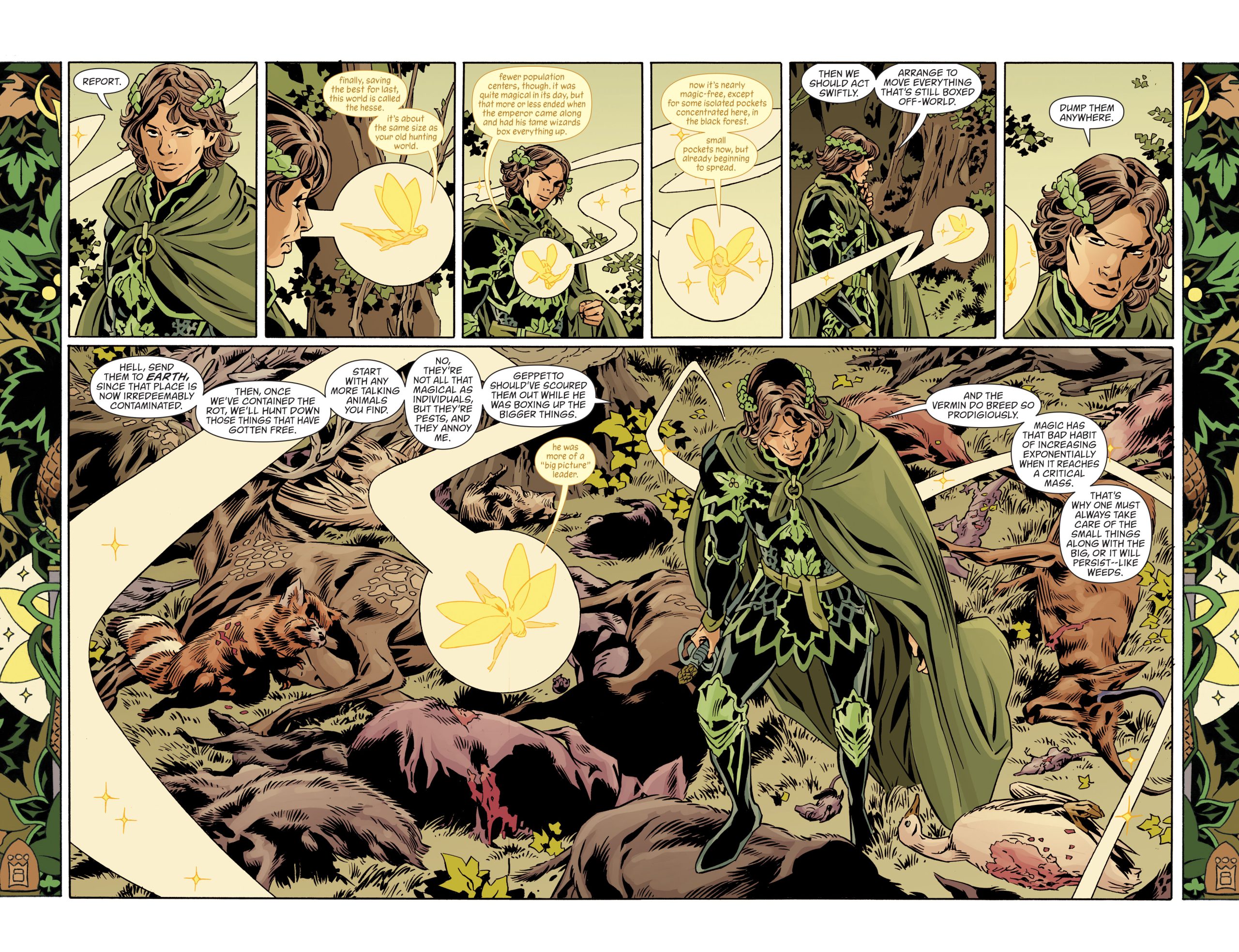 Connor's fight with Peter Pan demonstrates how powerful the Wolf children are.  It was effective as it established some comparative power levels while not racing to the final showdown immediately.  The development at the end of this issue with the introduction of the "spirit of the Black Forest" also ups the ante, not only introducing another player, but expanding the scope of the story.  
Negatives
It's a shame that the biggest negative for this issue and indeed, all the issues is the publication delays.  The creative team is doing an outstanding job on the execution and it's unfortunate that there have been these delays.  It's also not clear if this run of Fables ends with this story arc or if the series will continue on.  Some evidence seems to suggest it's a 12-issue arc, while others don't.  I do recommend a quick re-read of the previous issues to put one in the right mindset before reading Fables #158.
Verdict
Despite the two month wait since issue #157, Fables #158 does a solid job of catching the reader up on the state of events.  Furthermore, the issue is a pretty important plot mover.  There's a culmination of plotlines that get the story to point where it feels like things are about to take off.  A refresher will do the reader some good as there's a lot to consider concerning the ever expanding cast.  There's just got to be more to Peter and Tinkerbell being villains, right?