DC's annual LGBTQ+ anthology, DC PRIDE, is returning for 2023 and will be available on May 30. This year's collection will include ten stories about various DC characters like Harley Quinn & Poison Ivy, Tim Drake, Midnighter & Apollo, Batwoman, Jon Kent, Dreamer, and more! The book will also include a tribute to Doom Patrol writer and transgender activist Rachel Pollack, who recently passed away at the age of 77.
For all the details on the upcoming DC Pride 2023 anthology, and a sneak peek at what you may expect, check out the official press release below.
PRIDE PREVIEW: 'DC PRIDE 2023'
"I hope this anthology feels like an invitation to all — to experience life the way queer folk do. We want everyone to celebrate joy, to elevate beauty, to embrace frivolity. We want everyone to love who they want to love, to believe in justice for all, and fight like hell for it. We want everyone to be a hero, and to celebrate the good and the wonder of people different than themselves. We want everyone to look at the world a little sideways, a little bent, a little askew, which can be transcendent if you let it." —Phil Jimenez, DC Pride 2023
DC Pride is back with DC Pride 2023, an all-new 104-page anthology starring DC's fan-favorite stable of LGBTQIA+ characters—this time, with a focus on never-before-seen team-ups! DC's 2023 Pride collection of books and comics will be available at your local comic book shop, bookstore, library, and beyond, delivering bold stories, brave characters, and more pride than ever. DC Pride 2023 will publish on May 30.
Below is the full list of contents in DC Pride 2023, which also includes an introduction by Phil Jimenez, sampled above; a preview of the upcoming Bad Dream graphic novel starring Dreamer (written by Nicole Maines and drawn by Rye Hickman!); pinups by artists Angel Solorzano, Noah Dao, Babs Tarr, Maria Llovet, Brandt & Stein, Claire Roe with Triona Farrell, Travis Moore with Tamra Bonvillain; a tribute to trailblazing comics writer Rachel Pollack from Neil Gaiman, Tom Peyer, Jadzia Axelrod, and more.
This year's oversize one-shot special is headlined by Grant Morrison returning to Multiversity, with a cosmic love story illustrated by Hayden Sherman! In a story from Leah Williams and Paulina Ganucheau, Harley Quinn and Poison Ivy go to extreme measures to get a little alone time… but there's nowhere on the planet Crush can't crash! Nadia Shammas and Bruka Jones helm a tale of Tim Drake and Connor Hawke learning that there's nothing more awkward than reuniting with an old friend—after you've both come out and one of you was indoctrinated by the League of Shadows for a while. A.L. Kaplan writes and illustrates Circuit Breaker's struggles to stifle his powers after the Flash of Earth-11 leaps out of the time stream and knocks them both into another dimension! Jon Kent gets a comprehensive course in dark magic when John Constantine unleashes a fetch on him, courtesy of writer Christopher Cantwell and artist Skylar Patridge! All this and much more, including Spirit World star Xanthe Zhou meeting Batwoman in a story by Jeremy Holt and Andrew Drilon!
With over 100 pages of original stories and content, DC Pride 2023 celebrates the bravest and the boldest of DC's Super Heroes. Here's a sneak peek into what a few of the teams will be delivering:
Plus, here's an early look at the DC Pride 2023 1:50 variant cover by superstar artist Jen Bartel—a reimagined version of her open-to-order foil variant cover, featuring Harley Quinn and Poison Ivy!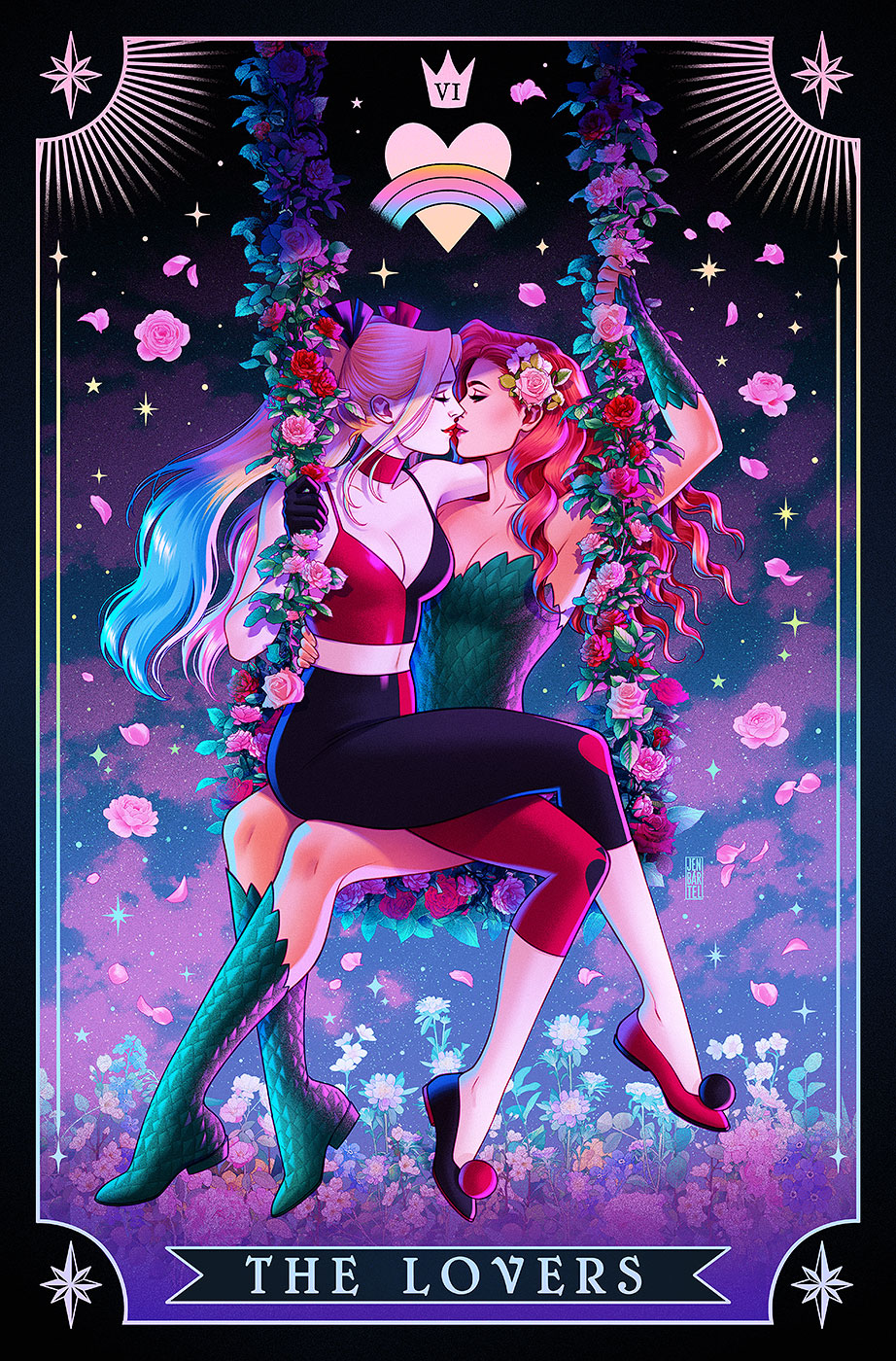 Don't miss the rest of DC's amazing DC Pride 2023 covers, including a wraparound open-to-order variant by fan-favorite Teen Titans: Robin artist Gabriel Piccolo (making a rare appearance outside of DC's young adult graphic novel line), which will also be offered as a 1:25 spot gloss variant cover!
For more information about DC Pride 2023, the DC Multiverse and more, visit the DC website at www.dc.com and follow DC on social media at @DCOfficial. Fans can also celebrate DC Pride and read comics featuring LGBTQIA+ characters online by visiting the DC Universe Pride hub page on DC Universe Infinite, DC's premium digital comic book service. New titles are added every month, and a selection of free-to-read titles will be featured for registered users during Pride!
Stay tuned for more Pride announcements from DC and Warner Bros. Discovery Global Consumer Products between now and June, including more details on DC Pride Through the Years!