"Creature Commandos" – 2023 Edition
Writers: J.M. DeMatteis, Robert Kanigher, Mike W. Barr, Dave Manak
Artists: Fred Carrillo, Pat Broderick, John Celardo, Bob Hall, Jerry Ordway, Dave Manak, Dan Spiegle
Color Artists: Adrienne Roy, Jerry Serpe
Letterers: Ben Oda, Esphid (Esphidy) Mahlium, John Costanza, Milt Snappin, Shelly Lefferman
Published by DC Comics – ISBN 9781779524393
With the news that an animated series is in the works and has already been cast, DC has polished, repackaged, and re-released the classic tales featuring the original team of Creature Commandos in a shiny new 2023 collected edition.
Creature Commandos (2023 Edition)
Here's the pitch from Penguin Random House:
"Named by James Gunn as an influence for "Gods and Monsters", the first chapter of the new DC Universe film and television slate! This volume inspires the upcoming animated TV series CREATURE COMMANDOS.
In one of DC's strangest comics ever, a werewolf, a vampire, a gorgon, and a patchwork monster fight the German forces during World War II.
Originally published in the early 1980s, The Creature Commandos laid the groundwork for series like FRANKENSTEIN, AGENT OF S.H.A.D.E.
Collecting Weird War Tales #93, 97, 100, 102, 105, 108-112, 114-119, 121, and 124 – Creature Commandos is the perfect mix of supernatural and sci-fi!"
Summary
This great new book collects stories from all the original Weird War Tales issues that featured the characters, plus classic cover art by comics legends Joe Kubert, Ross Andru & Romeo Tanghal, Rich Buckler & Dick Giordano, Jim Aparo, Joe Staton & Bruce Patterson, Rich Buckler & Frank Giacoia, Mike DeCarlo, Gil Kane, and Trevor Von Eeden!
Also included are the two "Monster Marines" tribute/comedy strips by Dave Manak, from Weird War Tales #104 and #107.
Created by J.M. DeMatteis and Pat Broderick (Weird War Tales #93, November 1980), the original Creature Commandos were a platoon of scientifically created monsters, designed to battle the nazis and terrify the enemy in World War II (1939-1945). A far cry from the benevolent experiments that created Marvel's legendary Captain America, this weird science gave the world a vampire named Vincent Velcro, a werewolf called Warren Griffith, and a Frankenstein's monster-like patchwork man named Elliot "Lucky" Taylor.
Velcro agreed to be experimented on to avoid a court martial. Griffith was a meek, timid, stuttering farm boy, and Taylor, after barely surviving treading on a landmine, was pieced back together like Mary Shelley's legendary creation. Of course, this was still the mid-20th century, so the results of these experiments were far from flawless.
All three men were good people to start with, but Velcro's new blood-lust sometimes overcame him, Griffith's transformations couldn't be controlled, and Taylor, while strong and virtually unstoppable, was a pacifist at heart and rendered mute by his condition.
The team was later joined by Dr. Myrna Rhodes, a brilliant and beautiful medic who was transformed by toxic chemicals into a snake-haired, gorgon-like, warrior. The team was led by Lt. Matthew Shrieve, a character who, while still 100% human, was the nastiest, and biggest monster of them all, in terms of his character.
The Creature Commandos also teamed up with the first two G.I. Robots on occasion (J.A.K.E.s I and II).
Positives
This book was a revelation. I had read a few of these stories before, but I was only around 11 years old when they came out. At that age, they were just action, bluster, and horror to me. Reading them again as an adult, and as a father, I can now see that some of the tales collected in this volume were definitely ahead of their time. One story in particular really affected me, and I was genuinely shocked that it even saw print, particularly when the Comics Code Authority was still in full effect.
J.M. DeMatteis, still one of my all-time favorite comics writers, created a team that was arguably even more shunned by society than even the X-Men or Doom Patrol. Many of Marvel's mutants look human, but the Creature Commandos are exact doppelgängers of the monsters from the most famous horror novels and movies. This means that we get to see the heroes of the stories – and, apart from Shrieve, they ARE heroes, through and through – experiencing depression, persecution, anxiety, and even suicidal thoughts. That's deep stuff for a 1980s comic book!
The surprises don't end there, either. We see dinosaurs, innocents taken down in rains of gunfire, and, in the shocking "Children's Crusade" story, the most horrific scenes I've ever witnessed in a comic book that didn't have a mature readers' label on it. I'm not going to spoil the story, but if you think what the U.S. did to create the Creature Commandos was terrible, just wait until you find out who the Nazis experimented on!
This story sent a chill down my spine and broke my heart. The final pages are simply shocking, and this story was published long before Alan Moore's notorious and wonderful Swamp Thing tales, or the launch of the adult Vertigo Comics imprint.
Negatives
These are tales from another era, so some of the dialogue and exposition-heavy storytelling haven't aged that well. However, the stories themselves and the messages they deliver are as powerful now as they were forty years ago. Also, the art of lettering has come a long way over the years, and any hand-lettered comic will suffer from inconsistent quality, and sometimes imperfect panel placement.
Another smaller, gripe is that we only meet the original team. I'm hoping that DC sees fit to republish the 2000 series, the adventures after this volume, and the New 52 run that updated the team to a point where modern viewers will more readily identify with them. By the casting and designs of the upcoming TV series, it looks like the members of the team will be a mix of the classic 80s run, and the newer versions.
For comparison's sake, Frankenstein from The Agents of S.H.A.D.E. is NOT the same patchwork monster as "Lucky" Taylor.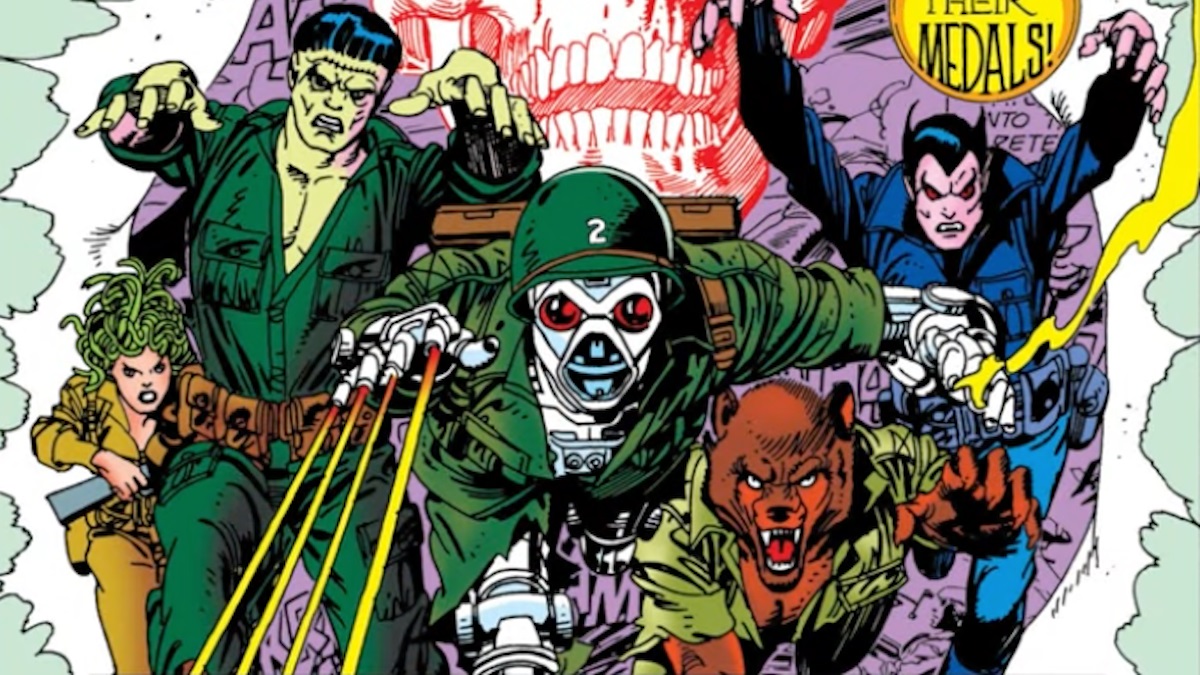 Verdict
Minor niggles aside, the new 2023 collection of Creature Commandos is a terrific book. Nostalgia buffs will love it, fans coming into comics from the upcoming TV show will want it, and anyone who has the desire to read comics that aren't filled with superheroes in skin-tight costumes will get something very different from what they're used to. Most importantly, this collection clearly shows that DC started the journey to grown-up comics four or five years earlier than I'd previously believed.
This volume is well worth investing 25 bucks in and is available now, from Penguin Random House or wherever books and comics are sold.
Images Courtesy of DC Entertainment. Review copy courtesy of Penguin Random House.